Israel, Hamas Exchange Fire For Third Day As Gaza Death Toll Climbs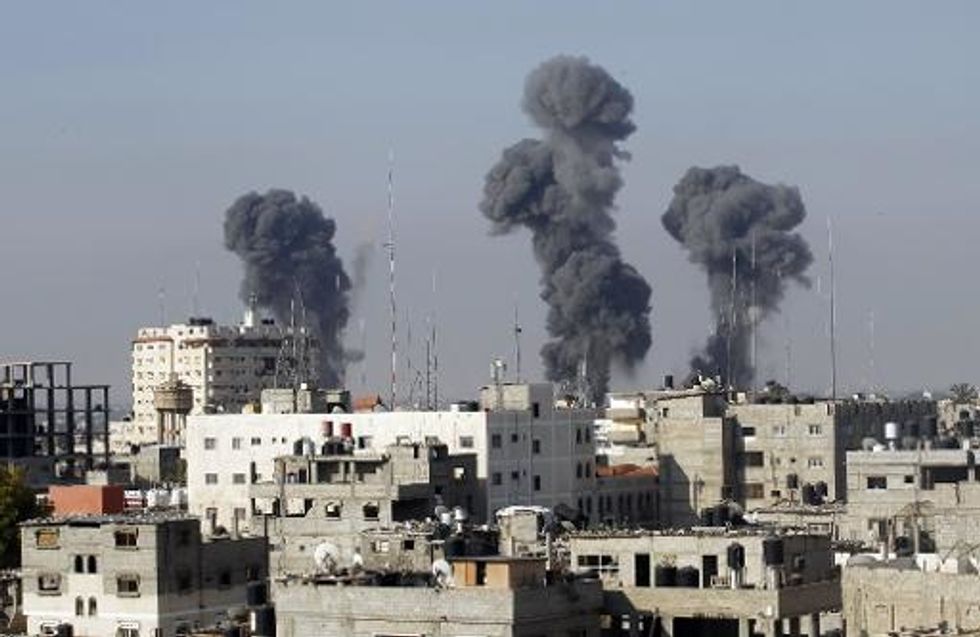 By Batsheva Sobelman, Los Angeles Times
JERUSALEM — The death toll continued to climb Thursday in the Gaza Strip as Israel stepped up attacks while amassing troops for a possible ground incursion into the Hamas-controlled coastal area.
Medical sources in Gaza reported at least 10 people killed since midnight, among them seven members of the al-Haj family in Khan Younis, and three others who Israeli officials said were militants involved with manufacturing rockets.
Additionally, media reports said that five Palestinians in Khan Younis were targeted from the sea by Israel's navy and killed while watching a World Cup soccer match.
A volley of five rockets aimed at Tel Aviv was intercepted early Thursday, sending shrapnel into the streets and suburbs of the central Israeli metropolis. Islamic Jihad claimed responsibility for the fire, launched shortly after three of its men were killed in a targeted airstrike. Sirens also sounded later in Dimona, where Israel's main nuclear reactor is located.
Israel's military continued to build up its forces to expand the military operation launched early Tuesday and dubbed Protective Edge. About 20,000 army reserves have been called up so far, half the total number approved by security cabinet ministers.
"We are building our force in the ground and preparing for a possible ground operation," while weighing the pros and cons, army spokesperson Peter Lerner said Wednesday.
While mulling a ground incursion, Israel has stepped up military airstrikes with a constant, increasingly rapid stream of attacks. In the first 48 hours of Israel's offensive 750 sites were struck throughout the Gaza Strip, more than half the number targeted during its last eight-day-long military campaign against rocket launchers in Gaza in November 2012, according to army officials.
About 360 rockets were fired into Israel since the operation began, pushing increasingly deeper and hitting locations as far as 75 miles from Gaza. At least 70 were intercepted by the mobile air defense system known as Iron Dome. No Israelis have been killed and injuries have been light.
As the death toll rose to at least 64 Thursday morning, including many civilians, government, and military officials scrambled to defend Israeli policies and blame casualties on Palestinian militants deliberately positioned among civilians.
The army says it gives advance warning by phone and other means prior to targeting houses of suspected militants, including on Tuesday, when seven members of the Kaware family were killed in a strike on their Khan Younis home.
According to army spokesman Lerner, people returned to the site between two projectiles fired when it was too late to abort the second. "It is a tragedy indeed, and not what we wanted," he said.
Special correspondent Rushdi Abu Alouf in Gaza City contributed to this report.
AFP Photo/ Said Khatib
Interested in world news? Sign up for our daily email newsletter!