Jeb Hints At Woman Vice President: 'Did I Say That Out Loud?'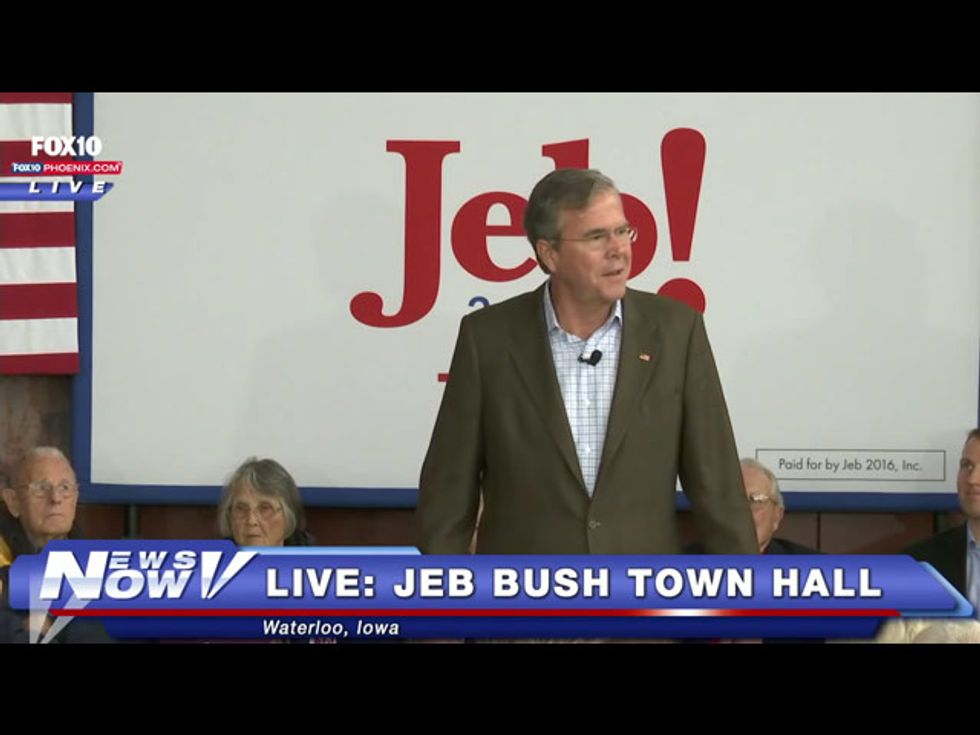 At a town hall event Tuesday in Waterloo, Iowa, Jeb Bush was asked about what kind of responsibilities his potential vice president might have in the administration. As he answered, Jeb teased at possibly selecting a woman for his running mate.
Jeb started off by discussing a true model vice president: his father, George H. W. Bush, who he said had cultivated a close relationship with President Ronald Reagan. And indeed, Bush said, a vice president should have a definite role in giving counsel to the president.
"Should I be elected president, I would have my vice president — I think she will be a great partner," Bush began saying. "I mean, did I say that out loud?" he then asked.
The question about the potential duties of a vice president begins just after the 38:40 mark below, with the section on a woman VP about a minute-and-a-half after that.
(Video via Fox 10 Phoenix)
"We always talk about this with one gender in mind. I think we've reached the point in our country where maybe we should be a little less gender-specific about this. He or she should be an integral part of the team," Bush said.
Jeb then warned of another criterion when selecting a running mate: They must be qualified to actually become president. And this next line of discussion couldn't help but veer toward a certain other Republican running mate from elections past (and who didn't exactly impress voters).
"And frankly, the one important element of selecting a vice president candidate [sic] is whether he or she is qualified to be president. Everything else is secondary. It's important, but it's truly secondary. The one problem you can get into is if there's a perception that your vice president is not capable of being president from day one. That has to be an element of this. And by that very nature, if you're picking someone that is qualified, and is perceived to be qualified that way, you automatically, I think, assume that they'll be taking more responsibility."
Hmm, an audience member asked: Was he just talking about Sarah Palin?
"I'm not talking about anybody," Jeb replied, as some mild laughter broke out. "I'm just saying that's an issue — you know, there's a lot of downside for vice presidential candidates. They don't have an easy job, and there's not much upside."
"I don't want to get in trouble," the other man said.
"You want me to get in trouble!" Bush replied
Hat tipThe Hill.