Kasich Explains Government Spending To Woman: 'You Ever Been On A Diet?'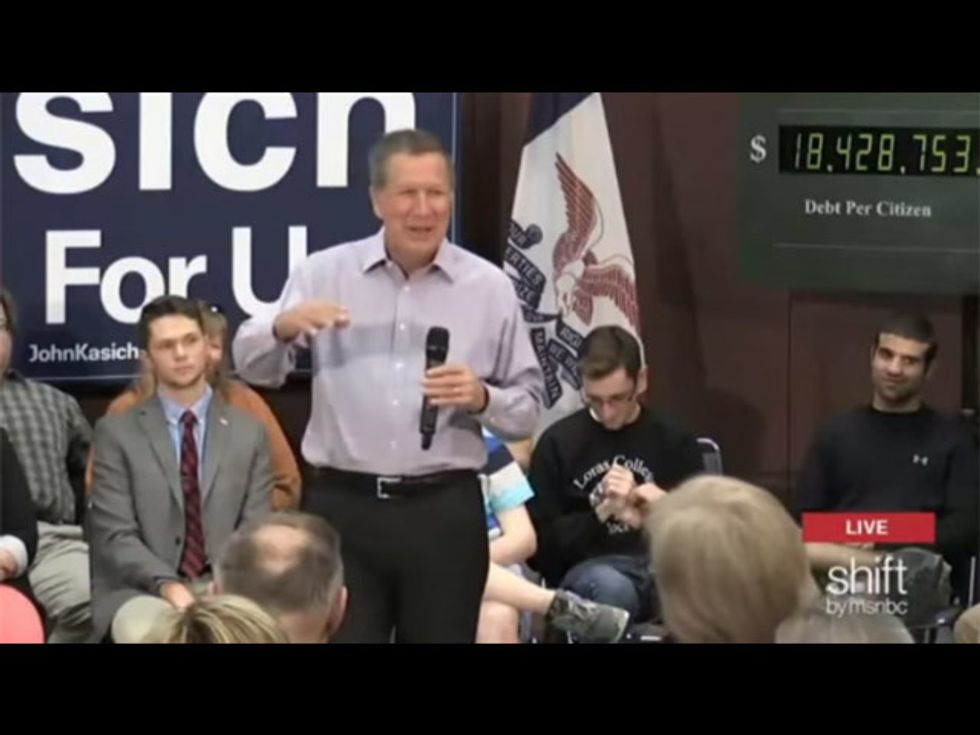 At a town hall Tuesday in Dubuque, Iowa, John Kasich gave an interesting answer to a woman who asked the GOP candidate and former chairman of the House Budget Committee his advice on how to keep federal spending under control.
"I know how to do this. I mean, I know how to balance budgets; I know how to cut taxes; I know how to deal with the bureaucracy. I know how to do these things. And I get there, and we'll get it done — but it won't be done overnight," Kasich said, actually sounding at least somewhat sensible. "It's gonna take years to get there, because the debt is really high. And there's no way to just slash all these programs — people wouldn't accept that. But they will accept change."
Then his answer got interesting. "And then you get there, and once you're there, then you say, 'How are we gonna stay here?' And that's where things kind of fall apart, because — Have you ever been on a diet?" Kasich said to the woman.
(Video via MSNBC.)
The woman replied, "Many times." — to which he laughed and responded, "Well, you're the perfect example!"
"Okay, so we set a goal, and you reach it. And what happens? How about a little spumoni? How about a trip over to Mario's, an extra — you ever go to Mario's? We were there last night. How about a little spumoni? How about another piece of garlic bread?"
The key, he said, was to maintain the original discipline — which might also be a good advice for a presidential candidate making personal remarks to people who ask questions at town halls.
Via Mic