Late Night Roundup: Getting GOP Voters To Settle Down — Or Not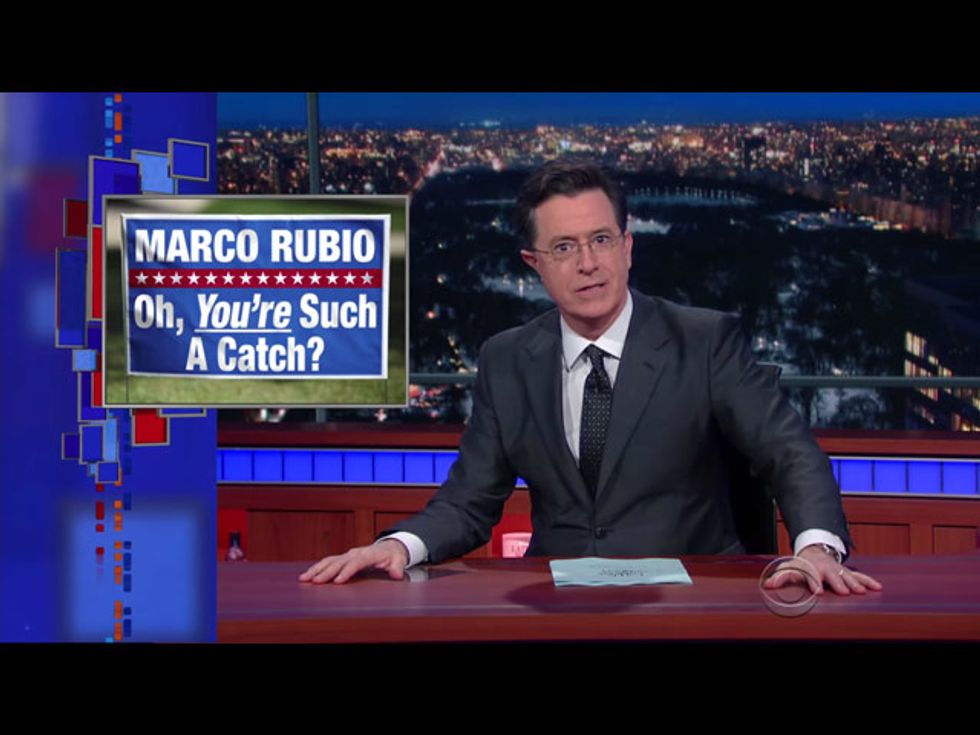 In the wake of Donald Trump's victory in the Nevada caucuses, the late night hosts examined the ways in which the other GOP candidates are simply failing to mount a response.
Stephen Colbert looked at Marco Rubio's efforts to get Republican voters to just settle for him to be final candidate to stop Donald Trump — even if they didn't actually like him: "He's just saying the election's not getting any younger, and America needs to settle. He might not be the president of your dreams — but you'll learn to love him. It's all summed up in his powerful new campaign slogan: Marco Rubio — oh, you're such a catch?"
Trevor Noah examined the way that Trump's Republican rivals are still fighting against each other, instead of taking on each other. "Trump's just sitting back, watching two Hispanics tear each other apart — which, coincidentally, will be the main event at his inauguration."
Jimmy Kimmel highlighted Donald Trump's proud declaration after his win in the Nevada caucuses, "I love the poorly educated!" And so Jimmy has got a new ad for Donald Trump — created by, and for, the poorly educated.
Conan O'Brien: "Donald Trump's wife is speaking out more. Although she herself is an immigrant, Donald Trump's wife Melania says she is fine with her husband's tough anti-immigration stance. She's fine with it. When asked why, Mrs. Trump said she had about 4.5 billion reasons."