Late Night Roundup: Sarah Palin's Bag Of Words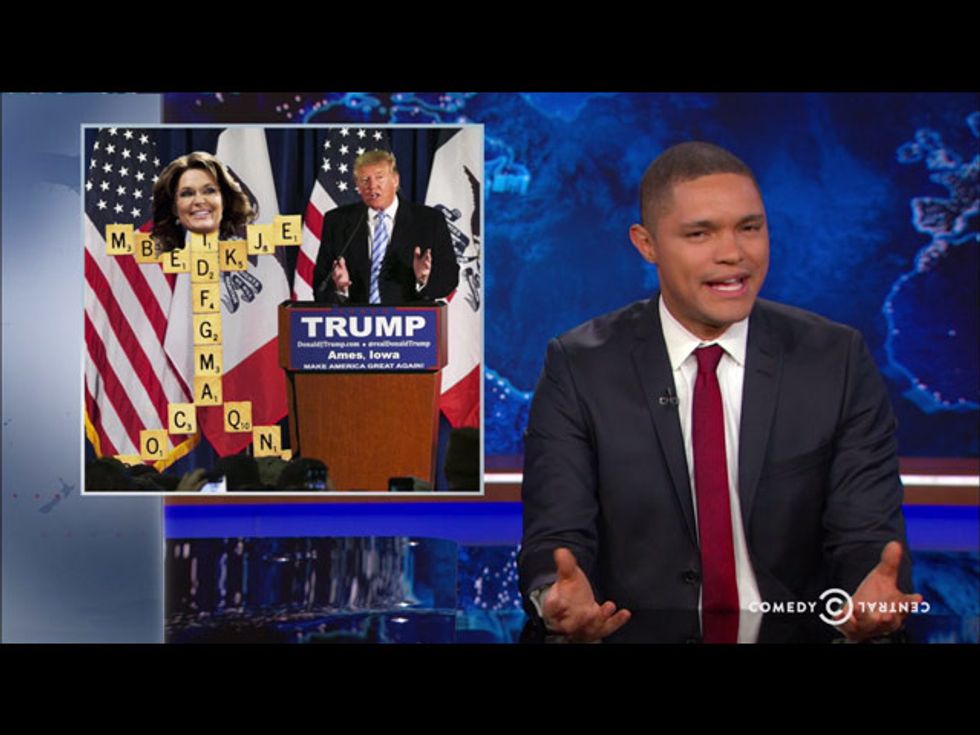 One topic dominated the late night comedy shows: Sarah Palin's rambling, 20-minute speech where she endorsed Donald Trump.
Trevor Noah marveled at Sarah Palin's interesting command of the English language — sounding like a broken robot, or a bag of mixed-up Scrabble tiles that have come to life. "You know how Americans loved all those African characters in movies, like The Gods Must Be Crazy and Coming to America ? And everyone was like, 'All those funny sounds that come out of their mouths.' And now, as Africans, we're watching this ."
Stephen Colbert: "Sarah Palin just guaranteed Trump the evangelical vote — because I think she was speaking in tongues." Stephen then responded by delivering his own Palin-style endorsement speech for all the other candidate — after first using a taser on "the part of my brain that understands sentence structure."
Larry Wilmore tried to find a scientific explanation for Sarah Palin's appeal — though he didn't quite succeed.
Conan O'Brien: "While endorsing Donald Trump, Sarah Palin, this is a quote, 'How about the rest of us right-wingin', bitter-clingin', proud clingers of our guns, our God, and our religions.' And she said the craziest thing of all: 'I was almost the vice president.'"
James Corden: "You just now that John McCain is on his couch at home watching the TV, like, 'Donald, dude, this is a bad idea . Trust me.'"