Late Night Roundup: 'The Late Show' With DeRay — And Stephen Colbert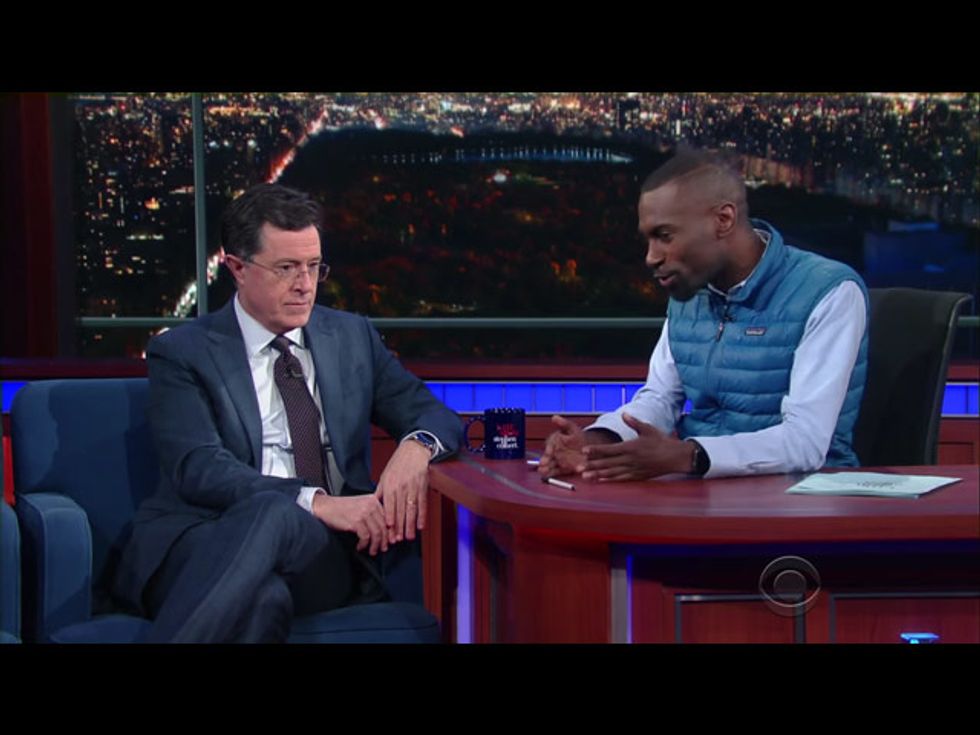 Stephen Colbert sat down with civil rights activist DeRay McKesson, one of the leaders of the Black Lives Matter movement, for a far-reaching discussion on the issues of police violence, the history of civil rights and the radicalism of Martin Luther King, plus the election going on right now.
And then the two of them did a perfect exercise to explore Stephen's own privileges as a white person: They switched places, putting DeRay in the host's chair and Stephen on the guest couch.
Larry Wilmore looked at Sunday night's Democratic debate — and especially the sad sight of Martin O'Malley as he tried to get in any time at all to talk: "He looks like some puppy hoping you'll buy him, right? 'Please take me home — just get me out of here, please!'"
Trevor Noah complemented Donald Trump's performance at last week's Republican debate, when The Donald stomped down on Ted Cruz over the "New York Values" attack. "I have to say, I've never been more impressed with Donald Trump," said Trevor. "Because not only is he making Ted Cruz look like a dick — but because Trump brought up 9/11, Ted Cruz has to stand there and applaud Trump while he does it. That's like getting a guy to cheer for you as you make love to his wife."
Seth Meyers examined the Republican reactions to the Obama administration's prisoner exchange deal with Iran, as well as the outrage against Iran over the swift release of the 10 captured U.S. Sailors — without starting a war.
Conan O'Brien conducted an "interview" with the militia group that has occupied the Malheur National Wildlife Refuge in Oregon, to talk about the latest problem that's really bugging them: People who have been mailing them care packages full of sex toys. (Note: That last bit is not a joke — it's actually been going on in real life.)