Late Night Roundup: 'The Tonight Show' — With Donald Trump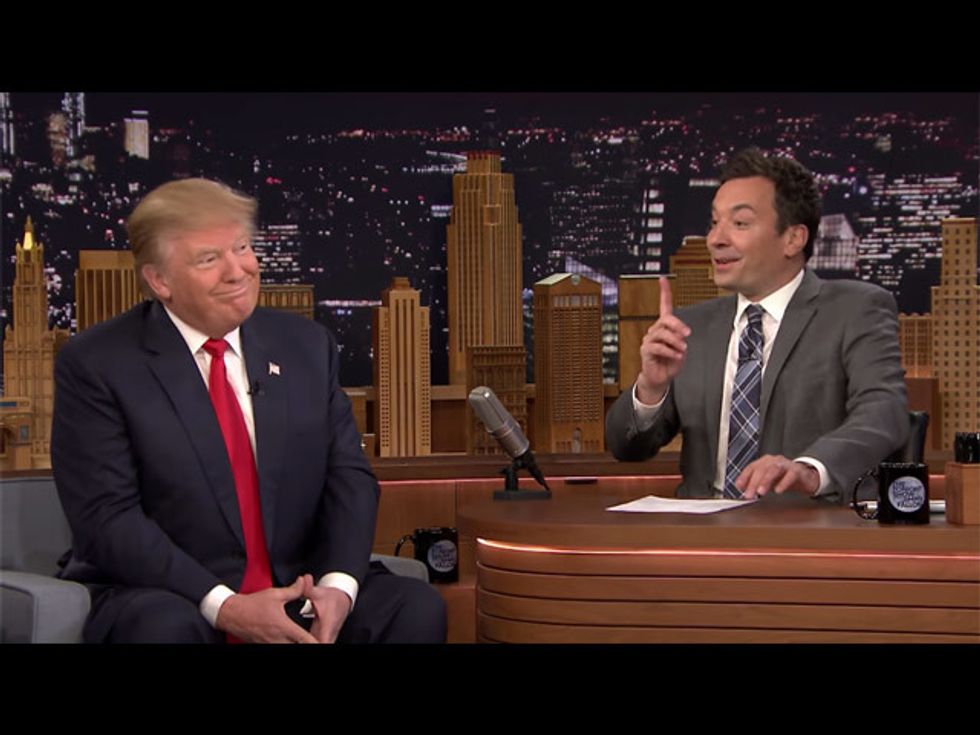 Donald Trump sat down for an absurdly softball interview with Jimmy Fallon, where the two conversed about how The Donald's poll numbers just keep going up as he says more outrageous stuff about minority groups.
But Trump also offered this interesting thought, about the prospect of a general election campaign between himself and Hillary Clinton: "I think it's gonna be one of the most interesting races. And they actually said — a poll came out that said if I win, and she wins, it's going to be the largest voter turnout in the history of the country. And that's a good thing — because people don't vote that much in this country. So that would be an amazing thing, if that happens."
Conan O'Brien paid tribute to David Bowie, with a clip reel of the rock legend's appearances with him over the years. "He was just mind-blowingly talented. But in my experience, he was also an incredibly nice person," Conan said. "He was fun — he was always funny."
Larry Wilmore examined the bizarre circumstances of Sean Penn's interview with the escaped drug lord "El Chapo" Guzman, who has now been arrested again in Mexico. But the weirdest part here is how Penn kept writing about his own, um, favorite part.
Trevor Noah looked at the latest headlines from racist, megalomaniacal regimes — starting with Maine Gov. Paul LePage. Then he moved on to some lighter topics, such as the re-release of Mein Kampf in Germany, and the latest goings-on with the North Korean nuclear program.
James Corden commented on the Powerball lottery fever: "The truth is, the odds of you winning are 290 million to 1. That means you're about as likely to win the Powerball, as you are to ever the words 'President Jeb Bush.'"