Misdiagnosing Romney's Campaign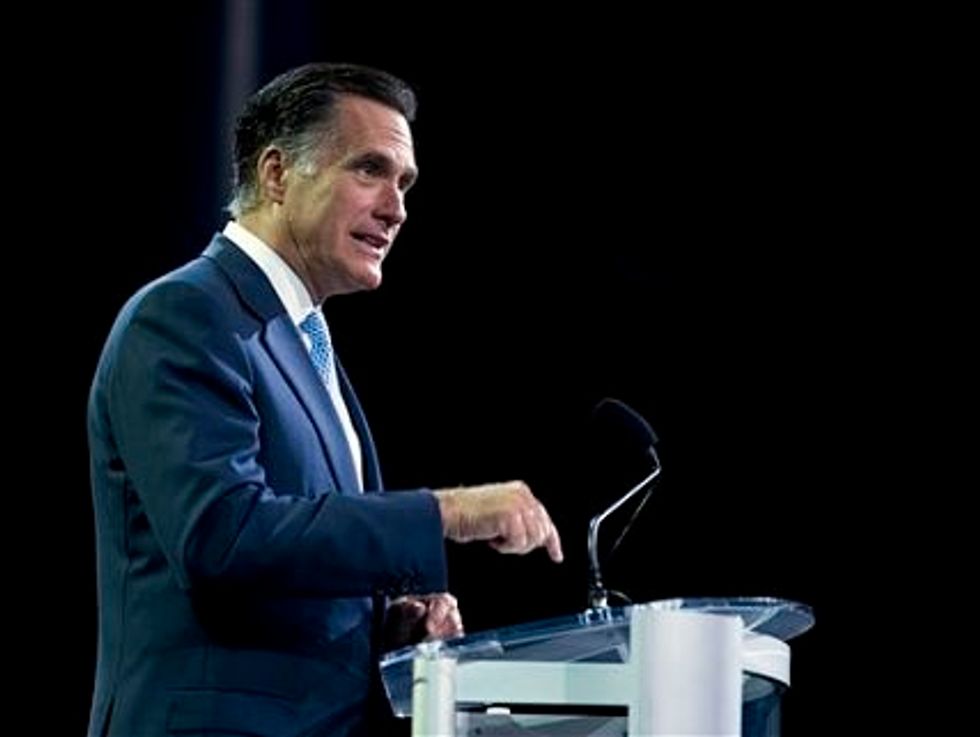 WASHINGTON — Could it be that Mitt Romney is correct from a strategic point of view to tell us little about what he'd do as president?
There are, of course, excellent civic reasons for a candidate to say where he or she would lead the country. But the debate raging right now in Republican circles is about politics, not civics. A slew of conservatives, including the editors of The Wall Street Journal's canonical editorial page, are telling Romney that his "insular staff and strategy … are slowly squandering an historic opportunity." In The Weekly Standard, William Kristol fumed: "Is it too much to ask Mitt Romney to get off autopilot and actually think about the race he's running?"
There are grounds for such skepticism. This week's Washington Post/ABC News poll found the race dead even, but gave President Obama a 12-point advantage among registered voters on the matter of which candidate has a clearer plan for dealing with the economy. After several months of disappointing jobs numbers, Romney is behind Obama in other national surveys, and tends to lag in the swing states.
Far be it from me to get in the way of internecine Republican bickering, but Romney's GOP critics are wrong in seeing his specifics-lite approach as his core problem. His difficulties lie elsewhere.
A defense of Romney's minimalism starts with the matter of timing. The best rationale I've heard for the current Romney strategy came from former Rep. Vin Weber, a Romney adviser who noted in an interview that the very first question voters have to answer in a re-election race is whether there is "a compelling reason to remove the incumbent from office."
"There's a broader indictment of the incumbent that's necessary before the country decides to replace him," Weber argued. Only when a majority has reached this decision can a challenger begin to present himself as a plausible alternative. Only then is the country prepared to listen.
Viewed this way, the relentlessly negative approach of the Romney campaign so far (summarized in top adviser Stuart Stevens' favorite slogan, "Obama isn't working") is the essential first step toward opening the electorate to the idea of changing leadership. If Romney wins, Weber said, hindsight might suggest that this tipping point was reached early this month with the latest jobs report.
Moreover, those calling on Romney to be more specific tend to be staunch conservatives who are absolutely convinced that the country would respond to a full-throated right-of-center agenda. Here, they are allowing their philosophical commitments to cloud their political judgment.
Romney's economic recovery strategy is rooted in the same old conservative ideas that have been around for more than 30 years: lower taxes on the wealthy and economic deregulation. These nostrums are wildly popular with the Republican base — especially very rich donors — but not with swing voters. More details about a largely unpopular program would not do Romney much good. Conservatives are forever fond of pointing back to Ronald Reagan for having run a highly principled campaign in 1980. But Reagan's most effective line was the decidedly non-ideological question: "Are you better off than you were four years ago?" That is the Romney campaign in a nutshell.
Now to the drawbacks with the Romney campaign's theory. Operatives in both parties are surprised that Obama has been allowed to tell a negative story about Romney that's moving poll numbers without any competition from positive ads building Romney up. Romney could be rendered unacceptable before he has a chance to make his case.
And David Winston, a Republican pollster, has asked one of the campaign's most interesting survey questions. He found that only 32 percent of the voters said that "the economy is not getting better at all." At the other end, 26 percent thought it was getting better at an "acceptable" rate. Fully 40 percent said "the economy is getting better, but the rate of progress is still unacceptable."
Romney's argument is aimed squarely at the third of the electorate that feels the economy is in disastrous shape. Obama's messaging, on the other hand, is directed toward those "better but not good enough" voters — and it is members of this group who will decide the election. The problem with Romney's campaign thus lies less in his lack of policy beef than in his failure to talk enough to the right voters. A message of economic pessimism will keep Romney close. But barring another major downturn, it won't close the deal.
E.J. Dionne's email address is ejdionne@washpost.com.
(c) 2012, Washington Post Writers Group