More Than 70 Million Americans Watched Impeachment Hearings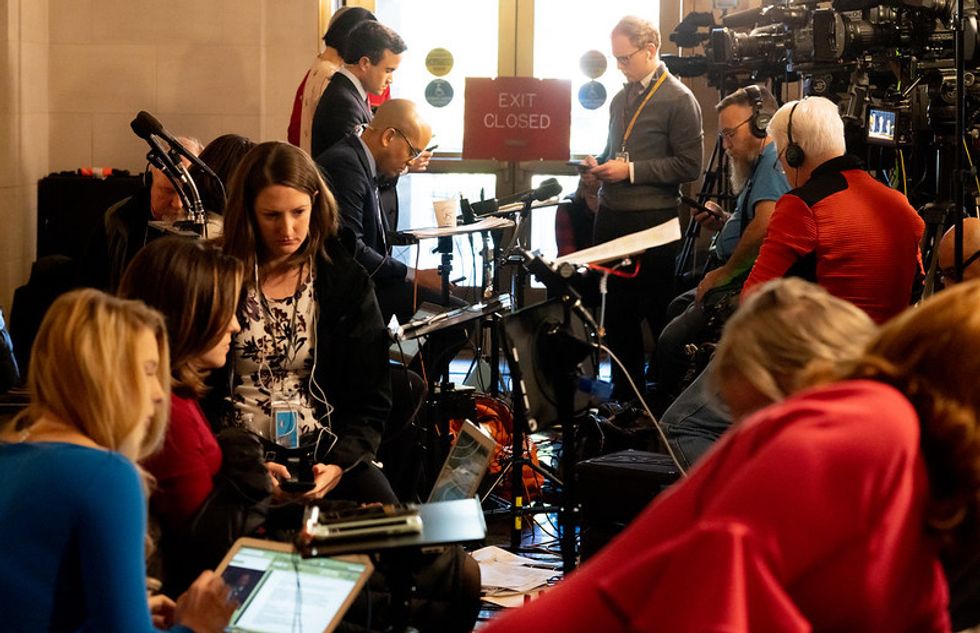 More than 70 million Americans watched at least some portion of the House impeachment hearings on television over the past two weeks, the Los Angeles Times reported Tuesday.
The numbers, complied by Nielsen, do not include those who watched the hearings on C-SPAN or PBS, nor does it include millions who watched through streaming services.
NBC News told the L.A. Times that its streaming services recorded almost 10 million "starts" for the impeachment hearings.
Nielsen's 70.8 million viewer-count includes anyone who tuned in to the hearings on television for at least six consecutive minutes, meaning more than one in five people in the country (21.6 percent) tuned in.
Republicans complained repeatedly throughout the hearings that they were boring and that Americans likely did not care about tuning in.
"This sham hearing is not only boring, it is a colossal waste of taxpayer time & money," White House press secretary Stephanie Grisham tweeted hours after the first hearing began.
Eric Trump, Trump's second-eldest son, used the hashtag "#snoozefest" to describe the hearings.
Rep. Mark Meadows (R-NC), a staunch defender of Trump, said that "the ultimate judge will be the American people," adding his assessment that most Americans would find the hearings tedious.
Despite Meadows' prediction, tens of millions of Americans tuned in to see one or more of a dozen witnesses give testimony and evidence regarding Trump's actions toward Ukraine.
Those witnesses testified specifically to "a months-long effort in which President Trump again sought foreign interference in our elections for his personal and political benefit at the expense of our national interest," Rep. Adam Schiff (D-CA), chair of the House Intelligence Committee, wrote in a letter to his congressional colleagues at the conclusion of the public hearings.
"As the evidence conclusively shows, President Trump conditioned official acts — a White House meeting desperately desired by the new Ukrainian president and critical U.S. military assistance — on Ukraine announcing sham, politically-motivated investigations that would help President Trump's 2020 reelection campaign," he wrote.
Trump bragged recently that support for impeachment had tanked since the start of the hearings.
"Support for Impeachment is dropping like a rock, down into the 20's in some Polls," Trump tweeted Monday.
That was a lie. On the day Trump made that claim, 48.2 percent of Americans said they supported the impeachment inquiry, according to an average of polls compiled by experts at FiveThirthyEight.
By Wednesday, support for impeachment had crept up to 48.8 percent .
Since news about the Ukraine scandal broke in mid-September, support for impeachment has increased among Democrats, Independents, and Republicans, according to FiveThirtyEight.
Published with permission of The American Independent Foundation.