MSNBC Hosts Accuse Trump, Staffers In National Enquirer Coercion Scheme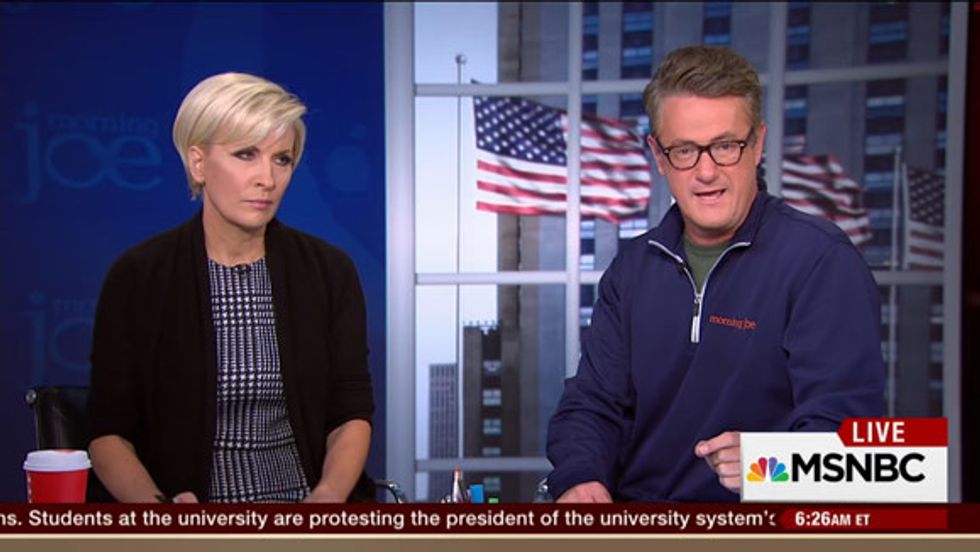 Reprinted with permission from Media Matters.
MSNBC hosts Mika Brzezinski and Joe Scarborough described President Donald Trump's "unmoored behavior" in a Washington Post column where they alleged that "this year, top White House staff members warned that the National Enquirer was planning to publish a negative article about us unless we begged the president to have the story spiked." Brzezinski and Scarborough wrote they ignored the "desperate pleas" from the White House.
The Enquirer, which endorsed Trump during the presidential election, frequently smeared his opponents during the presidential campaign with anonymously sourced stories and disreputable claims from Trump confidant Roger Stone.
The Washington Post column came in response to personal attacks made against the duo by Trump, who wrote yesterday on Twitter: "I heard poorly rated @Morning_Joe speaks badly of me (don't watch anymore). Then how come low I.Q. Crazy Mika, along with Psycho Joe, came.." "…to Mar-a-Lago 3 nights in a row around New Year's Eve, and insisted on joining me. She was bleeding badly from a face-lift. I said no!"
Scarborough discussed the Enquirer incident on the June 30 broadcast of Morning Joe, describing a bizarre blackmail scheme orchestrated by Trump and senior White House officials: "They said if you call the president up and you apologize for your coverage, then he will pick up the phone and basically spike this story. I had, I will just say, three people at the very top of the administration calling me, and the response was like, I was like, 'Are you kidding me?'" Brzezinski said the calls occurred during the same time period when the Enquirer was harassing her teenage children.
Trump reacted to the Enquirer allegation on Twitter, calling it "FAKE NEWS" and claiming Scarborough called him in an attempt to stop a story from running. Scarborough responded by writing, "Yet another lie. I have texts from your top aides and phone records. Also, those records show I haven't spoken with you in many months."
In March 2016, the Post reported that Trump has a "very cozy relationship" with the Enquirer and quoted the New York Daily News' comment that he is "very close" to the tabloid's chief executive, David Pecker. A business associate of Pecker told The New Yorker that Pecker had said "very bluntly that he had killed all sorts of stories for Trump," and Pecker himself acknowledged that he views potential stories "bashing Trump" as "bashing American Media" — the Enquirer's parent company — because Trump is "a personal friend." The profile also reported that Trump has personally provided Pecker with stories.
Scarborough referenced the friendship between Trump and Pecker on Morning Joe, saying, "What makes it even worse for them is Donald Trump called me during the campaign and bragged about his friend who ran the National Enquirer. He would always say, 'Have you seen the Ben Carson story? Have you seen the Ben Carson story? Have you seen that story in the Enquirer?' And then he would talk about it."
Scarborough added, "There were all these stories that were planted in the National Enquirer for people that Donald Trump wanted to attack and then he would talk about on the campaign trail."
In one infamous case, the Enquirer published a baseless cover story alleging that the father of Sen. Ted Cruz (R-TX) was involved in the assassination of President John F. Kennedy. Trump subsequently promoted the bogus story about his then-primary opponent during a Fox News appearance where he said, "I mean, what was he doing — what was he doing with Lee Harvey Oswald shortly before the death? Before the shooting?" He also complained that not enough people were reporting on the conspiracy theory.
Under fire for advancing the baseless claim, Trump responded by defending the Enquirer's reputation, saying, "This was a magazine that frankly, in many respects, should be very respected."
Pecker is reportedly considering a bid to take over Time Inc., which owns Time magazine, Fortune, and other media properties. The move would surely please Trump, who in 2013 repeatedly used social media to boost the idea that Pecker should run the company.
New York magazine's Gabriel Sherman reports that according to "three sources familiar with the private conversations," Trump's son-in-law Jared Kushner was in contact with Scarborough about a then-upcoming Enquirer story about Scarborough's not-yet-public relationship with Brzezinski. Kushner reportedly "told Scarborough that he would need to personally apologize to Trump in exchange for getting National Enquirer owner David Pecker to stop the story":
According to three sources familiar with the private conversations, what happened was this: After the inauguration, Morning Joe's coverage of Trump turned sharply negative. "This presidency is fake and failed," Brzezinski said on March 6, for example. Around this time, Scarborough and Brzezinski found out the Enquirer was preparing a story about their affair. While Scarborough and Brzezinski's relationship had been gossiped about in media circles for some time, it was not yet public, and the tabloid was going to report that they had left their spouses to be together.
In mid-April, Scarborough texted with Trump son-in-law Jared Kushner about the pending Enquirer story. Kushner told Scarborough that he would need to personally apologize to Trump in exchange for getting Enquirer owner David Pecker to stop the story. (A spokesperson for Kushner declined to comment). Scarborough says he refused, and the Enquirer published the story in print on June 5, headlined "Morning Joe Sleazy Cheating Scandal!"