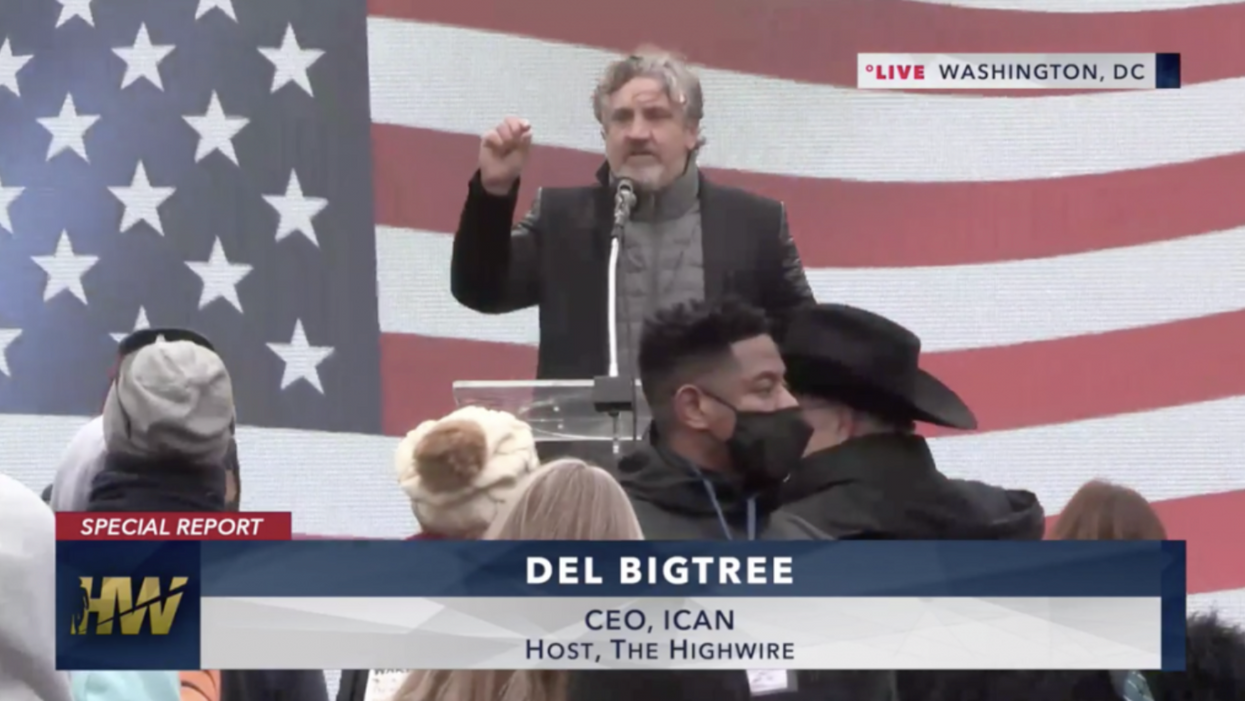 Reprinted with permission from Media Matters
In November 2020, Facebook removed a page where Del Bigtree, a notorious anti-vaccine figure, broadcast his show -- The High Wire -- to a large online audience.
Bigtree's page was removed after Facebook determined that he violated the platform's policies against "misinformation that could cause physical harm." He had used his High Wire broadcast to claim that COVID-19 was "one of the most mild illnesses there is," that wearing a mask poses a serious health hazard, and that people should intentionally expose themselves to COVID-19, among other dangerous claims. Facebook's action came months after he was banned by YouTube, where he had also broadcast his show.
On February 8, The New York Times reported that Facebook says it will "remove posts with erroneous claims about vaccines from across its platform."
Bigtree continues to share dangerous medical misinformation on Facebook. After the platform banned The High Wire's page, he began to post dangerous medical misinformation on another page he operates. The page is not hard to find -- its name is "Del Bigtree."
On that page, Bigtree shares disinformation about the COVID-19 vaccine, including the baseless claim it will eventually kill half of its recipients. He also pushes dangerous falsehoods about COVID-19, including his suggestion that the disease doesn't actually exist. Some of Bigtree's dangerous claims on his Facebook page are documented below:
Bigtree Promoted Denial Of Coronavirus Fatalities
Bigtree's Facebook page shared a video from a January 6 Washington, D.C., event called the "Rally for Health Freedom." The event coincided with other rallies in Washington that day that culminated in a failed insurrection at the U.S. Capitol.
Bigtree was a speaker at the event and made a number of medically dangerous claims after asking the crowd, "Are people really dying" of COVID-19? Bigtree touted the widely promoted, but false, claim that COVID-19 vaccines cause infertility and claimed that vaccine manufacturers are "murdering people."
He went on to engage in COVID-19 denial. Claiming "I don't think God messed up" in the creation of humans, Bigtree said, "I don't think there's some coronavirus that can override the brilliant immune system that is born into us" and that "99.99% of us are showing how great God's design is, because this virus does nothing to us." (More than 450,000 people in the United States have died from the disease.)
He then falsely called COVID-19 a "cold," and claimed that unlike quarantine measures put in place to stop the spread of COVID-19, "we let the Spanish flu run its course, we let MERS run its course, we let SARS run its course" and "we all lived." (That is not what happened during those outbreaks, some of which killed many people.)
Saying that he stood with supporters of Donald Trump who refuse to wear masks and commenting on the size of his crowd, Bigtree also bragged that he has "been to more superspreader events than almost anyone I know" before falsely claiming that there is "no such thing as asymptomatic spread" of COVID-19.
Bigtree Shared Video Falsely Attributing Convulsions To COVID Vaccine
On January 13, Bigtree shared a video from an Indiana woman who claimed that a COVID-19 vaccine caused her to start experiencing convulsions during all waking hours. The disturbing video went viral across major social media platforms. There is no evidence the woman's condition was caused by the vaccine, and medical professionals have explained that her shaking symptoms are incredibly unlikely to be linked to vaccination. After undergoing extensive medical testing, the woman was diagnosed with a conversion disorder -- a medical condition where neurological systems manifest without any apparent underlying physical cause. According to The Cleveland Clinic, "One of the more commonly reported scenarios is that conversion disorder may be triggered by the body's reaction to psychological trauma or a stressful event."
Bigtree, nonetheless, attributed the woman's condition to a COVID-19 vaccine, claiming it was evidence that the vaccine is a "DISASTER." At least two weeks after Bigtree shared the video, Facebook added a disclaimer that said it was "missing context" -- a puzzling label given that there is absolutely no evidence the woman's condition is connected in any way to a vaccine reaction. The disclaimer was specific to the video and does not apply to Bigtree's false claim in his post that COVID-19 vaccines have been a "DISASTER."
High Wire Touted "Holistic" Treatments Of COVID-19
Bigtree's Facebook page also shared footage from a separate January 6 Washington, D.C., event called the "Global Frontline Nurses Summit." The speakers shared dangerous COVID-19 misinformation, including that COVID-19 patients can be "successfully" treated with "holistic" methods such as ozone therapy. (In cooperation with the Food and Drug Administration, the Department of Justice has taken legal action against individuals who claim ozone therapy is a treatment for COVID-19.) The speaker added, "The truth is our bodies take on viruses to help detox and push out toxins from our bodies. We need to learn how to support this process and stop fighting it."
Bigtree Falsely Blamed Nurse's Syncopal Episode On Vaccine
On December 17, Bigtree shared a Reddit post about a Tennessee nurse who fainted shortly after receiving a COVID-19 vaccine as supposed evidence that the vaccine is not "safe." As has been widely reported, the nurse's reaction was caused by a health condition she experiences -- syncopal episodes -- where pain, no matter how minor, can cause her to faint.
Bigtree Promotes Conspiracy Theorist Robert F. Kennedy, Jr.
On December 15, Bigtree's Facebook page shared an episode in which he appears on the Daystar Television Network, an online evangelical Christian broadcast. The episode's aim was to dissuade viewers from receiving a COVID-19 vaccine.
Conspiracy theorist and anti-vaccine activist Robert F. Kennedy Jr. also joined the program. Kennedy falsely claimed that COVID-19 mRNA vaccines alter "the function of your genes," potentially causing autoimmune disease in recipients. He also falsely claimed that COVID-19 can be cured by hydroxychloroquine.
During the program, host Marcus Lamb wildly distorted reports from the COVID-19 vaccine trials in order to claim that receiving the vaccine poses a significant risk of death, while another guest, Capitol rioter Simone Gold, pushed the baseless suggestion COVID-19 vaccines can cause infertility.
When Bigtree joined the program, he made the baseless assertion that recipients of COVID-19 vaccines may face up to a "50 percent" mortality rate if they ever encounter another coronavirus in their lifetimes, echoing a claim that originated from toxic conspiracy theorist Alex Jones.