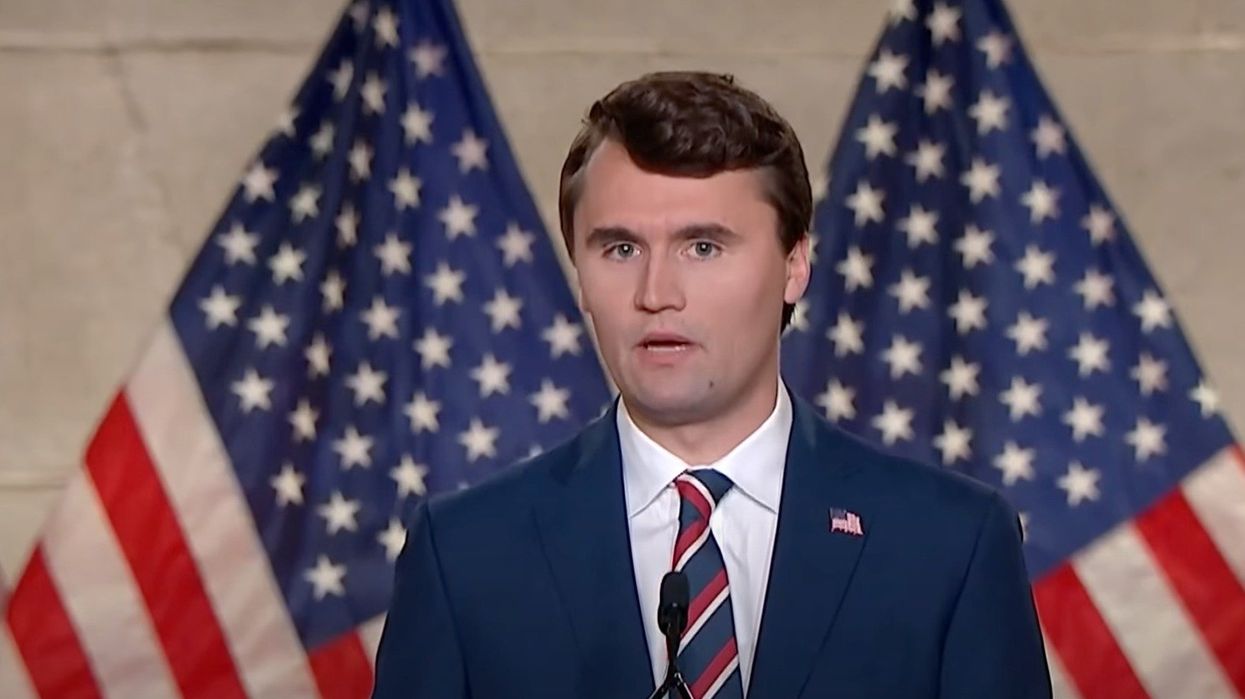 Turning Point USA founder and right-wing radio host Charlie Kirk has been taking jabs at former President Donald Trump, despite his professed support for his candidacy in the 2024 presidential election. Reports in NBC News and The Washington Postdetail both a rift between the Trump camp and TPUSA's organization as well as an internal divide at TPUSA over how to approach a potential presidential match-up with Florida Gov. Ron DeSantis.
According to NBC, close advisers to Trump say he has "'been watching' Kirk's relationship with DeSantis" as well as Kirk's opposition to Trump's handpicked Republican National Committee leader, Ronna McDaniel. This story came shortly after the Washington Postreported that Students for Trump, "a key asset" of TPUSA's campaign work, has cut ties with the organization, further "raising questions about how closely Turning Point will be associated with Donald Trump's 2024 campaign."
The report details that TPUSA's chief operating officer, Tyler Bowyer, tried and failed to negotiate a deal to remove Trump's name from the organization's accounts and rename them "as official Turning Point properties." Bowyer's plan also would have paid right-wing social media influencers to fundraise for Republican candidates via these accounts, which other Students for Trump leaders worried "would leave too little money for candidates."
Kirk denied the NBC story on his February 10 show, calling it a "silly piece" and reiterating that he is "behind Trump, period."
Donald Trump Jr. appeared on Kirk's show on February 14 to deny the story: "I was unaware there was any rift between you and I, Charlie, whatsoever." (The story detailed the division between the elder Trump and Kirk; Trump Jr. was not said to be involved.)
Yet on his radio show and at live events, Kirk has shown increased frustration with Trump's decisions since late 2022, and he's gotten only more detailed in his criticisms as the Republican primaries approach.
Criticizing Trump For Attacking DeSantis
Since late 2022, Kirk has criticized Trump's attacks on DeSantis. At a TPUSA event in November, Kirk made it clear he is an "outspoken fan of Gov. DeSantis," and that he "did not like it when Donald Trump attacked DeSantis," and he said he hopes Trump will stop. On December 1, Kirk said that he is "very pro-DeSantis," and does not "like any of the negative DeSantis stuff," then brushed off a remark from a viewer that DeSantis should step back in 2024.
Kirk brought Trump's DeSantis attacks up again on the February 2, 2023, edition of his radio show, saying that he told Trump during a visit to Mar-a-Lago that he "thought that this line of attack" against DeSantis "is not effective" and he doesn't "think it actually helps him." He then asked the opinion of his guest, Citizen Free Press writer Kane, who agreed that MAGA supporters "don't want to see Trump reaching out and speaking ill of Gov. DeSantis."
Kirk said the show asked his audience their views and the emailed response was "overwhelmingly negative on Trump attacking DeSantis" and that they believed "this is not the way that he should be running," because DeSantis has proven himself as "a rock star conservative governor that has made Florida a freer place, a more prosperous place."
During a February 7 segment praising DeSantis for his fascist-style takeover of New College of Florida, Kirk made sure to mention that Trump still does not like DeSantis, pointing out that Trump called him "a RINO globalist" who is "doing far worse than other Republican governors." Kirk and his guest, conspiracy theorist Darren Beattie, then praised DeSantis for his "innovative and effective approach" to governance.
Kirk highlights rifts in the Trump-led MAGA base by periodically asking his audience about whom they plan to vote for in 2024. According to him, "the general consensus" is "I'm still behind Trump, but I have concerns."
Criticizing Trump's Decisions
On December 1, Kirk said that if DeSantis runs for president in 2024, "one of the sharpest critiques of President Trump will be the fact that Anthony Fauci stayed around as long as he did."
On December 15, even as "the most pro-Trump guy in the world," Kirk questioned why Trump pushed an NFT collection as a major announcement.
On January 30, Kirk said it was "really demoralizing" to find out that Trump supported Ronna McDaniel for RNC chair, calling it a "big mistake."
Criticizing Trump's Alliance with Lindsey Graham
On January 30, Kirk said that, "as a Trump supporter," it was "perplexing" that Trump accepted Sen. Lindsey Graham's (R-SC) endorsement and asked his audience if they agreed.
Kirk said during his February 2 show that he would "rather see Donald Trump attack Lindsey Graham than Ron DeSantis."
The next day, Kirk hosted conservative writer Pedro Gonzalez to talk about Trump's apparent alliance with Graham. Kirk made clear that he is "disturbed and bothered at Lindsey Graham's proximity to Donald Trump."
Gonzalez responded that "if Lindsey Graham is critical to your success, that's not a good sign for your campaign." He continued, "I think Lindsey Graham fits this pattern of Trump making awful decisions when it comes to the people that he trusts around him." Kirk did not push back.
Kirk's criticism reflects the challenge right-wing media face during the 2024 presidential race: With DeSantis proving himself as the more effective fascist, can Trump supporters celebrate the governor without upsetting his main rival? Kirk is now learning that Trump will accept nothing less than blind, unquestioning loyalty.
Reprinted with permission from Media Matters.