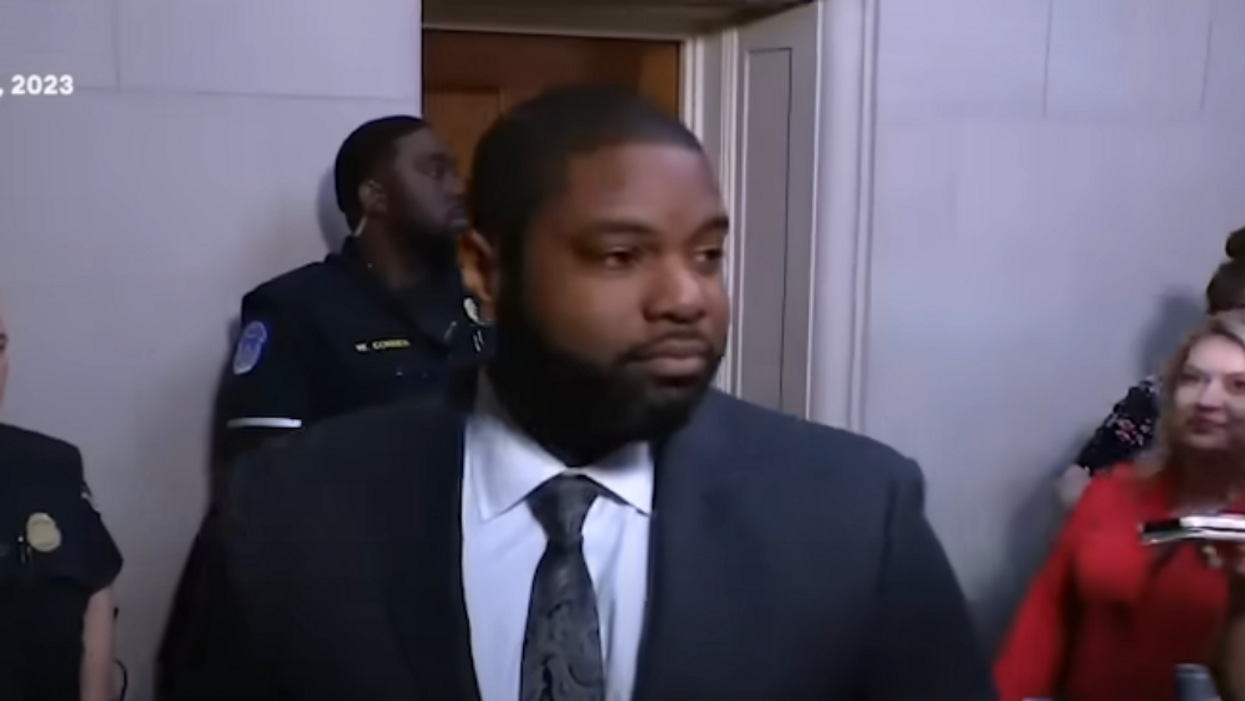 Rep. Byron Donalds (R-FL) is emerging as the right-wing media favorite among the clown car of House Republicans currently vying to become House speaker. Donalds, a second-term member who voted against certifying the electoral votes following the January 6, 2021, insurrection, has little legislative experience but maintains a constant presence on right-wing outlets such as Fox News.
The House has been mired in chaos for weeks since a handful of attention-seeking Republican members ousted Speaker Kevin McCarthy (R-CA). First House Majority Leader Steve Scalise (R-LA) and then Judiciary Committee Chairman Jim Jordan (R-OH) were selected speaker-designate by the GOP caucus, but each stepped down after it became clear he could not amass enough votes on the floor. Nine declared candidates for the post will make their case to their peers on Monday night.
Former President Donald Trump reportedly opposes the candidacy of House Majority Whip Tom Emmer (R-MN), who was quickly denounced by pro-Trump media figures including Steve Bannon. Notably, Emmer, who was No. 3 in the caucus leadership before McCarthy's speakership collapsed, is one of only two would-be speakers who voted to certify the 2020 electoral votes.
Meanwhile, Donalds, who still denies that President Joe Biden's election was legitimate, is picking up Jordan's mantle as the speaker candidate favored by the right-wing press. Donalds, like the Ohio Republican and other members of what I call the Fox News Caucus, uses his regular interviews on right-wing outlets to bootstrap himself to national relevance.
Donalds has appeared on weekday Fox News programs 193 times since August 2017. He's been interviewed nearly four times as frequently as Rep. Mike Johnson (R-LA), the speaker candidate with the second-most Fox appearances, and nearly nine times as frequently as Emmer, who has the third-most.
The disparities are all the more startling given Donalds' recent entry to national politics — both Emmer and Johnson are members of the House Republican Caucus leadership and entered Congress in 2015 and 2017, respectively.
Donalds has the fifth-most weekday Fox appearances of all elected officials since January 2021, when he began his first term in office. Only Sen. Tom Cotton (R-AR), Jordan, Rep. Michael Waltz (R-FL), and Sen. Lindsay Graham (R-SC) received more interviews on the network during this time.
Donalds is a particular favorite of Fox's prime-time hosts, who serve as influential kingmakers within the GOP. He has appeared in Fox weekday prime time at least 67 times, including 38 interviews on The Ingraham Angle and 25 interviews on Hannity. The only other speaker candidates who have appeared in prime time are Johnson (14 times) and Rep. Kevin Hern (R-OK) (once).
Donalds has promoted those Fox appearances to solicit funds from donors, telling supporters that "the next time I go on Hannity, I want to show Sean a list of all the grassroots patriots who stood with me in my hour of need."
Sean Hannity, the Fox prime-time host and GOP operative who functioned as Jordan's biggest booster, has floated Donalds for speaker.
"Byron Donalds' name is probably the name I hear the most," he told his radio audience on Friday.
Donalds' profile in right-wing media is not limited to Fox; he's made dozens of appearances on the far-right One America News Network and drawn fulsome praise from right-wing influencers including Charlie Kirk and Roger Stone. He was lauded by conspiracy theorists like Dom Lucre and Benny Johnson over the weekend for going on Fox and saying that as speaker, he would release all security footage from the January 6 insurrection.
Right-wing media demagogues have spent years encouraging their audience to demand leaders who embrace the same brand of radicalism. Donalds is just the latest in a long line of Republican politicians to grasp that Fox and other propagandists constitute their real path to power.
Reprinted with permission from Media Matters.