News Networks Failed To Report Trump's Conflicts Of Interest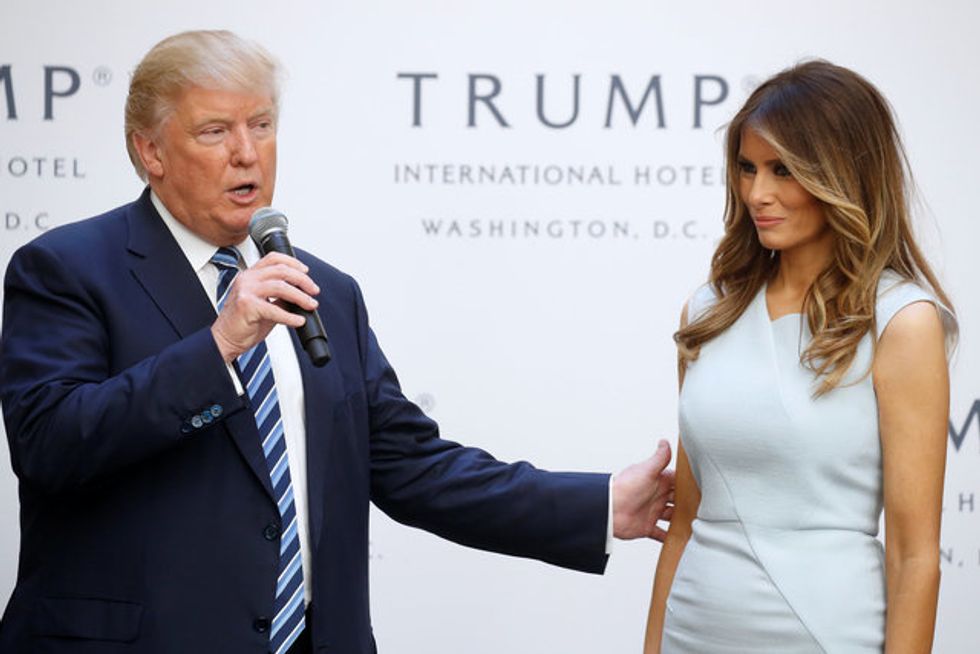 Reprinted with permission from Media Matters. 
The broadcast networks' flagship evening news programs failed to inform their viewers about the inherent conflicts of interest a potential Donald Trump presidency would bring in the months leading up to Election Day, and have not given the subject the urgency it deserves in the wake of his election, according to a Media Matters review.
Between September 14 and Election Day, the networks only aired approximately seven minutes of stories about or at least mentioning a conflict of interest. In the week after the election, they aired approximately 14 minutes — but only half of that explicitly called the issues "conflicts."
Trump has said throughout his campaign and following his election that he intends for his children to run his business empire while he is president. But on September 14, Newsweek reported that if Trump and his family don't cut ties to the family's business conglomerate, Trump would "be the most conflicted president in American history, one whose business interests will constantly jeopardize the security of the United States" due to the Trump Organization's relationships and financial entanglements with foreign interests." Responding to that story, Richard Painter, the former chief ethics lawyer for President George W. Bush, toldMedia Matters that the only way to avoid serious conflicts of interest would be for Trump and his family to sell all of their holdings in the Trump Organization. Painter also stressed that the issue was a "serious problem" that warrants increased media attention.
Painter sounded some of the earliest alarms about Trump's conflicts. Speaking with Mother Jones in June, he explained that the idea of a sitting president holding any debt owed to an entity that the government regulates should disturb the public: "[H]aving a president who owes a lot of money to banks, particularly when it's on negotiable terms — it puts them at the mercy of the banks and the banks are at the mercy of regulators."
The flood of potential and actual conflicts of interest have been made manifest following Trump's election. A Washington Post investigation recently revealed a sprawling, globe-trotting Trump empire, showing that the president-elect's real estate, management, and branding companies have business interests in at least 18 countries or territories. The Post also reported over the weekend that foreign diplomats had flocked to an event at the Trump International Hotel, located just a few blocks from the White House, seeking "to curry favor or access with the next president."
The New York Timesreported that developers of Trump Towers Pune, located in Pune, India, flew to New York last week to meet with the Trumps during the president-elect's initial stages of his transition to the White House. Pranav R. Bhakta, a consultant who helped Trump establish a foothold in the Indian market five years ago, told the Times, "To say, 'I have a Trump flat or residence' — it's president-elect branded. It's that recall value. If they didn't know Trump before, they definitely know him now."
These recent events should have come as no surprise, yet the network news hardly mentioned the conflicts of interest inherent in Trump's global business ties before or after the election.
Media Matters looked at ABC's World News Tonight with David Muir, CBS' Evening News with Scott Pelley, and NBC's Nightly News with Lester Holt for reports on Trump's conflicts of interest — including the Trump Organization's ties to foreign governments or businesses, Trump promoting his own businesses through the presidency, plans for Trump's children taking over the Trump Organization through a "blind" trust or attempting to access security clearances, and Trump's children using their access to the president-elect to promote their own businesses — starting from Newsweek's September 14 article.
From then until Election Day, the networks spent approximately seven minutes on stories about or at least mentioning a conflict of interest. NBC aired a three-minute segment, and ABC aired a three-and-a-half-minute segment. Both were about Trump using his campaign to promote his own businesses; however, neither explicitly pointed to potential upcoming conflicts of interest should Trump win the election. NBC briefly mentioned theNewsweek report in a segment about corruption in the Trump Foundation, and the night before the election, the network again briefly mentioned the conflict of interest of Trump's business ties for about eight seconds.
In the week after the election, the networks have devoted more coverage to these conflicts of interest, but it hasn't been enough. From November 9 to 16, the networks spent approximately 14 minutes on stories about or at least mentioning a conflict of interest, but only half of those explicitly called them conflicts. They spent a total of about seven minutes on Trump's foreign business ties, six minutes on Trump's children helping with the president-elect's transition or vying for security clearances, and two minutes on Ivanka Trump using a photo of herself in Trump's recent 60 Minutes interview to sell a bracelet that retails for over $10,000.
Methodology
Media Matters searched news transcripts from the Nexis database for mentions of any variations of "conflict," "corrupt," "organization," "trust," "business," "interest," "cabinet," "transition," or "divest" within the same paragraph as "Trump" for ABC's World News Tonight with David Muir, CBS' Evening News with Scott Pelley, and NBC's Nightly News with Lester Holt from September 14 through November 16. We reviewed video to determine length of coverage.
IMAGE: Republican presidential nominee Donald Trump and his wife Melania Trump attend a campaign event in Washington, DC, U.S., October 26 2016. REUTERS/Carlo Allegri