In Nation's Capital, A Delicate Dance Between Free Speech And Security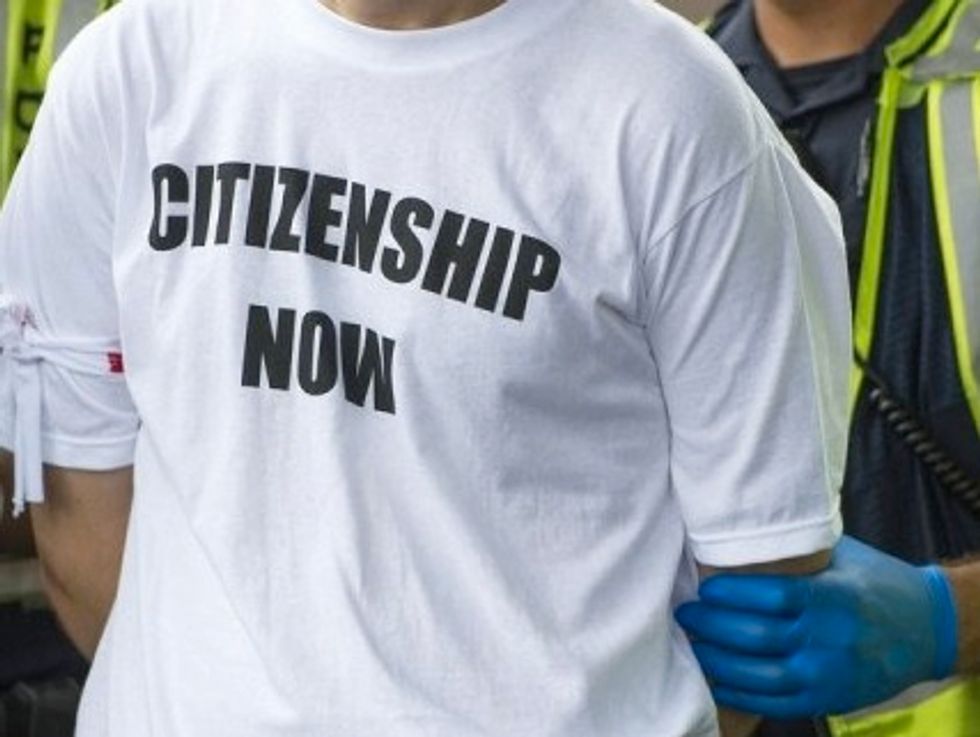 By Colton Gavin, Cronkite News Service
WASHINGTON — Gerardo Torres had every intention of getting arrested at the White House, but he was still a little nervous — the immigration activist said previous arrests at protests in other cities had been "a little rough."
"But when I was in D.C., it was less trouble," said the Phoenix resident, who was surprised by his "gentle and peaceful" February arrest on the sidewalk in front of White House.
U.S. Park Police stood by as Torres and dozens of others gathered on the sidewalk to speak, wave signs and chant, "Not one more deportation," for an audience of supporters, journalists and gawking tourists.
After about 10 minutes, police moved the media a short distance away and began to issue warnings every few minutes that protesting on the sidewalk in front of the White House was illegal. A couple warnings later, they confiscated the protesters' signs, put them in plastic handcuffs and walked them to a waiting police van.
It's a process that one sociologist calls "negotiated management" of protests, as authorities try to balance protesters' First Amendment rights with their duty to uphold the law. And in Washington, that balancing act is played out regularly.
"I'm not sure exactly how other places deal with protests, but I know we have way more of them around here and we have to act accordingly," said Officer Shennell Antrobus, a spokesman for the U.S. Capitol Police, one of several police agencies in the city that could be called on to respond to a protest. Capitol Police were not involved in Torres' White House arrest.
Antrobus said the high volume of protests in Washington led Capitol Police to establish a Special Events Unit, whose main job is to "enforce the law while also allowing people to express their First Amendment rights." He said the unit works to document who the protesters are and why they are in the capital, and establish the exact parameters of where they can protest.
Neither Antrobus nor Torres would discuss details of what goes into the negotiations over a protest or who knows what beforehand. But one veteran protester said there are typically few surprises in his experience.
"I have been through the protest permit process a few times in D.C. and I can tell you there is a plan," said Paul Magno, a business manager for Nonviolence International, a social change and international peace organization.
"Authorities have asked us ahead of time how many of us plan to get arrested," Magno said. "We would tell them and they would order a number of officers on the scene to match our answer."
Patrick Gillham, a University of Idaho sociology professor, said that type of protest coordination "began in the late '70s and early '80s from the D.C. area and has spread out to other cities."
"We call this era 'negotiated management' because of the rise of using permits and paperwork as part of the protesting process," Gillham said. "The process can involve regulations for necessary facilities and resources."
If a protest is big enough, for example, certain cities may require the protesters to provide portable toilets to accommodate the crowds. Representatives of the protest may be required to purchase a bond or insurance in case there is any damage from the crowds.
"There are situations where if people don't have the money to pay for the requirements, it will really limit how they can protest," Gillham said.
Magno said that coming together of authorities and protesters helps to keep the peace. He sees no problem with police standing by during a peaceful protest.
"They can't arrest us for something nonviolent that we haven't done yet," Magno said. "They are perfectly in their rights to let these things play out."
But Gillham says change could possibly be on the horizon, noting protests by groups like the Occupy Movement.
"We are seeing a transition into what we call 'strategic incapacitation,' " Gillham said. "In recent years some protest movements like Occupy have been ignoring the permit process and that has some law enforcement changing their approach."
AFP/Jim Watson