Netanyahu Condemns 'Abhorrent' Killing Of Palestinian Teen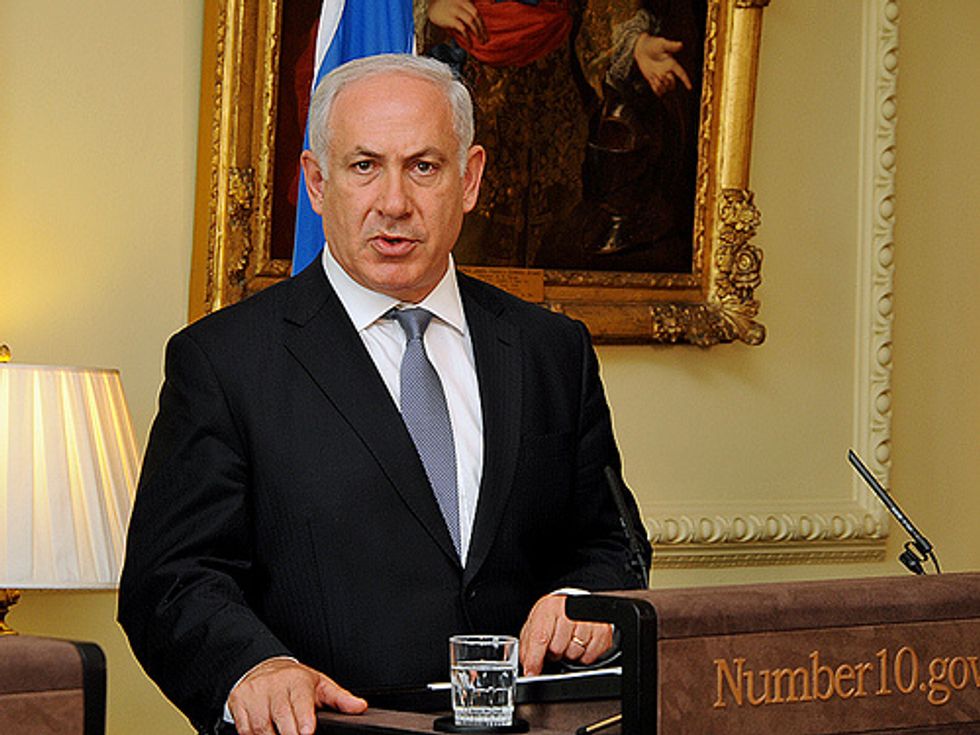 By Batsheva Sobelman, Los Angeles Times
JERUSALEM — Israeli Prime Minister Benjamin Netanyahu continued to face challenges on multiple fronts Monday as rocket fire from Gaza continued and tension between Jews and Arabs remained high the day after the arrest of six Jewish extremists suspected of killing a Palestinian teenager.
Netanyahu called Hussein Abu Khdeir on Monday to express condolences for the loss of his 16-year-old son, Mohammed, who was abducted, beaten, and burned to death last Wednesday in an apparent act of vengeance for the recent slaying of three Israeli teenagers in the West Bank.
"I would like to express my outrage and that of the citizens of Israel over the reprehensible murder of your son," the prime minister reportedly told the father, vowing the killers would be prosecuted to the fullest extent of the law.
"The murder of your son is abhorrent and cannot be countenanced by any human being," Netanyahu said.
Justice Minister Tzipi Livni said the same legal means used to in more typical terror cases would be applied to this prosecution. Three of the suspects have reportedly confessed to their part in abducting and killing the Palestinian youth.
Israeli society was wrangling with what authorities are calling a case homegrown terror, some calling for a long, hard look at the education system as well as racist vitriol raging on social media platforms in plain view.
Managers of the popular website Mako said Monday they have decided to tighten moderation of reader response comments to prohibit any form of racism.
So far, screening has been kept light to avoid censorship and allow freedom of expression but "we throw out hundreds if not thousands of comments a day," site editor Itay Waldman told Army Radio on Monday. He noted that the level of abusive and racist language on the site has risen in recent years.
Palestinian militants in the Gaza Strip continued firing at communities in southern Israel Monday, with at least 16 rockets and mortars striking since midnight local time, according to an army statement.
One rocket hit struck in the vicinity of Beersheba, a large city 30 miles from Israel's border with Gaza and the northernmost target in the current flare-up.
After a long lull in such attacks since Israel's weeklong military offensive on the Hamas-ruled Gaza Strip in November 2012, rocket fire resumed three weeks ago as Israel targeted members and institutions of the Hamas movement in the West Bank while searching for the abducted Israeli teenagers.
Israel blames Hamas for abducting and killing the three, and authorities are continuing to search the West Bank for two fugitives they believe were responsible. More than 160 rockets have been fired from Gaza since the teenagers were abducted and killed in June 12.
Responding to the rocket fire overnight, Israeli aircraft staged a strike on Gaza, targeting nine "terror sites and concealed rocket launchers," according to an Israel Defense Forces statement.
According to Ashraf al-Qidra, spokesman for the Hamas Health Ministry in Gaza, eight people were killed in two separate airstrikes in the center and southern sections of the strip.
A statement from Hamas said the strikes targeted a gathering point for its members in the town of Rafah, where the Gaza Strip borders Egypt.
"This is a serious escalation and the enemy will pay the price," Hamas spokesman Sami Abu Zuhri declared in a Facebook post.
With hundreds of thousands under threat from the rocket fire since mid-June, residents of Israel's south are demanding the government take military action to stop the attacks.
Netanyahu has been weighing the dilemma in recent days in a series of meetings with his security Cabinet. The sessions have reportedly been extremely stormy, with ministers sharply divided between those demanding a comprehensive and immediate military response and others advising caution.
Along with Defense Minister Moshe Ya'alon, Netanyahu has been exercising relative restraint in response to the rocket attacks, suggesting a reluctance to engage in Gaza at a time when the situation on other fronts is sensitive.
The political and public pressure took a toll on Netanyahu's ruling coalition Monday, as Foreign Minister Avigdor Lieberman announced that he was pulling his party, Yisrael Beitenu, out of the coalition he formed with Netanyahu's Likud for the 2013 elections.
Lieberman has been calling for a military operation against Hamas and other Gaza militant organizations, which have hundreds of long-range rockets that can strike cities as far as 50 miles from the border with Gaza.
"This reality is intolerable … we cannot live under this constant threat that can force 1.5 million people in bomb shelters at any given moment," Lieberman said.
Sobelman is a special correspondent. Special correspondent Rushdi Abualouf in Gaza City contributed to this report.
Photo: Downing Street via Flickr
Interested in world news? Sign up for our daily email newsletter!