Now It's Real Explosives (And Trump Lit The Fuse)
@FromaHarrop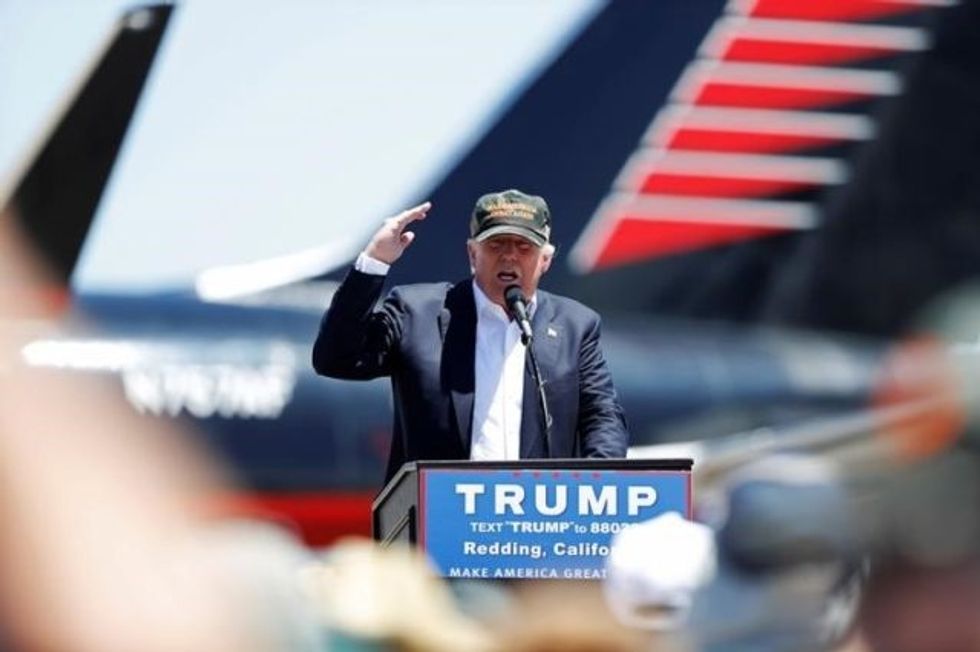 Reprinted with permission from Creators.
What Hillary Clinton, Barack Obama, former Attorney General Eric Holder, CNN, and George Soros have in common is that each looms large in the right wing's pantheon of liberal demons. And each has been sent a pipe bomb.
So much for Donald Trump's fantasies of left-wing mobs fomenting violence. This is the real thing. Investigations may find otherwise, but as of now, these criminal acts and their targets appear to have sprouted out of the sick conspiracies of the fringe right.
Notable is that similar devices were sent to far-apart addresses and were delivered in a similar manner. So this would seem a coordinated action.
It was interesting to see Trump cover his rear end by immediately issuing a tweet condemning whoever delivered those explosive devices. There remain politically conflicted voters who would consider such violence beyond the pale. The device sent to CNN was personally addressed to John Brennan (though he's an NBC News contributor). He's a Trump critic, but for heaven's sake, he was also the head of the CIA.
And to excite his base, Trump's been fanning the flames of idiotic ire toward anyone opposing him. His weapons include primitive lies, including one about riots breaking out in California over sanctuary cities. Even Fox News said that was not happening.
How could anyone believe the lunatic conspiracy theory that Hillary Clinton was directing a child sex ring out of a pizza joint in Washington, D.C.? The establishment's owner received a pile of death threats, and a guy from North Carolina showed up at his place and fired three shots inside. The scary part is that the man with the rifle looked like a normal person.
That conspiracy theory was spread by far-right websites. How much easier to believe one coming out of the president's own mouth.
Americans are no stranger to political violence, and not all of it comes from the right. One of the worst examples was the shooting of House Majority Whip Steve Scalise, a Republican, by a left-wing nut.
Before that was the grave wounding of Democratic Rep. Gabrielle Giffords. She was shot by an anti-government "activist" diagnosed as a paranoid schizophrenic.
I don't know where we go from here. Political talk can get heated and still be acceptable, but we can ratchet down the types of inflammatory claims that set off the mentally unwell. For Arizona Republican Martha McSally to accuse her Democratic opponent, Kyrsten Sinema, of treason was off-the-wall and reprehensible.
And so we now look at the top of the political pyramid, at President Trump and his cataract of incendiary insults, and see a trail of anti-social behavior leading to him. At a news conference, New York Police Department Commissioner James O'Neill pointed to the top, urging an end to the assault on the media "that contributes to choices people are making."
It was Trump who called several media outlets — CNN, The New York Times, CBS — "the enemy of the American people." Just last week, he praised a congressman for body-slamming a reporter. He spurs crowds at his rallies to jeer the media covering them.
Authorities expert in terrorism sensed after finding the first bomb on Monday that this was the start of something bigger. Who can lead us to put out the fire?
Follow Froma Harrop on Twitter @FromaHarrop. She can be reached at fharrop@gmail.com. To find out more about Froma Harrop and read features by other Creators writers and cartoonists, visit the Creators webpage at www.creators.com.