Obama Celebrates 50th Anniversary Of Equal Pay Act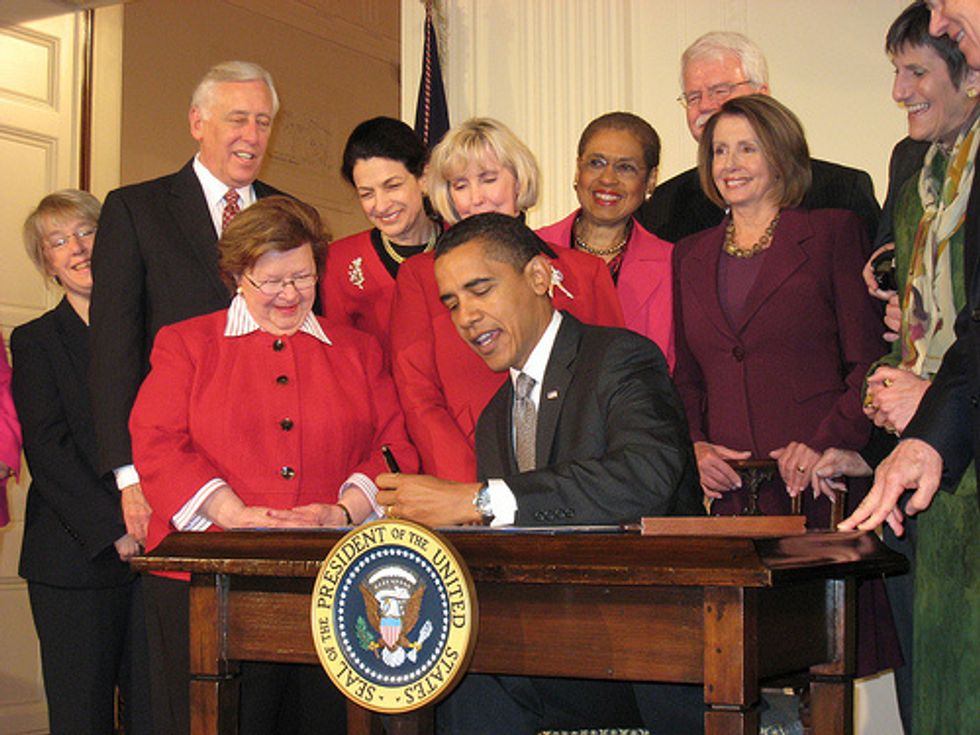 President Barack Obama celebrated the 50th anniversary of the signing of the Equal Pay Act, and pushed legislators to take further steps to defend women's rights during a Monday morning event at the White House.
Speaking before a group of mostly women, the president honored the heroes who have fought for the law, while warning that the fight for equality is far from finished. Noting that on average women are still paid just 77 cents for every dollar a man earns, Obama declared, "This is the 21st century. It's time to close that gap."
Visit NBCNews.com for breaking news, world news, and news about the economy
Referencing a recent Pew Research Center study, Obama noted that "women are increasingly the breadwinners for American families."
"That's not something to panic or be afraid about," he continued — possibly in reference to the Fox News meltdown over the study's results. Instead, Obama said it's a "sign of the progress we've made." But as long as women are not paid equally for their labor, he said, it will hurt the families that are increasingly reliant on that income.
"If they're bringing home more of the income, and that income is less than a fair share, that means that families have less to get by on for child care, or health care, or gas, or groceries," Obama said. To that end, he called on Congress to pass the Paycheck Fairness Act, "so women have better tools to fight for equal pay." The bill, which is intended to expand upon the protections offered by the Equal Pay Act and Fair Labor Standards Act, was blocked by congressional Republicans in both 2010 and 2012.
Near the conclusion of his remarks, the president also reiterated his desire to see Congress increase the minimum wage.
"Now's the time to make the minimum wage a wage you can live on," because 60 percent of those making the minimum wage are women." The president has proposed raising the minimum wage by 24 percent, from $7.25 to $9 per hour.
The president's full speech can be viewed here.
Photo of President Obama signing the Lily Ledbetter Fair Pay Act in 2009: Senator Mazie Hirono via Flickr.com