Obama: Republicans Are 'Scared Of Widows And Orphans'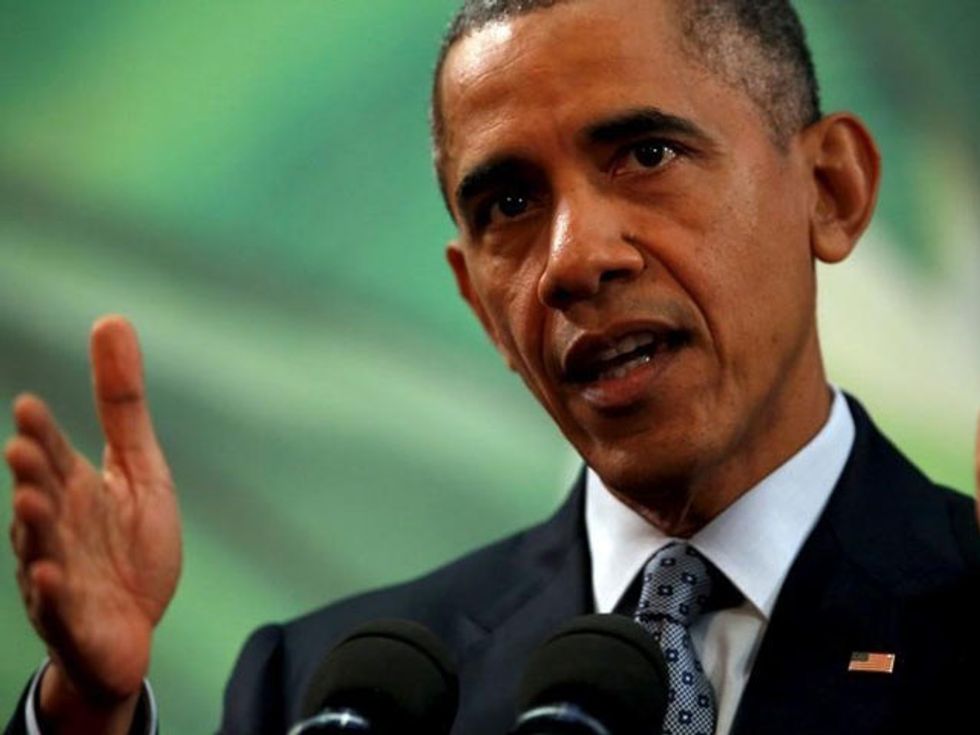 President Obama ripped into Republicans on the Syrian refugee issue Wednesday — even going so far as to all but to call out some GOP presidential candidates by name.
Speaking to reporters during his visit to Manila, Philippines, Obama laid out the many complex steps that actually go into vetting a refugee before they can ever get to the United States, a process that takes 18 to 24 months. This has even resulted in criticism, he noted, that it's taken too long "to show the kind of compassion that we need to for these folks who are suffering under the bombings of Assad and the attacks of ISIL. They're victims of this terrorism.
"And so if there are concrete, actual suggestions to enhance this extraordinary screening process that's already in place, we're welcome — we're open to hearing actual ideas. But that's not really what's been going on in this debate.
(Video via CBS News)
"When candidates say, we wouldn't admit three-year-old orphans [a reference to Chris Christie — though it was actually five-year-old orphans!] — that's political posturing. When individuals say that we should have a religious test and that only Christians — proven Christians — should be admitted, [Jeb Bush, and also Ted Cruz] that's offensive and contrary to American values.
"I cannot think of a more potent recruitment tool for ISIL than some of the rhetoric that's been coming out of here during the course of this debate."
He then continued, slamming the whole Republican field on their insistences that they would be tough in foreign policy: (Quotes via the White House transcript.)
ISIL seeks to exploit the idea that there is a war between Islam and the West. And when you start seeing individuals in positions of responsibility, suggesting that Christians are more worthy of protection than Muslims are in a war-torn land, that feeds the ISIL narrative. It's counterproductive, and it needs to stop.

And I would add, by the way, these are the same folks oftentimes who suggest that they're so tough that just talking to Putin or staring down ISIL, or using some additional rhetoric somehow is going to solve the problems out there. But apparently, they're scared of widows and orphans coming into the United States of America as part of our tradition of compassion. First, they were worried about the press being too tough on them during debates. Now they're worried about three-year-old orphans. That doesn't sound very tough to me.
One of those Republican candidates is now firing back quite proudly: Ted Cruz, who declared it "remarkable" that Obama has attacked him two days in a row — and Cruz, said, attacking "everyone else in this country who believes we should not be bringing in tens of thousands of Syrian Muslim refugees that the Obama administration cannot vet to determine whether or not they are ISIS terrorists."
And he's even challenging the president to a one-on-one debate on TV!
I tell you, it is utterly unbefitting of the president to be engaging in those kind of personal insults and attacks. And he also — he talked about how he was belittling the Republican field as scared. Well let me tell you, Mr. President: If you want to insult me, you can do it overseas, you can do it in Turkey, you can do it in foreign countries — but I would encourage you, Mr. President, come back and insult me to my face. Let's have a debate on Syrian refugees, right now. We can do it anywhere you want — I would prefer it in the United States, and not overseas where you're making the insults. It's easy to toss a cheap insult when no one can respond. But let's have a debate — we'll do it on any station, I'm sure any one of the TV stations would be glad to host it. And let's have a debate on your refugee policy."
Yes, we're sure that a single candidate in the wide-open Republican field will be able to land a televised debate with the president. But we can be sure that this moment of vacuous bluster from Cruz will now be a big, applause-getting refrain out on the campaign trail.
Photo: U.S. President Barack Obama delivers remarks after meeting with the Philippines' President Benigno Aquino alongside the APEC summit in Manila, Philippines, November 18, 2015. REUTERS/Jonathan Ernst