O'Reilly Is Now Challenging Hannity As Trump's Biggest Fan At Fox News
@EricBoehlert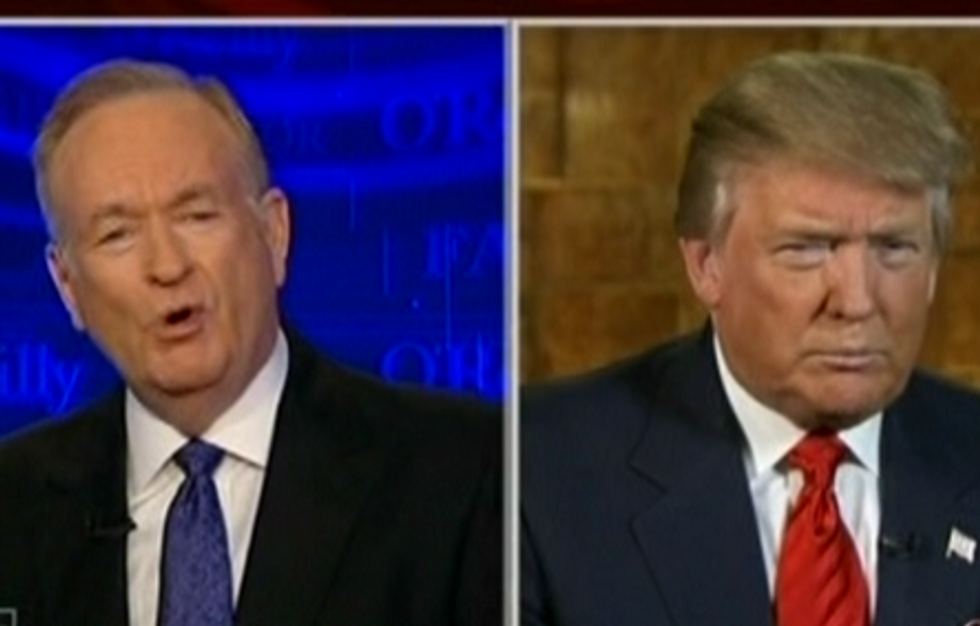 At a time when the roof seemed to be collapsing in on his campaign, Donald Trump found some recent refuge in the form of Bill O'Reilly's Fox News program.
Stumbling through a self-inflicted crisis that was sparked when Trump suggested that an American-born judge with "Mexican heritage" could not be impartial presiding over lawsuits pending against Trump University, the presumptive Republican nominee found himself under constant attack. The denunciations came even from within the conservative media and from members of the Republican Party.
But amid the hailstorm of contempt, O'Reilly provided temporary shelter this week when he told Fox viewers that the federal judge in question ought to recuse himself from the Trump U. lawsuit as Trump had insisted. O'Reilly didn't sign off on the idea that the judge's heritage made him untrustworthy. But the Fox talker did suggest Trump had created such a controversy with his comments that it would just be better for the judge to step aside.
In other words, O'Reilly wanted to reward Trump for his bullying tactics. He wanted to reward Trump's novel strategy of trying to create conditions for a judge's recusal by manufacturing a controversy about the judge. Or as The Washington Post's Erik Wemple put it, "In Bill O'Reilly's world, friends excuse friends for being racist."
O'Reilly also recently laid down a marker when he announced it was completely out of bounds to discuss whether Trump's a racist. "You don't use the 'R word' unless you are David Duke," O'Reilly told Rep. Bill Flores (R-TX). "Unless you have got a history of trying to denigrate minorities or other people."
O'Reilly insists he knows Trump's not a racist because O'Reilly's known him a long time. But of course, the Republican has a very clear "history of trying to denigrate minorities or other people." (Including suggesting that Mexican immigrants are "rapists" and proposing that Muslims be banned from entering America.)
In a campaign season that's featured an unusual amount of squabbling between the GOP nominee and Fox personalities — two forces normally united in their partisan pursuits — O'Reilly's willingness to stand beside Trump and his bizarre attack on a judge suggests O'Reilly might be picking his lane for the general election within Fox News by cozying up — even more than he already was — to the unpopular GOP nominee.
For good reason, Sean Hannity has largely served as the poster boy for Fox News' willingness to embrace Trump's candidacy. Hannity's fawning Trump coverage has led to widespread ridicule, including heated arguments with Trump's former chief rival for the nomination, Sen. Ted Cruz (R-TX).
But O'Reilly's handling of Trump has been just as embarrassing. O'Reilly has given Trump the kid gloves treatment over any number of scandals during the course of the campaign, and as the calendar shifts to the general election, things only seem to be getting friendlier between the two.
There's little doubt that Hannity sycophantic programming has produced ratings dividends. In May, his show enjoyed the largest year-to-year ratings boost among viewers 25-54 at the network. Hannity's 35 percent bump helped him pass Megyn Kelly and become Fox's second-highest rated show.
Hannity still trails O'Reilly, who's in no danger of losing his 16-year streak as Fox's best-rated host. And it's possible O'Reilly was always going to end up serving as Trump's television consigliere. (The two have been pals for decades.) But O'Reilly also sees the Nielsen needle moving and understands what produces good ratings at Fox: being nice to Donald Trump. (New York recently reported that, "According to one Fox News producer, the channel's ratings dip whenever an anti-Trump segment airs.")
In general, you don't get the feeling O'Reilly has posters of Trump hanging in his basement the way viewers might assume Sean Hannity does at home. But there's little doubt that O'Reilly now functions as a de facto Trump campaign advocate. (Even though O'Reilly gets defensive about that claim.)  And there's also little doubt that O'Reilly wants to cash in on that Trump champion role between now and November and make sure nobody else at Fox News passes him while cornering the Trump cheerleading market.
There's no question within Fox News, ratings envy fuels rivalries between program hosts. When Megyn Kelly enjoyed a star turn last year in the wake of being publicly attacked by Trump, CNN reported that O'Reilly resented her success. In fact, O'Reilly even lobbied internally that a post-debate special Kelly hosted which garnered huge audiences shouldn't be counted toward her regular ratings tally, according to CNN.
Amidst hostilities between Fox News and Trump in February, O'Reilly hosted the GOP politician for an interview where he unloaded more criticism on Kelly. Noticeably, O'Reilly did nothing to defend his Fox colleague during the interview. Kelly later told More magazine, "I do wish that O'Reilly had defended me more in his interview with Trump. I would have defended him more."
And increasingly, that has become O'Reilly's permanent role, to serve as a Trump protector. "Trump appears on the O'Reilly Factor almost weekly, engaging in pointless blather with its host—they joke about their friendship, while O'Reilly lobs softball questions (before spending the rest of the show telling his other guests how tough an interview he just conducted)," noted Isaac Chotiner at Slate recently.
Added Erik Wemple at the Post, "Three decades of [sharing] ballgames and vanilla milkshakes have turned 'The O'Reilly Factor' into a laundry room for Trump. His messes come in, and O'Reilly, OxiClean in hand, cleans them up for him."
O'Reilly No Spin Zone has been turned into a Soft Landing Zone for Trump.