Pardoned War Criminals Appear At Secret Trump Fundraiser
@dailykos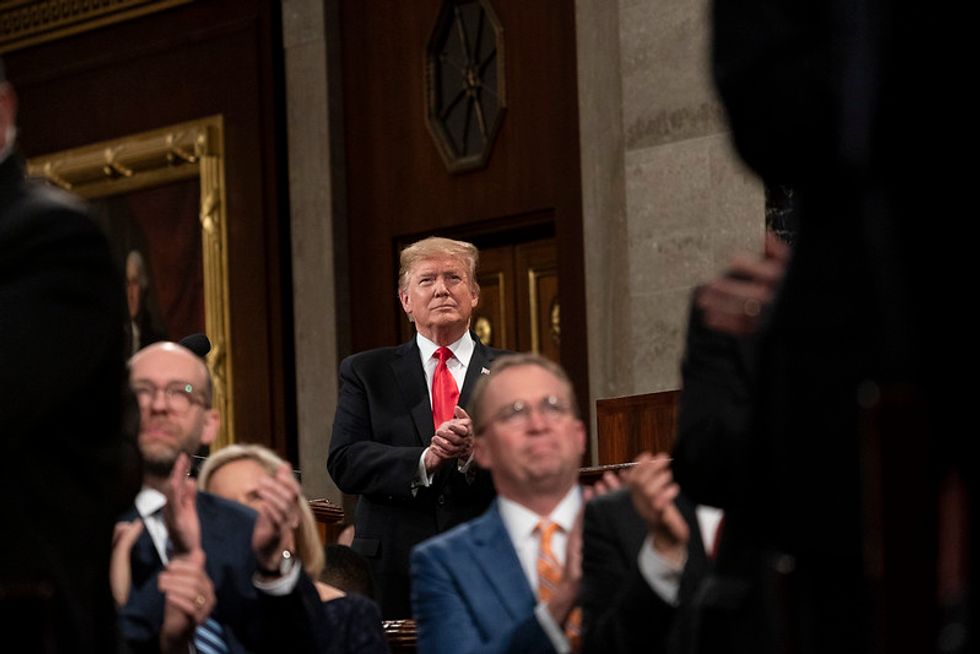 Reprinted with permission from Alternet
Donald Trump was in particularly odious form over the weekend. His primary non-appearance appearance was on Saturday night, when he spoke at a secret no-phones, no-reporters fundraising event for the Florida Republican Party. But he didn't just speak: The Miami Herald reports that Trump also took the opportunity to fete two of the military war criminals he recently pardoned, bringing the two out onstage with him.
There is no report of how the audience of Republican Party bigwigs, which included Jared Kushner, Reps. Jim Jordan and Mike Waltz and many of the state's top Republican officeholders, responded to Trump's presentation of two pardoned war criminals. We can only assume the Republicans present cheered and applauded the men, since there have been zero condemnations of Trump offering the two up for Republican celebration. (The sight of Jim Jordan or Florida Gov. Ron DeSantis giving military war criminals an ovation is, one presumes, why absolutely no recording device were permitted.)
From that well-received and, according to the Herald's queried attendees, "hilarious" hour-long private speech involving both war criminals and "impressions" of other political figures, No-Thumbs Hitler moved to a more public setting, giving an address to the Israeli American Council.
That appearance gave a more robust view of what top Republican officials claimed to find "hilarious", in Trump's prior appearance. Noting that he knew some of the attendees at the Sheldon Adelson-sponsored event from his real estate dealings, Trump declared them "not nice people at all, but you have to vote for me. You have no choice. You're not going to vote for Pocahontas, I can tell you that. [Laughter] You're not going to vote for the wealth tax!"
"Yeah, let's take 100 percent of your wealth away! No, no. Even if you don't like me, some of you don't, some of you I don't like at all actually. [Laughter] And you're going to be my biggest supporters because you'll be out of business in about 15 minutes if they get in."
Whether Trump's declaration that his audience of hard-right Jewish Americans love money too much to vote for his opponent strikes you as anti-Semitic is up to you; his continued obsession with referring to Sen. Elizabeth Warren with a racial slur is even blunter. Trump also invoked the "dual loyalty" tropes directed at Jewish Americans, and in fact not just invoked them but presumed and demanded them. "You have people that are Jewish people, that are great people, they don't love Israel enough. You know that."
After shaky weeks, Trump appears to be in a better mood than he has been in some time. The White House and Senate Republicans appear to have settled on a strategy for pushing an impeachment trial through the Senate as quickly and insincerely as possible, as "lawyer" Rudy Giuliani begins production of an anti-Biden "documentary" relying on the same corrupt forced-from-power pro-Russian Ukrainian grifters and thugs that successfully removed an anti-corruption U.S. ambassador in a previous smear campaign. He appears to believe he is on the cusp of not just getting away with his extortion scheme, but that with the Republican Senate's help he will soon be able to advance it to its planned next stages.