Pence Claims Trump Was 'Deeply Remorseful' In Aftermath Of January 6
@next2godwin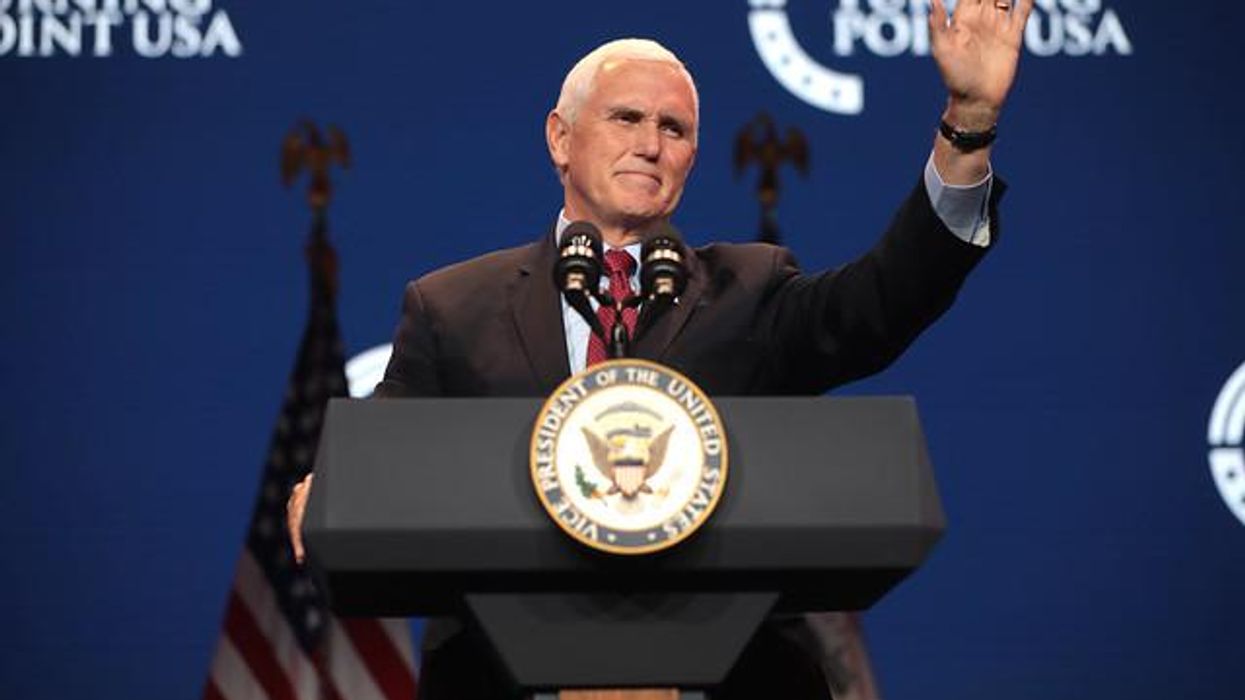 Photo by Gage Skidmore/ CC BY-SA 2.0
Shortly after January 6, 2021, then-President Trump, who had for weeks prior embarked on a nothing-off-the-table campaign to overturn his loss in the 2020 presidential elections, expressed "deep" remorse for the violence at the U.S Capitol, former Vice President Mike Pence said on Sunday.
Pence made the bizarre claim in a Fox News Sunday interview while promoting his new book, So Help Me God, in which he detailed his time in the White House and his experiences before, during, and after the insurrection.
"The President and I clashed in the days leading up to January 6. I'll always believe that I did my duty that day, by God's grace, under the Constitution, and upheld the peaceful transfer of power," Pence told Fox News host Shannon Bream.
Five days after the now-infamous riot, which claimed five lives, Pence said he "walked into that back room and the president looked up at me, and I sensed he was deeply remorseful about what had happened."
"But I was angry," Pence added, referring to Trump's persistent urging that he unconstitutionally reject the election results. "I was angry about our difference that day, and I was also angry at what I saw."
That day, on the Ellipse in Washington, DC, Trump told a crowd of supporters that he hoped Pence "does the right thing," for it was the only remaining path through which the lame-duck president believed he could retain power.
[Tweet]
"There's probably no idea more un-American than the notion that any one person could choose who the winner of a presidential election is," Pence told Bream, rejecting the supposition behind Trump's pre-January 6 pressure campaign — that a vice president could scrap legally cast electoral college votes.
Before his pit stop at Fox News, Pence said on PBS Newshour that shortly after the major media outlets called the 2020 presidential elections for Joe Biden, he had warned Trump in private "to accept the outcome of the election and move forward."
Pence, who has blown hot and cold about his time with Trump, called the ex-president's failed 2020 election lawsuits an "opportunity to vent concerns about irregularities that did occur and look at any fraud evidence that ultimately did not come," according to PBS.
"But it never occurred to me, any more than I think almost anyone else, that the violence of that day would ensue," Pence told Woodruff.
However, in a bombshell revelation in June, Maggie Haberman of the New York Timesreported that Pence's chief of staff, Marc Short, had warned the vice president's secret service detail before January 6 that Trump would turn on Pence and the security threat the move could pose.
A former Trump aide, Cassidy Hutchinson, testified in June to the House Select Committee, a congressional panel probing January 6, that Trump lawyer Pat Cipollone had warned of violence in the days leading up to the attack.
"It was clear he had decided to be a part of the problem," Pence said to Bream of Trump's volcanic outburst at the Ellipse. "I was determined to be part of the solution."
Trump sulked for some time after Congress defied him to certify Biden's victory. He sent for Pence five days later and, in a 90-minute conversation, asked about the wellbeing of the vice president's wife, Karen Pence, and daughter, both of whom were at the Capitol and had to be evacuated when Trump's irate mob stormed the building, per PBS.
Pence informed Bream that he had "sternly" responded, "They're fine, Mr. President," after which he expressed his fury at "what I saw that day."
The ex-vice president said, "In that moment, he seemed genuinely remorseful… "The president lamented what had happened. He said what if we hadn't had the rally. It's so terrible to end like this."
Trump has repeatedly labeled the election "stolen," the January 6 "a loving crowd," and Biden, who trounced him in an election he expected to win by a landslide, an "illegitimate" president.
Despite years-long bipartisan criticism of Trump's voter fraud claims — which multiple reports have debunked — the former president has insisted his perceived enemies cheated him out of a win, an injustice he has said, to collective rebuke, calls for the termination of the Constitution.