No Plans To Search For Bodies Of Mount Rainier Climbers, Officials Say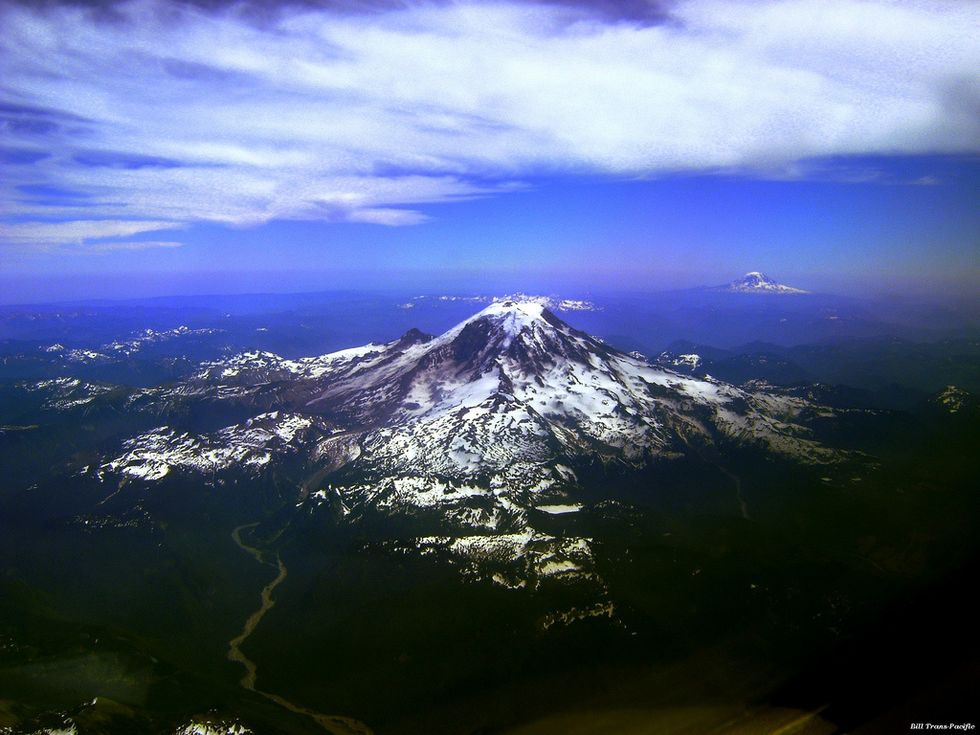 By Maria L. La Ganga and Paresh Dave, Los Angeles Times
EATONVILLE, Wash. — As family members of six climbers believed to have died in a catastrophic fall on Mount Rainier made their way to Washington state, officials said there are no plans to actively search for the bodies because of the treacherous terrain.
"All indications point towards a fall of 3,300 feet from near the parties' last known location at 12,800 feet on Liberty Ridge," a Mount Rainier National Park spokeswoman said in a recorded message. "There is no viable chance of survival from such a fall. … At this point there are no plans to put people on the ground at the site because of the ongoing hazards."
In the coming "weeks and months," she said, the climbers' route will be checked occasionally from the air, and "potential opportunities for helicopter-based recovery will continue to be evaluated. There is no certainty that recovery is possible given these locations."
Two experienced guides and four clients from Seattle-based Alpine Ascents International began their ascent of the fifth-highest mountain in the continental U.S. on Monday and had been expected back on Friday.
When they failed to show up at the trail head as expected, Alpine Ascents reported the group missing.
Gary Harrington, the climbing company's director of operations, confirmed that the lead guide was Matt Hegeman, an experienced climber who had led more than 50 ascents of the mountain. Harrington declined to identify the second guide or the four other climbers.
"They've been on Rainier 50-plus times," Harrington said of the two guides in an interview Sunday morning. "It's certainly considerable. That specific route and that climb they've done many times as well. They're both very experienced climbers, both worked for us in excess of five years, probably a little bit longer in Matt's circumstance."
Harrington said there is no perfect time to climb Rainier, but this time of year is probably the best because there is still snow on the ghostly peak, which looms over southwestern Washington.
"It's always difficult," Harrington said. "If you climb it without snow on the ground, you're climbing on loose rock, which is more dangerous. We need a snow pack because that makes the possibility of rock slippage or rock falling less."
Alpine Ascents runs between 60 and 70 Rainier climbs a year, in addition to others around the world. The company canceled a Rainier climb that was scheduled to begin Sunday morning, and Monday's Rainier ascent is still questionable.
Harrington said it is not possible at this point to know what caused the tragedy, which struck the small, close-knit climbing community hard. But he said possible causes include "rock fall, avalanche, a mixture of everything in between."
Late Saturday, a family member identified one of the climbers as Mark Mahaney, a 26-year-old from St. Paul, Minn. Mahaney had reached the summit of Mount Rainier before, but this time around, he was trying a new route.
"Nothing will be easy on this climb," he wrote on his Facebook page last month. During Easter, a family member told him not to make the trek. "There's nothing going to stop me," he said, according to his uncle.
Rob Mahaney, 53, said by phone Saturday night that his nephew talked only about two things: mountains and his girlfriend.
Mark Mahaney regularly went to an indoor rock climbing gym and never missed a chance to scale walls of ice.
"He just loved the exhilaration," his uncle said. "He was a very energetic child, and climbing just kind of filled his niche. This is what gives us a warm feeling: He was doing what he absolutely loved."
Nearly 11,000 people attempted to scale Mount Rainier in 2013. In most years about half of those who try reach the top, according to National Park Service statistics. Forty rescue operations were required last year.
Since 1897, at least 89 people have died on Mount Rainier during summit climbs, according to the park service. In June 1981, 11 climbers were killed after being buried under giant chunks of ice in what's widely regarded as the worst climbing accident in U.S. history. Since then, an average of one death has been recorded each year on Mount Rainier.
Photo via Flickr