The Politics Of Impeaching Trump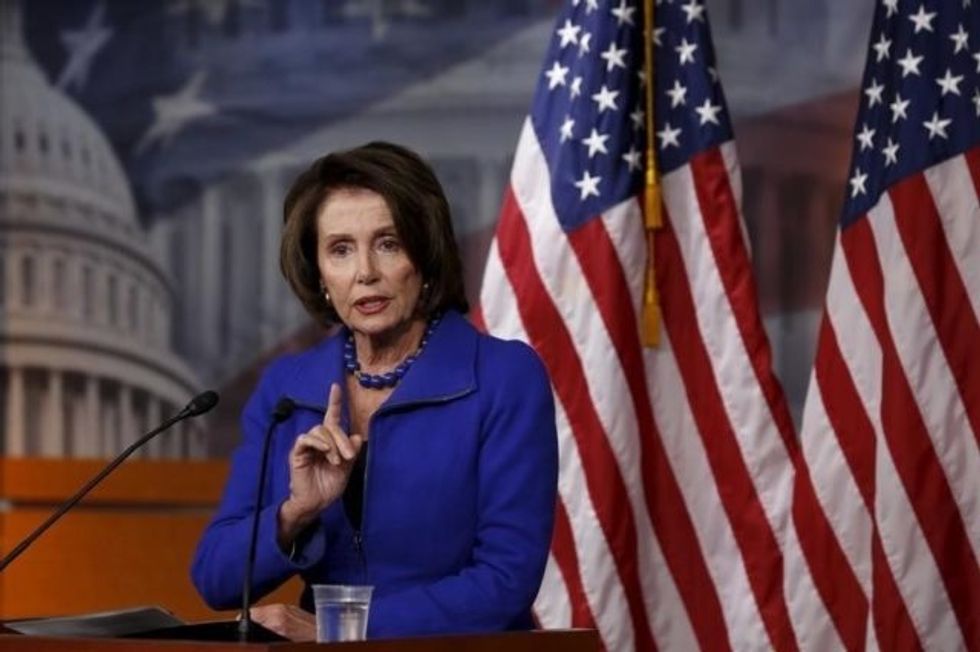 Reprinted with permission from AlterNet.
One thing you can count on in 2018: The simmering politics of impeachment are sure to come to a boil.
In President Trump's first year in office, his abuses of power, ranging from taking payments for foreign and state governments to firing FBI director James Comey "for this Russia thing" to his embrace of white supremacists, prompted Democrats and defenders of the Constitution to talk about "high crimes and misdemeanors."
In his second year, talk is turning to action. The question is, what kind of action?
Polls suggest that Democratic women, people of color and donors want a fast track to impeachment. Elected officials say they want to go slow. The base wants a wedge issue to punish an unfit and unpopular president and the Republicans who enable him. The leadership wants a non-partisan constitutional process that follows public opinion, instead of leading it.
The issue is sure to come to a head this year. As the November midterm elections approach, the 180-plus congressional Democrats running for reelection and the scores of candidates hoping to join them will not be able to duck the question, "Do you favor the impeachment of President Trump?"
"This question affects the lives of every single American," wrote billionaire climate activist Tom Steyer upon joining the impeachment campaign in October. Voters "deserve to hear whether or not our party is willing to do what is necessary to protect them and their families. This is not an academic exercise. The very stability of the Republic is at stake."
"Now is not the time to talk about impeachment," says House Minority Leader Nancy Pelosi. She and her lieutenants in the Democratic leadership prefer to focus on the party's policy agenda in this year's elections.
"When you haven't been in the majority since 2010, you want to make sure that, given the opportunity we have in front of us to take back the House, you remain focused," Rep. John Larson (D-Conn.) told Vanity Fair. "And that's the only way any progressive agenda is going to have the opportunity to see the light of day."
Pelosi and 125 members of the Democratic caucus in the House of Representatives voted again introducing articles of impeachment last month, compared to the 58 who voted for it. The Democratic leadership would prefer to wait for the conclusion of special prosecutor Robert Mueller's investigation, which could last another year.
Gender Gap
Pelosi's dilemma is that 70 percent of Democratic voters favor impeachment now, and the party's most loyal constituencies—women and people of color—favor it the most.
Support for impeachment grew from 30 percent of the public in February 2017 to 40 percent in August, according to a Public Religion Research Institute poll. But among women, support for impeachment grew even more, from 35 percent to a near majority, 47 percent.
The gender gap is more than matched by a color gap. Last summer, more than seven in 10 (72 percent) black Americans, and a majority (53 percent) of Hispanic Americans, said Trump should be impeached, according to the PRRI poll. Less than one-third of white Americans agreed.
An NBC News/Wall Street Journal poll in December found support for impeachment has remained constant since the summer with 41 percent of respondents saying they favored opening impeachment hearings immediately.
The results of the Virginia and Alabama elections suggest that Democratic candidates won, not by appealing to Trump voters and independents, but by pumping up Democratic turnout with an anti-Trump message. The constitutional remedy of impeachment can serve as that message.
John Bonifaz, the constitutional lawyer who launched the ImpeachDonaldTrumpNow.org website with the Roots Action network on Inauguration Day, is wary of impeachment as a partisan issue. He says Pelosi is putting politics over principle.
"Nancy Pelosi has been saying that we don't have the facts out, we don't have the Mueller investigation completed," Bonifaz told Amy Goodman. "But what they're really saying is they want other facts out, because we already have the facts out about what this president has done with respect to the emoluments clauses, with respect to obstruction of justice and so many other impeachable offenses."
Support for impeachment, as measured by the polls, may have leveled off in the general population, but it has certainly grown among those who oppose Trump.
Almost 1.4 million people have signed Bonifaz's impeachment petition since January. More than 4 million have signed Steyer's Need to Impeach petition since October.
The cause is clear. Trump's abuse of power is transforming the legalistic language of "high crimes and misdemeanors" into a personal imperative. A president who flouts the U.S. Constitution, advocates prosecuting his critics, boasts of groping women, and praises white supremacists is experienced as a personal threat, most immediately by female and minority voters.
Democrats cannot win a congressional majority in 2018 without turning out those voters. And Democrats cannot turn out those voters at the polls by tuning out their fears of Trump.
"Now" is not the moment when Nancy Pelosi wants to talk about impeachment, but if she wants to return to the Speaker's chair next year, the time is coming.