Poll: Booker's Lead Steady In NJ Senate Race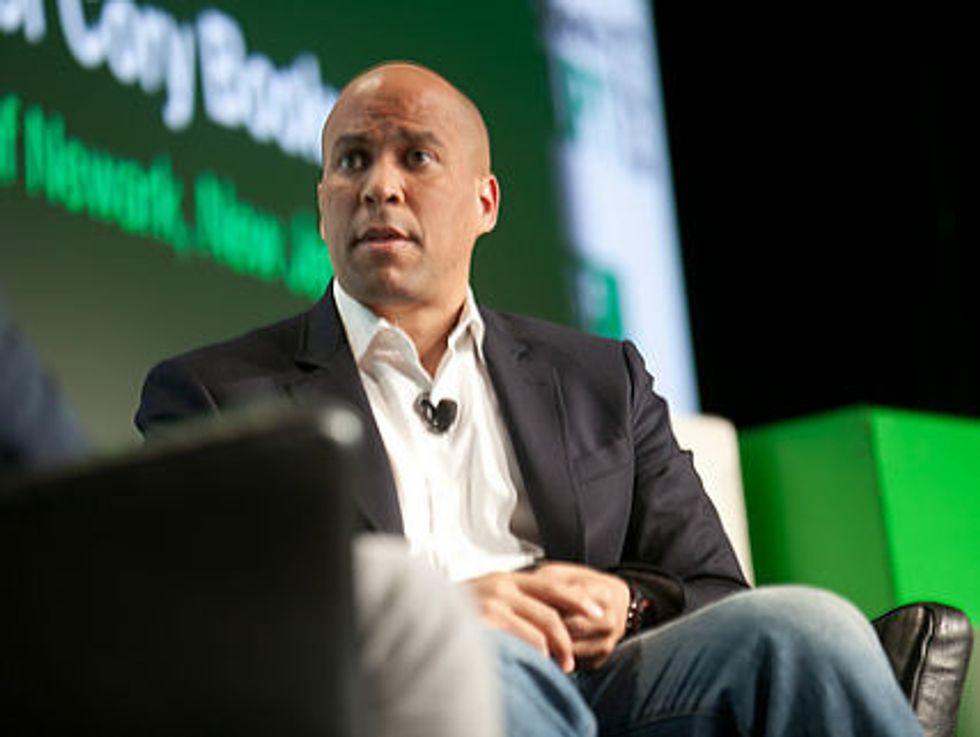 From early September to early October, Newark mayor Cory Booker's lead in the New Jersey special Senate election dwindled from an "insurmountable" 35 point advantage to just a 12 point lead. A Quinnipiac University poll released Wednesday shows that Booker has maintained the 12 point lead as the October 16 election draws nearer.
"It's still not the predicted blowout, but with a week to go, Newark mayor Cory Booker hangs on to a nice, if not exactly comfortable, double-digit lead," wrote Maurice Carroll, director of the Quinnipiac University Polling Institute.
Booker leads Republican nominee Steve Lonegan by 53 percent to 41 percent among likely New Jersey voters, according to the poll. His continued success in the race is due, in large part, to support among New Jersey women, who back Booker by a margin of 62 to 31 percent. In contrast, Republican Steve Lonegan leads Booker among likely male voters, 51 percent to 44 percent. Lonegan also beats Booker among independent voters by 50 percent to 44 percent.
Booker may owe his wide lead among women to a few off-color remarks his opponent made about single mothers. For example, Lonegan told MSNBC's Steve Kornacki that food stamp benefits should be cut because his mother was able to raise a family after the death of his father. "We never had to have SNAP, when I was a kid," Lonegan said. "OK, so, this thing that every single mother is the poster child for the welfare state is nonsense… I know a lot of single moms go out to work and do very, very well for themselves."
The poll also found that the mayor's Twitter exchange with an Oregon stripper has not hurt him politically — 76 percent of likely New Jersey voters say Booker's private messages with the exotic dancer, which were uncovered by Buzzfeed recently, are not of concern. Women were relatively unfazed by the discovery of the tweets — 73 percent of women do not view them as a legitimate issue in the race.
Booker's continued success mirrors the political leanings of the largely liberal state, the poll found. New Jersey voters support the Affordable Care Act by 51 percent to 44 percent, and also oppose the government shutdown to stop implementation of the law, 77 percent to 17 percent.
If anything, Booker's outsized role on social media and television has helped the Democrat. His public persona gives him a favorable image, which is far greater than his opponent's. "Money talks, at least on TV. Booker's on a lot and Lonegan only a little and almost a third of New Jerseyans haven't seen enough of Lonegan to make an up-or-down judgment," wrote Carroll.
Photo: JD Lasica via Flickr