Poll: Cory Booker Takes 'Insurmountable Lead' In New Jersey Senate Race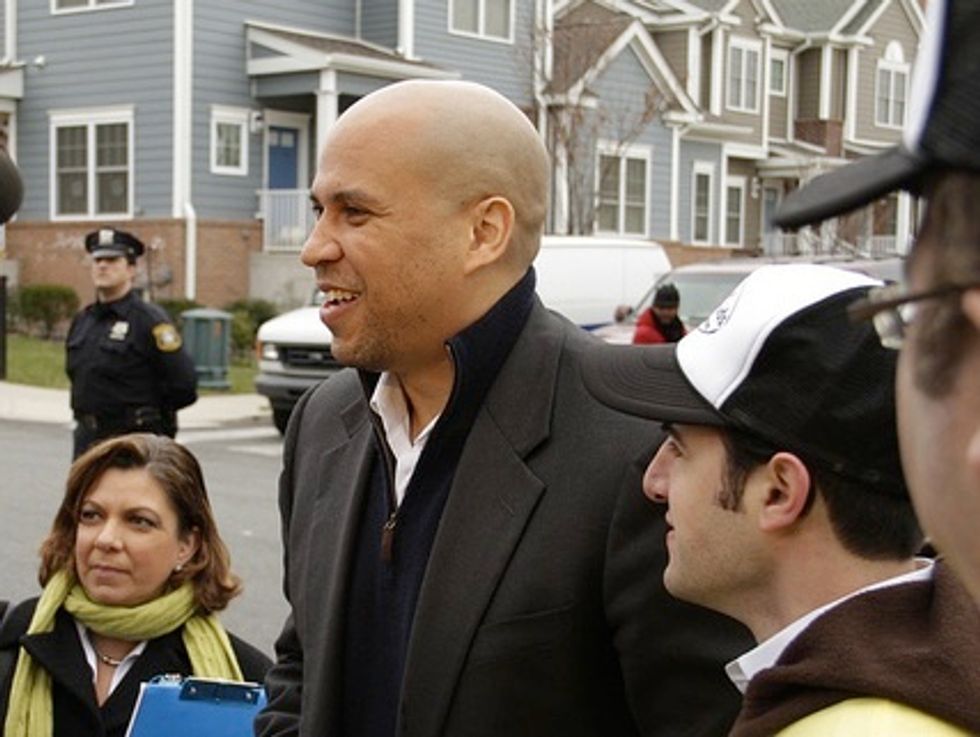 A new Rutgers-Eagleton poll finds Newark mayor Cory Booker (D) leading his Republican opponent, Steve Lonegan, by a staggering 35 points in New Jersey's special election for U.S. Senate. Election Day is set for October 15, about five weeks after the poll was conducted.
The poll shows 64 percent of likely voters support Mayor Booker, while 29 percent support Lonegan; 6 percent are undecided.
The pollsters at Rutgers-Eagleton also offered analysis on why Booker is polling so well.
For starters, Booker has shored up near-unanimous support from his base: More than 90 percent of Democratic likely voters and 52 percent of their independent counterparts back Booker, who has even garnered support from 19 percent of Republican likely voters in the state.
Part of Booker's early success may be driven by name recognition, according to Rutgers-Eagleton — 63 percent of New Jersey voters have a positive view of Booker, while 19 percent view him unfavorably and 17 percent are neutral. In contrast, only 22 percent view Lonegan favorably; more than half of those polled simply had no impression of the Republican nominee.
While Booker's favorable name recognition certainly helps him, his political views are also popular in the heavily Democratic state. Over 60 percent of New Jersey voters believe his stance on political issues is more important than governing style. But, even if voters viewed governing style as more important than issues, it wouldn't hurt Booker: He leads among voters from both camps.
All of these factors have led to a probable landslide for Booker, according to David Redlawsk, director of the Rutgers-Eagleton poll. "Booker appears to be building an insurmountable lead," Redlawsk told the Eagleton Poll blog. "While special elections are notoriously hard to predict, given uncertainties about turnout, Booker's name recognition, celebrity-type status and stances on issues that align more with New Jersey's 'blue' political climate seem to be driving momentum toward him and away from Lonegan. On top of that, the Republican's most recent news highlights attacking Booker's masculinity have been quite unflattering."
New Jersey voters, it seems, agree with Redlawsk's analysis. Close to 80 percent of voters — Democrat or Republican — believe Booker will win the special election in October.
Photo: Kars4Kids via Flickr.com