Q&A: Could States With Federal Exchanges Easily Launch Their Own?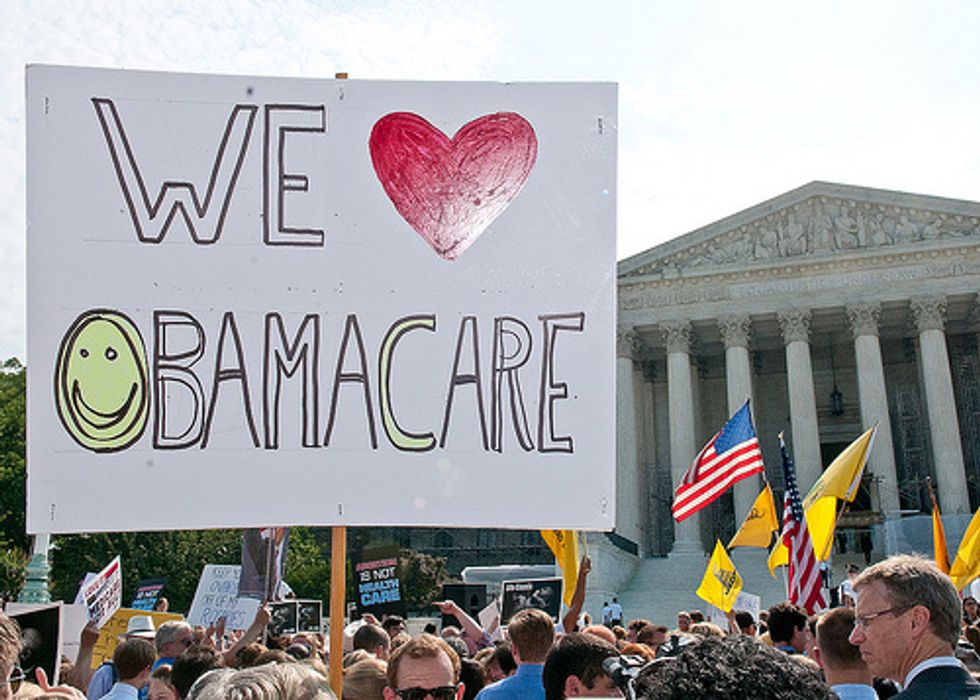 By Christine Vestal, Stateline.org (TNS)
WASHINGTON — The Obama administration says it does not have a contingency plan if the U.S. Supreme Court rules against federal tax subsidies in King v. Burwell. But lawmakers in at least nine states are proposing backstop measures that legal experts say could work.
At issue is whether residents of the 34 states where the federal government runs the health insurance exchange under the Affordable Care Act can receive premium tax subsidies. Affordable Care Act opponents argue that a strict interpretation of the language in the statute indicates people can only receive federal subsidies if they purchase policies on an "exchange established by the state."
If the high court sides with the plaintiffs, what's to stop states from quickly establishing a state exchange? Florida, Indiana, Maine, Missouri, New Hampshire, New Jersey, Ohio, Pennsylvania and Texas have bills that would jumpstart the process.
Q: How easy would it be for a state to switch its exchange from federal to state?
A: It wouldn't be easy. The first step would be enactment of a law authorizing a state agency, nonprofit or public-private entity to run the exchange. Next, a state would have to build or acquire a website to enroll residents, take over contracts with insurance carriers, develop a consumer assistance program and create a bureaucracy to operate the exchange.
Q: Could the change be accomplished quickly?
A: Judging by the time it took the 16 states that have already established their own exchanges, the answer is "no." But with strong political support, a state could expedite the process in an attempt to prevent its residents from losing federal subsidies and potentially becoming uninsured. Still, it would be difficult for a state to complete the transition before the high court's decision — which is expected in late June — would likely take effect. Some argue the court should provide a grace period lasting through 2016 to allow states that want to create their own exchanges to do so.
Q: What's at stake?
A: An estimated 8.2 million people would likely lose insurance coverage if the high court decides in favor of the plaintiffs. Without premium tax subsidies, the monthly payments consumers would have to shell out for policies sold on the exchange would rise an average of 255 percent in federal exchange states, making them unaffordable for the vast majority of people enrolled. In addition, premiums for policies sold off the exchange would spike an estimated 47 percent because the departure of so many relatively young and healthy exchange subscribers would increase the risk of the state's overall insurance pool, according to a new study by the RAND Corp.
The 34 states with federal or partnership exchanges would lose $29 billion in federal subsidies in 2016, or $340 billion over ten years. In the first year, Florida and Texas, two of the states with bills that would authorize a state exchange, would lose $3.9 billion and $4.4 billion, respectively, according to an analysis by the Urban Institute.
Q: Can states take over their state-specific sections of HealthCare.gov?
A: Yes. Three states — Nevada, New Mexico and Oregon — already have done so, and all three are considered state exchanges by the administration and the plaintiffs in the case. Idaho temporarily used the federal portal until it completed construction of its own website last year. If the high court rules against federal exchange subsidies, the administration is expected to make it as easy as possible for other states to do the same thing.
Q: How would a website transfer work?
A: In Oregon, where the exchange website built by the state failed to perform, the exchange authority, Cover Oregon, got approval to use the federal website — HealthCare.gov — to enroll residents in exchange policies. An updated document known as an exchange blueprint served as Oregon's contract with the federal government to take over the HealthCare.gov website, according to a spokesperson for Cover Oregon.
Similarly, Nevada abandoned its troubled website and co-opted the federal platform last year. New Mexico, which completed all the preliminary requirements for establishing its own exchange but ran out of time to build a website, is also using the federal website.
In all cases, the website and all of its transactions remained under federal control. State exchange authorities simply contracted with the federal government to provide enrollment services.
Separate health insurance websites and call centers were maintained by states to provide consumer information and assistance. All other functions — including oversight of insurance policies, annual audits, hiring and training of so-called "navigators" to assist consumers, and compliance with U.S. Department of Health and Human Services reporting requirements — were also performed by the state.
Q: How much would it cost states to take over their portion of HealthCare.gov?
A: It's not known whether the federal government will charge states for use of HealthCare.gov. So far, Idaho, Nevada, New Mexico and Oregon have not been assessed a fee. But in the future, the federal government could charge a fee for website updates and improvements or simply lease the website to state-run exchanges.
Currently, the cost of maintaining and updating HealthCare.gov is funded in part through fees assessed on the insurance carriers that sell their policies on the website. In the three states using HealthCare.gov, and in all other state-based exchange states, those fees are assessed and paid to the state.
The U.S. Department of Health and Human Services granted states nearly $5 billion to build their own exchanges, but the deadline for receiving that money ran out last year. Federal grants are still available for consumer outreach.
Q: How likely is it that states will make the change?
A: Most states are not expected to make the change unless the court declares federal exchange subsidies illegal. If that happens, at least two governors have declared they will take immediate action to protect their residents from losing subsidies. Republican Governor John Kasich of Ohio and Democratic Governor Tom Wolf of Pennsylvania have said they are committed to such a contingency plan.
Photo: SEIU International via Flickr