Report: 117 Percent Increase In Children 12 And Younger Crossing Border Alone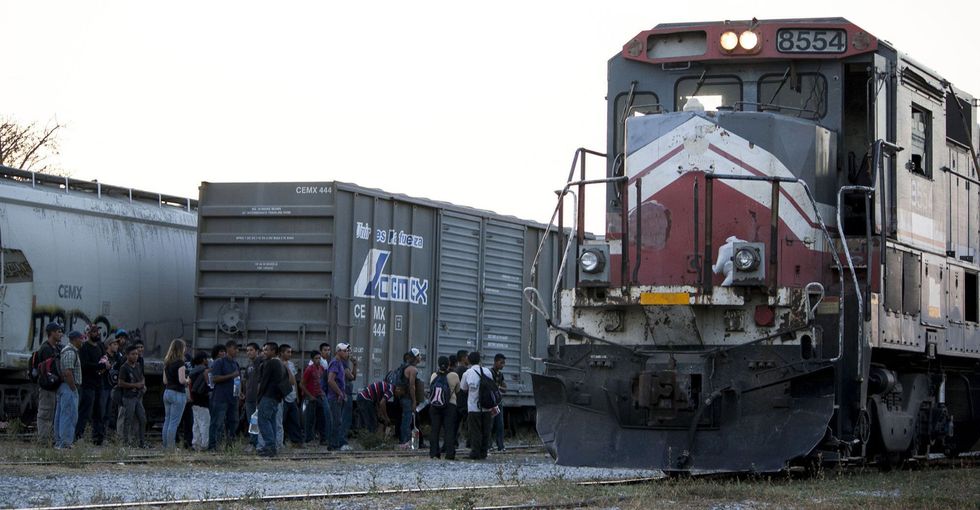 By Molly Hennessy-Fiske, Los Angeles Times
HOUSTON — Not only have more unaccompanied children illegally crossed the southern border this year — more than twice last year's total — but they are crossing at much younger ages, according to a study released this week.
There has been a 117 percent increase in apprehensions among unaccompanied children ages 12 and younger and a 12 percent increase among teenagers between the 2013 and 2014 fiscal years, according to government statistics obtained through a Freedom of Information Act request by the Pew Research Center. Also, the number of unaccompanied girls that have been caught crossing the border illegally has increased more rapidly this year than the number of boys, Pew research found.
"These under-12-year-old children who are coming across the border unaccompanied, many of them are coming from Honduras, Guatemala, and El Salvador," said one of the authors of the study, Mark Lopez, Pew's director of Hispanic research. "In the last year, there has been a change in the composition of the unaccompanied minors who are apprehended."
Since October, more than 57,000 youths have crossed the southern border unaccompanied, meaning without a parent or guardian. Most come from Central America and cross into the United States through the Rio Grande Valley in Texas.
In recent days the number of children making the perilous journey has dipped, but federal officials have cautioned the decrease may be temporary. The Obama administration and Congress have been scrambling to cope with the humanitarian crisis, promising expedited processing and deportations. Advocates have called for more lawyers and aid for young migrants thrust into a complicated court system.
Although the increase among migrants ages 6 to 12 was significant, they made up only 14 percent of total youths apprehended at the border, according to the Pew report, which provides the first detailed portrait of the age and nationality of child migrants detained.
There are still more 13- to 17-year-olds crossing, 84 percent of youths apprehended. Most are 16- and 17-year-olds, Lopez said.
Fewer than 1 percent of children caught this year were younger than 1 year old, and only about 2 percent were 5 or younger, the report said.
The number of unaccompanied children varies by country. The share of minors 12 and younger among Honduran children making the trek alone increased to 27 percent from 20 percent. The number from El Salvador rose to 22 percent from 17 percent; Guatemala doubled to 10 percent.
By contrast, this year just 3 percent of Mexican apprehensions were young children and the percentage of young children was unchanged, the study said.
"The fact that Hondurans represent the highest percentage (27 percent), followed by Salvadorans, makes clear that the major push factors are violence," said Susan Terrio, an anthropology professor at Georgetown University who has interviewed dozens of unaccompanied immigrant children.
The increase among unaccompanied teenage girls caught illegally crossing is highest among girls from Honduras, (5,300), followed by El Salvador (3,792), and Guatemala (2,699), according the Pew results released Friday.
President Barack Obama was meeting with the leaders of Honduras, El Salvador, and Guatemala on Friday to discuss the surge in unaccompanied children.
Overall, the number of unaccompanied girls increased 77 percent so far this fiscal year to 13,008, compared with 7,339 last year. Far more boys are apprehended at the border, but their ranks have grown more slowly — 8 percent during the same period, or 33,924 this year compared with 31,420 last year.
The number of girls 12 and younger has grown even faster, 140 percent, while the number of boys the same age doubled. Apprehensions of unaccompanied teenage girls are up 62 percent this year, while among teenage boys there's been almost no increase.
The number of children caught crossing the border illegally with a parent or guardian nearly tripled in less than a year, according to the Pew analysis. So far this fiscal year, 22,069 accompanied children were apprehended, compared with 8,479 last year. More than half, 12,074, came from Honduras, a 434 percent increase from last year.
Migrant children traveling with a parent tended to be younger; about 81 percent were 12 years or under, compared with 16 percent of unaccompanied children.
"The fastest-growing population is parents and young children," Terrio said, "Because under U.S. Immigration law, children are considered as appendages of their parents, some attorneys are reporting that children are being piggybacked onto to their parents' claims for asylum relief. Thus, if the parent's claim is denied, the kids are also denied. That is, some children's cases could qualify for legal relief if they were considered alone or apart from the parent's claim."
Those children traveling with a parent or guardian may actually at a legal disadvantage compared with unaccompanied peers, said Bryan Johnson, a New York-based immigration lawyer who works with unaccompanied youth.
Those who arrive unaccompanied often join parents who have been in the U.S. for years, have developed support networks and know where to turn for legal help, he said. With children who arrive accompanied, he said, "The parents don't know that much more about the immigration courts than they do."
Photo: Cronkite News Service/MCT/Jessie Wardarski
Interested in national news? Sign up for our daily email newsletter!