Rescuers Struggle To Find Laos Plane Crash Victims
@AFP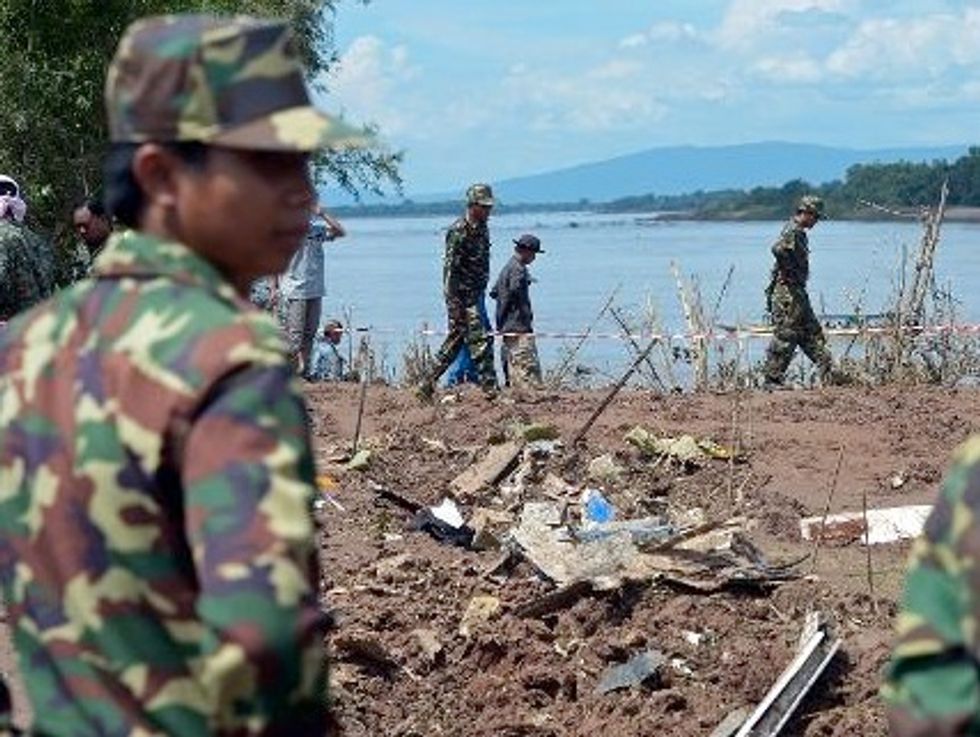 Pakse (Laos) (AFP) – Rescuers battled hazardous conditions Thursday in the search for bodies from a Lao Airlines plane which plunged into the Mekong River with 49 people on board, more than half of them foreigners.
All passengers and crew — from a dozen countries — were presumed dead after the turboprop ATR-72 came down in stormy weather on Wednesday, sinking to the bottom of the swollen waters.
As rescuers scoured the river for the submerged plane, a crane perched on a floating platform in the middle of the Mekong was on standby to try to winch up the aircraft.
About 10 boats of varying sizes plied the fast flowing waters and divers from a Thai rescue team were on the scene to assist.
"It's difficult to dive because there is a strong current and it's dangerous. So I think it's 50/50 that we will find something," said Thai rescue diver Aniwat Plaeng-ngaan, 20.
Crowds of local people, monks and security personnel watched from the banks. Some recounted seeing the plane in trouble before it came down.
"I heard a boom! A sound like a bomb going off. There was smoke and flames before it crashed," said local village chief Buasorn Kornthong, 37.
Some debris was seen floating along the river and suitcases were wedged in mud on the riverbank.
The flight from the capital Vientiane was carrying 44 passengers and five crew, including 28 foreigners, when it crashed near Pakse airport in Champasak province, according to officials.
"Tragically, we expect there are no survivors," Lao Airlines CEO Somphone Douangdara said in a statement on Thursday, expressing "deepest condolences" to families of the victims.
Seven bodies have been recovered so far, Yamina Benguigui, France's minister for French-speaking countries, told AFP after a meeting with the Laos foreign minister in Vientiane.
"The remnants of the plane are at the bottom of the Mekong, nothing has been pulled up. The bodies are still in the aircraft," she told AFP, adding that those that had been found had not yet been identified.
Some of those killed were taken to a Chinese-run mortuary in Pakse town, which is a hub for tourists travelling to more remote areas in southern Laos.
Three bodies draped in blue plastic sheets were seen in the building, which was guarded by some 10 policemen, some armed, who turned away onlookers.
"They are foreigners from the crash," staff at the centre told AFP, adding that their nationalities were unknown.
Lao Airlines said the aircraft hit "extreme" bad weather while witnesses described seeing the aircraft buffeted by strong winds.
"The plane was about to land but appeared to be hit by a strong wind, causing its head to ascend and pushing it away from the airport area and out of reach of the air traffic control radar," state-run Laos news agency KPL quoted a witness as saying.
French President Francois Hollande learned of the disaster "with profound emotion and great sadness", his office said in a statement.
'Absolute horror'
According to a passenger list from the airline, there were 16 Laotians, seven French travellers, six Australians, five Thais, three South Koreans, two Vietnamese, and one national each from the U.S., Canada, Malaysia, China and Taiwan.
Australia said a family of four was among its nationals feared dead.
The family of a further two missing Australian men, father and son Gordon and Michael Creighton, issued a statement requesting privacy "at this devastating time".
"We have lost a father, a husband, a son, a brother, a fiancé and a best mate in one tragic circumstance and are trying to come to terms with our loss," they said.
Cambodia's civil aviation office said the pilot was one of its nationals and had "many years" of flying experience.
The QV301 flight set off from Vientiane on time at 2.45pm (0745 GMT) and was supposed to arrive in Pakse just over an hour later.
French-Italian aircraft manufacturer ATR said the twin-engine turboprop aircraft was new and had been delivered in March.
Founded in 1976, Lao Airlines serves domestic airports and destinations in China, Thailand, Cambodia and Vietnam.
Impoverished Laos, a one-party communist state, has had 29 fatal air accidents since the 1950s, according to the Aviation Safety Network, whose data showed that the country's safety record had improved dramatically in the last decade.
The last fatal air accident was in October 2000 when eight people died after a plane operated by the airline — then called Lao Aviation — crashed in remote mountains in the northeast of the country.
AFP Photo/Pornchai Kittiwongsakul