Who Are The Real Sexual Predators? There's A List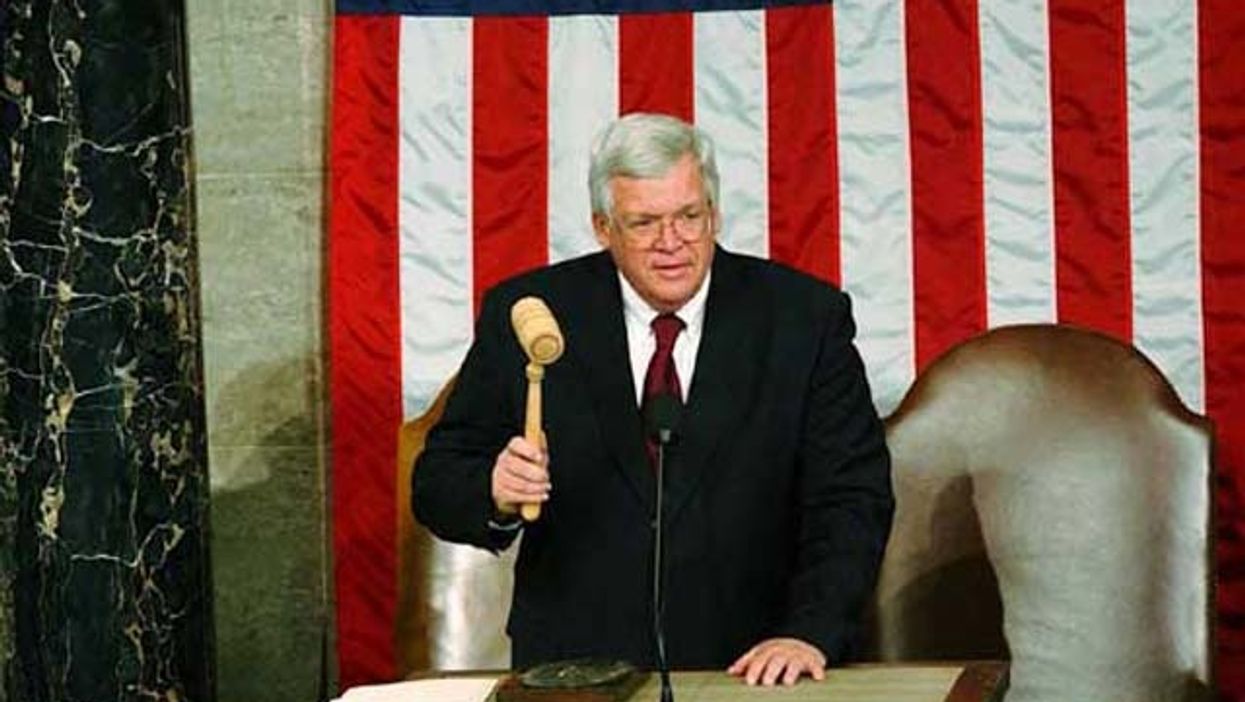 Of all the big lies that Republican officials and media personalities have deployed for partisan advantage over the past several years, the most sickening by far is their current campaign to depict Democrats as "groomers" – meaning that they are sexual predators who recruit underage victims.

For years this sort of smear was weaponized against gays and lesbians. These dark insinuations have surfaced again and again in right-wing propaganda ever since the 2016 "Pizzagate" fabrication, accusing the most prominent Democrats of imprisoning children in the basement of a Washington, D.C. pizza parlor to be kept as sex slaves. (There was, by the way, no basement.)
Most recently the perverse accusation has been raised to defame Judge Ketanji Brown Jackson during her successful Supreme Court confirmation hearings, when Republican Senators claimed that she is "sympathetic to pedophiles." Ironically, it was Judge Jackson who sentenced a man who opened fire in the pizza parlor with an automatic rifle duped into believing that he was rescuing the non-existent child prisoners.
From this conspiracy sprouted the QAnon cult, founded online by a dubious figure with ties to child porn, now running for Congress in Arizona. In fact, more than 70 QAnon proponents are running as Republicans in this year's midterm election.
The worst of the latest round of bizarre pedophilia slurs have been, promoted by Fox News and Florida Governor Ron DeSantis. This nonsense originated from an outfit known as "Libs of TikTok," whose author was anonymous until the Washington Post exposed her identity and outraged her right-wing fans. Chaya Raichik, the disinformation spreader, is a Brooklyn real estate salesperson.
The "groomer" charges are of course lies, but they are not just ordinary falsehoods. When Republicans, from Internet crazies to Rupert Murdoch's cable sewer to U.S. senators, claim that Democrats are guilty of sexual predation, they are engaging in a frame-up designed to deflect from a disturbing truth: the perverse and criminal conduct of literally scores of Republican officials, activists, and clergy -- factual, indisputable, and appalling.
Republican sexual hypocrisy is a longstanding cliché in American politics, from the hordes of closeted anti-gay gays and moralizing adulterers like Ken Starr to the former president whose debauched lifestyle has never troubled his evangelical worshippers. Yet now the Republicans' "groomer" accusations have raised the ante – and inadvertently opened a Pandora's box of newspaper and TV clips describing the criminal sexual misconduct of a long roster of Republicans.
An astonishingly comprehensive Google document of these offenders, complete with more than 800 citations and links, can be found here under the rubric of #RepublicanSexualPredators. It has apparently been maintained and updated scrupulously for years—and undoubtedly will be added to for years to come.
This list includes more than a few already familiar names, from serial killers such as Dennis Rader and Ted Bundy (who—did you know?-- attended the 1968 GOP national convention) to serial child molester Dennis "Coach" Hastert, the longest-serving Republican House Speaker, sent to prison six years ago. It includes Kenneth Starr, the Clinton-era inquisitor booted out of Baylor University as chancellor for protecting rapists; Roger Ailes, the late Fox News chief and manic sexual harasser; several conservative bishops who notoriously covered up for pedophile priests; and many, others guilty of harassment and other offenses that fall well short of felonies.
Anyone who peruses the #RepublicanSexualPredators list will, however, also find an extensive and shocking aggregation of convicted pedophiles, child rapists, and child pornographers. Among the notables are a former staff researcher for Trump's Presidential Advisory Commission on Election Integrity, whose 2017 arrest sparked a brief scandal, and a couple of well-known Republican fundraisers from the nation's capital. Others were county commissioners, party chairmen, city council members, state legislators, and so on down the list, covering almost every level of officialdom.
There was, for example, the former Cobb County, Georgia party chair, convicted of child molestation in 2016. There was the "Republican of the Year," so named by the National Republican Congressional Committee, who died in prison while serving a 26-year sentence for sexually assaulting children. There was the "Faith and Family Alliance" leader who solicited sex from minors on the Internet. There was the Kentucky Republican leader arrested for having sex with a five year-old boy. There were the Republican fundraiser, the downstate Virginia mayor, and the upstate New York mayor, all convicted of child pornography charges, as were the Republican staffers, from Brooklyn to Minnesota to Florida, guilty of the same offenses.
Indeed, the list goes on and on with infuriating detail. (Not every single link is still fresh, although even on the dead links, names and locations will reveal the offenders if searched on Google.)
What does this troubling record of Republican predation mean? Obviously, it does not mean that no Democrat has ever committed a sexual offense, against an adult or a child, nor that all Republicans are somehow implicated in such offenses. What it clearly does mean, at the very least, is that Republican propagandists misusing such accusations for partisan gain need to look in the mirror. Like the violent insurrectionist creeps behind QAnon, they are not "protecting children" – and that was never their purpose. They are engaged in a slander campaign that has accused innocent people and served only to conceal real predators.
Meet your Republican Party today.