Royal Wedding Minister Leads Protesters To The White House
@EricBoehlert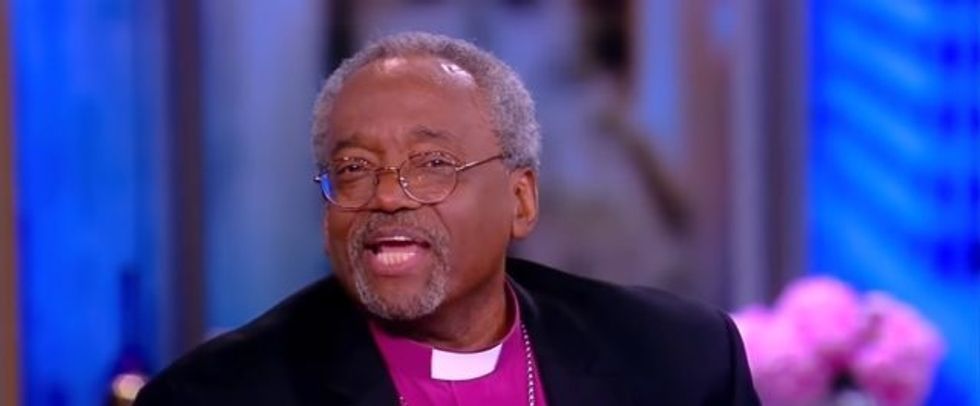 Reprinted with permission from Shareblue.com
After delivering a stirring sermon at last weekend's Royal Wedding in London that turned him into an international media star, Episcopal Presiding Bishop Michael Curry was back home in the United States on Thursday night — leading a march to the gates outside the White House to protest "a dangerous crisis of moral and political leadership."
Adding his voice to the progressive Christian movement in the age of Trump, Curry and an array of clergy members preached defiance against hate, while addressing an overflow crowd of more than 1,000 people at the National City Christian Church.
"It's like somebody woke up Jim Crow," Curry told CNN just prior to the Thursday service, "and said let's not just segregate Americans over race, let's separate people along religious and political and class lines, too."
The event was dubbed non-partisan, but Trump was clearly the target of concern.
"Racial bigotry is a brutal denial of the image of God," said Barbara Williams-Skinner, one of the speakers at the service. "White nationalism and racism are in our nation on many fronts, including at the highest levels."
Curry, a Chicago native, made international headlines when he spoke at the wedding of Prince Harry and Meghan Markle, where he talked passionately about the redemptive power of love.
"Imagine our homes and families when this way of love is the way. Imagine our neighborhoods and communities when love is the way," he stressed. "Imagine our governments and countries when love is the way."
Curry has a long history of social justice. While a bishop in North Carolina, he supported the Moral Mondays campaign, which featured weekly statehouse protests against GOP-led inequality.
The "Reclaiming Jesus" movement, which led the march, is trying to undo the damage that right-wing, white evangelicals are doing through their unblinking support of a racist demagogue like Trump.
"Trump evangelicals have so completely and uncritically offered their faithful allegiance to the man in the White House that they have compromised the gospel of Jesus Christ — whose values the president's life has stood antithetically against," longtime progressive religious leader Jim Wallis recently wrote. "The result in the way the country now views evangelicals, and white Christians in general, has been devastating to the integrity of faith in America and caused great confusion around the world."
Lots of faithful Christians are repulsed by what they see in the White House.