Rubio Needs Strong New Hampshire Showing To Rebut Debate Critics
@reuters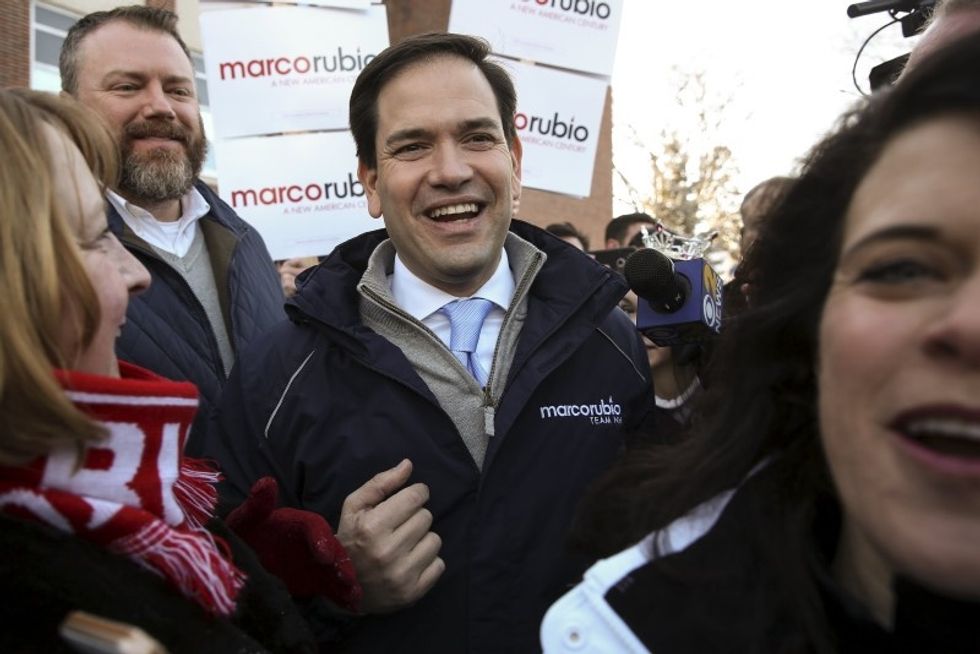 A week ago, it looked like the stars were aligning for Marco Rubio. Now, as New Hampshire holds its pivotal primary on Tuesday, the Republican presidential contender has to hope the sky does not come crashing down on him.
After a surprisingly strong third-place showing in last week's Iowa caucuses, Rubio came into New Hampshire hoping for a top-tier finish in the state to buttress his argument that he is the candidate around whom the party establishment should rally.
But a debate performance on Saturday night that was widely mocked by Republicans and Democrats, as well as legions on social media, might have changed the equation for the U.S. senator from Florida, although he is still showing strength in polls.
A robust performance in New Hampshire may help defuse the notion that he sustained a critical blow at the debate.
Dante Scala, an analyst on local politics at the University of New Hampshire, said that if Rubio did not do well in Tuesday's primary, "it isn't fatal necessarily but it makes the road to the nomination longer and riskier."
Billionaire businessman Donald Trump is widely expected to win Tuesday's primary, which is part of the state-by-state process of picking party nominees for the Nov. 8 general election to replace Democratic President Barack Obama.
Primary votes were already counted early on Tuesday in Dixville Notch, a town of about a dozen people that prides itself on being the first in the state to vote. U.S. Senator Bernie Sanders won all four Democratic votes there while in the Republican race Ohio Governor John Kasich beat Trump, 3-2.
Trump spent the final campaign hours insulting his rivals. In an interview with MSNBC, he called Rubio "confused," Jeb Bush a "loser," Hillary Clinton "evil" and Ted Cruz "nasty." He gleefully repeated an audience member's description of Cruz as a "pussy" at a Monday campaign event because the senator from Texas said he was more hesitant than Trump about supporting torturing the country's captured enemies.
AIMING FOR SECOND
After Rubio finished far ahead of mainstream rivals Bush, Chris Christie and Kasich in Iowa, he appeared to be best positioned to place second in New Hampshire, perhaps knocking Christie or Kasich out of the race and emerging as the party's best hope to derail Trump's insurgent bid.
Rubio's debate showing, in which he helped further the perception that he is an overly scripted, even robotic, candidate, has been cited by other contenders as proof he is not ready to lead.
"When the lights get that bright, you either shine or you melt," Christie, the New Jersey governor, said at a campaign event in Hudson, New Hampshire, on Monday. "We can't afford to have a president who melts."
Rubio, in an interview with CNN on Monday, dismissed the torrent of criticism that has come his way since the debate and said his potential to be a strong candidate against the Democrats made him a target.
A WMUR-CNN poll released on Monday showed Trump leading in New Hampshire with the support of 31 percent of those planning to vote in the Republican primary. Rubio was second at 17 percent, followed by Ted Cruz at 14 percent, and Kasich at 10 percent, with a margin of error of plus or minus 5.2 percentage points.
Bush, a former Florida governor, and Christie trailed with other candidates in the single digits.
On the Democratic side, Sanders had a strong lead over Clinton, the former secretary of state who narrowly beat him in Iowa.
Clinton has sought to play down expectations about her showing in New Hampshire, suggesting Sanders could do well because he is from neighboring Vermont. But a big loss to Sanders, an underdog candidate who describes himself as a democratic socialist, would be embarrassing for Clinton.
President Barack Obama, who has not yet endorsed a Democratic candidate, expressed surprise at Trump's and Sander's leads in polls.
"Early on, often times, voters want to just vent and vote their passions," he told CBS News in an interview that aired on Tuesday.
Kasich, who has been rising in the polls in New Hampshire, is another candidate seeking to profit from Rubio's troubles. He has long staked the viability of his campaign on the outcome in New Hampshire.
In an interview with MSNBC on Tuesday morning, Kasich said his fate was now in the hands of voters. "So I'm really cool with whatever happens here," he said.
(Reporting by James Oliphant; Additional reporting by Susan Heavy and Doina Chiacu; Editing by Caren Bohan, Toni Reinhold)
Photo: Marco Rubio arrives at a polling place on voting day in Manchester, New Hampshire, February 9, 2016. REUTERS/Carlo Allegri