Sarah Palin Endorses Trump — And The Donald Has Some Fun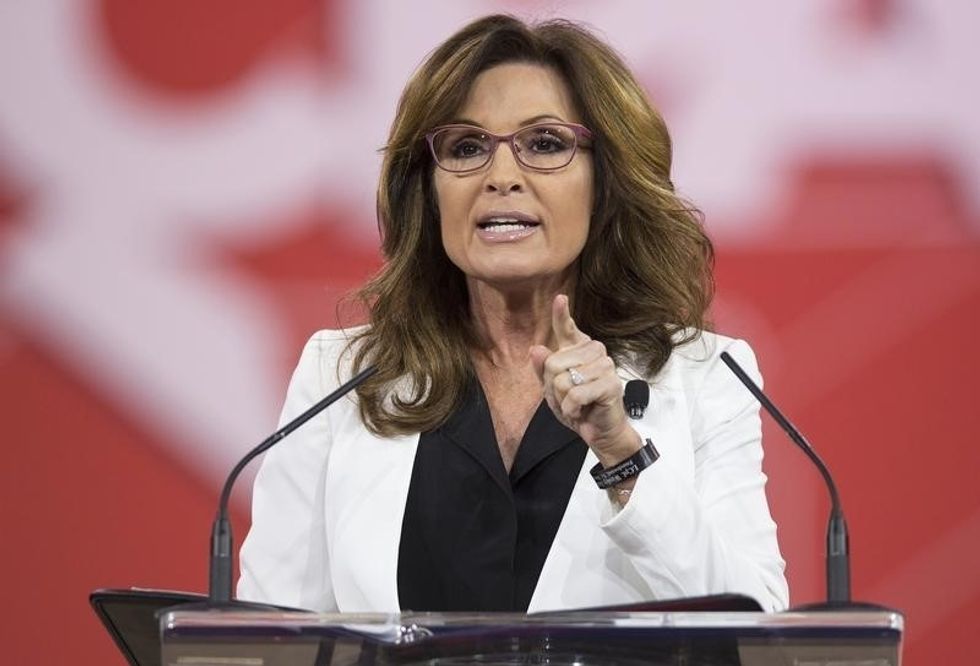 Donald Trump announced his single biggest endorsement so far: Sarah Palin, who is set to campaign with Trump January 19 and 20. And when Donald Trump and Sarah Palin team up, there is going to be some major trolling.
The Trump campaign press release boasts of the accolades Palin has received in politics — notably, from various figures who have been at war with The Donald for quite a while.
Indeed, the statement even quote-mines two of Trump's enemies — his current rival Sen. Ted Cruz, as well as former Sen. Jim DeMint — to almost make it appear as if their praise of Palin and her great public influence was specifically granted for the sake of this press release.
Read through this excerpt, with emphasis added at key points to cite Trump's enemies.
Sarah Palin served as the Governor of Alaska before being selected as Senator John McCain's Vice Presidential nominee in 2008. As the first ever female Vice Presidential candidate for the Republican party, Palin is a highly influential, decorated public figure having been named as one of the Smithsonian Institute's 100 Most Influential Americans of All Time, one of TIME magazine's Most Influential People In The World, Forbes 100 Most Powerful Women and 100 Most Influential Pro-life advocates by Newsmax. In addition to her political accomplishments, Sarah Palin is also a New York Times Best-Selling Author, former FOX News contributor and internationally sought-after speaker.

Sarah Palin stated, "I am proud to endorse Donald J. Trump for President of the United States of America."

Palin's endorsement is amongst the most sought after and influential amongst Republicans. Since 2009 she has supported over 150 conservative candidates, helping to flip over 30 US House seats and five US Senate seats to regain historic majorities. She helped launch the careers of several key future leaders of the Republican Party and conservative movement. Senator Ted Cruz notes: "I would not be in the United States Senate were it not for Gov. Sarah Palin… She can pick winners." Senator Jim DeMint noted: "She has done more to change the political landscape in America as anyone since Ronald Reagan."
Photo: Former Republican Governor of Alaska Sarah Palin speaks at the 42nd annual Conservative Political Action Conference (CPAC) at National Harbor, Maryland February 26, 2015. REUTERS/Joshua Roberts