Sports Columnist Tags Trump As 'Major Golf Cheat' And 'Terrifying' President
@alexvhenderson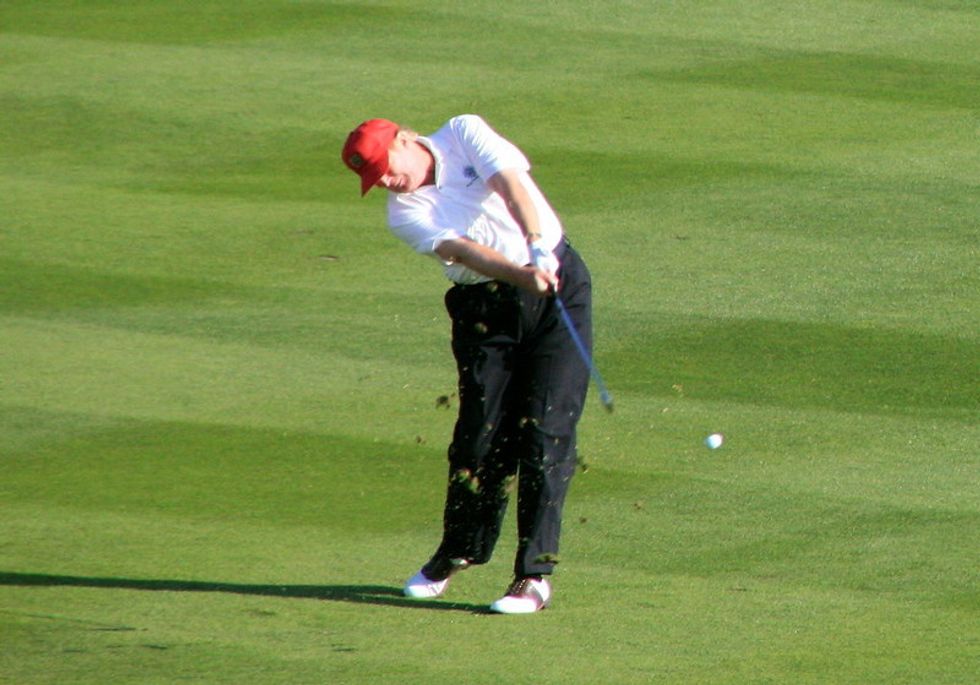 Reprinted with permission from Alternet
Rick Reilly is not only a former Sports Illustrated columnist — he is also the author of the book, "Commander in Cheat: How Golf Explains Trump." According to Reilly, Trump is a major cheat when it comes to playing golf — and that says a lot about his presidency.
In an article published on Tuesday, The Guardian's Donald McRae quotes Reilly as saying, "You're mostly laughing, but at times, you're crying. How did this happen? As a golfer, he really offends me. Cheating? Hate that. Driving carts on greens? Hate that."
Reilly, according to The Guardian, first met Trump in the late 1980s. And even then, Reilly recalls, Trump was a master of exaggeration.
"He couldn't just call me a writer," Reilly explains. "He'd say, 'Meet Rick, he's the president of Sports Illustrated.' He would introduce me to another guy. 'Hey, Rick, meet Luigi – voted best hamburger chef in the world.' Luigi's like 'What? No, I wasn't.' Trump wants to be a winner by pretending you're someone huge."
When he was covering Trump as a sports journalist in the late 1980s and 1990s, Reilly remembers, he was amused by his over-the-topic antics. But now that he's president of the United States, Trump's antics aren't so funny.
"His lies were hilarious until he becomes the most powerful man in the world," The Guardian quotes Reilly as saying. "Then it got scary. I don't know what his plan is for my kids and grandkids. I don't know who's going to pay off this giant debt he's created to give his fat-cat buddies a tax cut. Look what he did (last) week in London: he pissed off two of our best allies. It's terrifying."