Syria Looms Over Obama's Sweden Visit
@AFP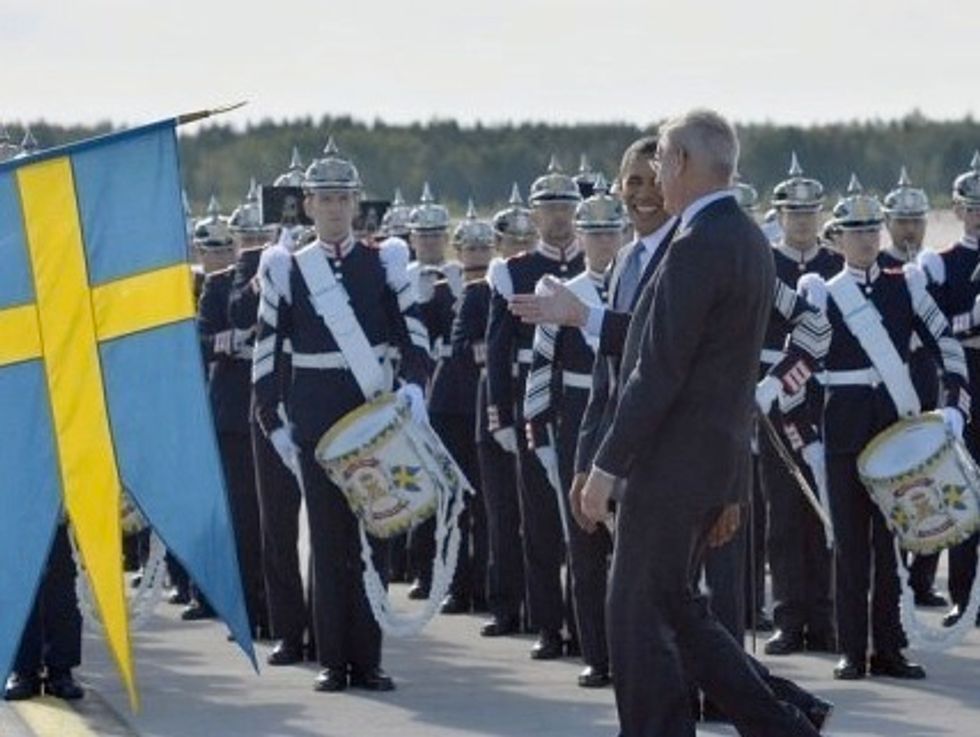 STOCKHOLM (AFP) – U.S. President Barack Obama arrived in Sweden Wednesday for a two-day visit likely to revolve around Syria, despite the host nation's effort to draw attention to a broader agenda.
Obama stepped off Air Force One at Stockholm's Arlanda Airport fresh from efforts in Washington to secure bipartisan support for military strikes against Syria to punish the regime for what the U.S. says was the use of sarin gas on a Damascus suburb.
His Europe trip will also take him to the G20 summit in Russia after making important political headway at home when top Republican leaders firmly backed his plan to punish President Bashar al-Assad for a chemical weapons attack.
A White House official said early Wednesday that Obama would hold bilateral meetings with the leaders of France and China on the sidelines of the G20.
While no official bilateral meeting was planned with Russian President Vladimir Putin, the official said: "We would expect the two presidents to have an opportunity to speak on the margins of the various meetings of the G20."
As the U.S. president prepared to leave for Europe, he emphasised that the action he had in mind over Syria would be less open-ended than moves undertaken in the Middle East under his predecessor, George W. Bush.
"It is limited. It does not involve boots on the ground. This is not Iraq and this is not Afghanistan," Obama said Tuesday in Washington.
Meanwhile Sweden prepared for what will only be the second visit by an incumbent US president, after Bush in 2001, with the Scandinavian country's government saying it looked forward to discussing "various current issues".
"No doubt Syria will be such an issue, but perhaps more so the free trade negotiations between the U.S. and the EU," Foreign Minister Carl Bildt said in a statement.
There is good reason for Sweden to avoid a visit completely overshadowed by Syria as the issue is almost bound to bring out deep-seated differences on the best way to address the Middle Eastern regime's alleged use of chemical weapons.
"We need to come up with a forceful response," Swedish Foreign Minister Carl Bildt told Swedish television early Wednesday. "We hope that the (U.N.) Security Council can agree on this."
Late last week, Swedish Prime Minister Fredrik Reinfeldt said he opposed "military solutions of a conflict which in my opinion should be resolved through political and diplomatic efforts."
Jan Joel Andersson, a North America expert at the Swedish Institute of International Affairs, said that overall, "it will be a little difficult for Sweden to discuss Syria", particularly after the British parliament voted last week against any strikes on the Syrian regime.
"Now that London has renounced armed intervention, other European countries will be more cautious," he told AFP.
Pointing to the economy-heavy agenda, Foreign Minister Bildt said in a statement that Obama's visit marks "an increased interest in Sweden and the Nordic-Baltic region".
"The world has noticed that our countries are dynamic economies that are doing relatively well despite the state of the global economy," he said.
Underlining the Nordic theme, Obama will have dinner Wednesday with the prime ministers of Norway, Denmark and Iceland as well as the president of Finland.
Also on Obama's schedule Wednesday is a visit to the Royal Institute of Technology, which is widely considered at the cutting edge of research into clean energy and other sustainable technologies.
"This is research for the future that could ultimately be crucial for all of us," the institute's president Peter Gudmundson was quoted as saying on its website.
Looking back at one of modern Sweden's proudest moments, Obama will also pay tribute to Raoul Wallenberg, a Swedish diplomat who saved thousands of Hungarian Jews during the last stages of the Holocaust in 1944 and 1945.
"By celebrating Raoul Wallenberg we also celebrate a Swede who, for so many in the U.S. and other parts of the world, is a strong symbol of freedom, justice and human rights," Bildt said.
Obama will meet with the Swedish royal family early Thursday before departing for a meeting of the G20 in Saint Petersburg, Russia.
Downtown Stockholm was unusually quiet Wednesday morning, as the areas around Grand Hotel, where Obama will be staying, and the government offices were sealed off for traffic, amid the deployment of a large number of police and security.
Obama is expected to be greeted by at least 10 small-scale demonstrations in various parts of Stockholm, mostly protesting U.S. military interventions and its electronic surveillance program.
Photo Credit: AFP/Jewel Samad