Ted Cruz: The Man Who Made Immigration Reform Possible?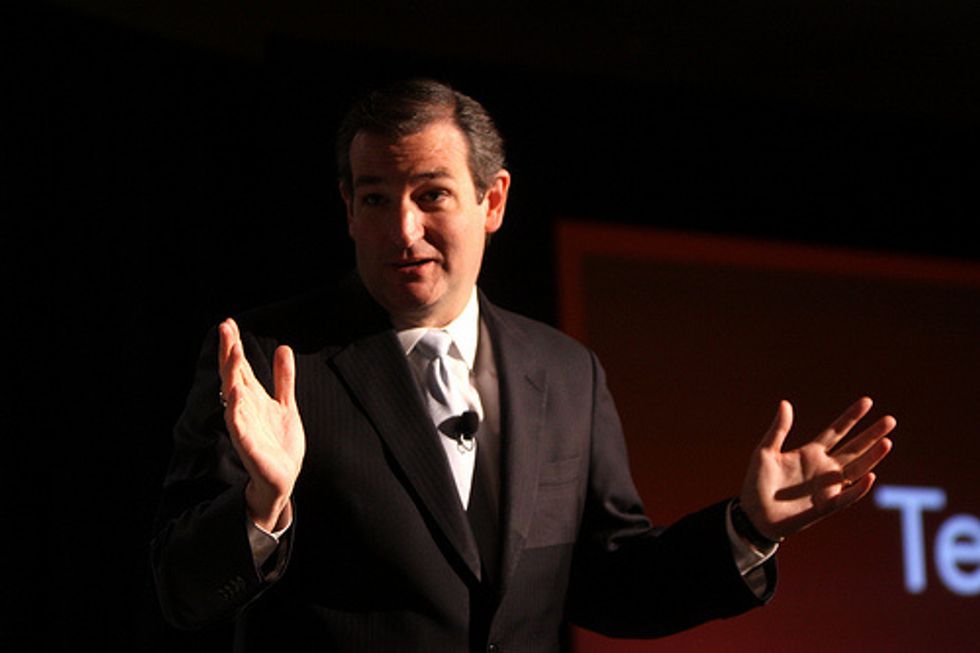 Senator Ted Cruz (R-TX) was unrepentant Wednesday evening at The American Spectator's Robert L. Bartley Dinner  in Washington, D.C.
According to the Washington Examiner's Philip A. Klein, who livetweeted Cruz's speech, the junior senator from Texas is hitting almost the exact same notes after the government shutdown as he did before.
"Republicans in Washington don't know how to negotiate," Cruz said, in defense of his strategy to use a shutdown and debt limit crisis to force the president to repeal his signature legislative accomplishment. The senator is sure he would have gotten away with a "remarkable victory" if it weren't for those meddling Senate Republicans not supporting those heroic House Republicans.
Notably, Cruz is sticking with his argument that any vote to fund the government is a vote in favor of the Affordable Care Act, dismissing the notion that Republicans only disagreed on tactics as "hogwash."
We'd be celebrating the defunding of Obamacare right now, he's sure, "if everything played out perfectly."
Clearly things didn't work out perfectly. Unless this is what Cruz was hoping for:
House Democrats now lead House Republicans in generic ballot polls by an average of more than 7 percent, according to Huffington Post's Pollster. The Cook Political Report says Democrats would need to win by 6.8 percent to take back the House. Political scientist Nicholas Goedert suggests they would only need to lead by as little as 5 percent next November.

Were House Republicans worried about immigration reform when they were nearly tied with House Democrats this summer? Not much.
Are they now? Apparently.
Suddenly, immigration reform — which had been declared dead, even though the bill the Senate passed would likely pass today if House Speaker John Boehner (R-OH) put it up for a vote — has a pulse again.
Boehner said on Wednesday that he was "hopeful" something could happen before the end of the year. And House Oversight Committee chairman Darrell Issa (R-CA) is planning on submitting his own watered-down immigration bill soon. Issa is in a swing district in a state that has pretty much given up on the Republican Party, largely because of the anti-immigrant politics it has embraced there since the 1990s. In a post-shutdown world, Issa needs to do something most Republicans hate: pander to swing voters.
Crediting Cruz as the sole force that made a shutdown possible is reductive, of course. He's the drum major of the well-funded marching band of Tea Party organizations that are sick of Republicans doing anything that resembles "compromise," like funding the government. But Cruz has singularly stepped forward as the voice of the Tea Partiers and evangelicals who make up the majority of the GOP's primary voters in the districts House Republicans represent.
Republicans should be talking about picking up seats this year — as opposition parties generally do in the sixth year of a presidency — instead they're worried about reversing a trend that could put their once-bulletproof majority at risk.
Establishment Republicans have been praying for immigration reform, knowing that unless the GOP stops the bleeding with Latino voters, they will never win the White House again. Ironically, it may be Ted Cruz and the Tea Party who made that possible.