Texas Gun-Rights Leader Says Failure To Pass Open Carry Law 'Punishable By Death'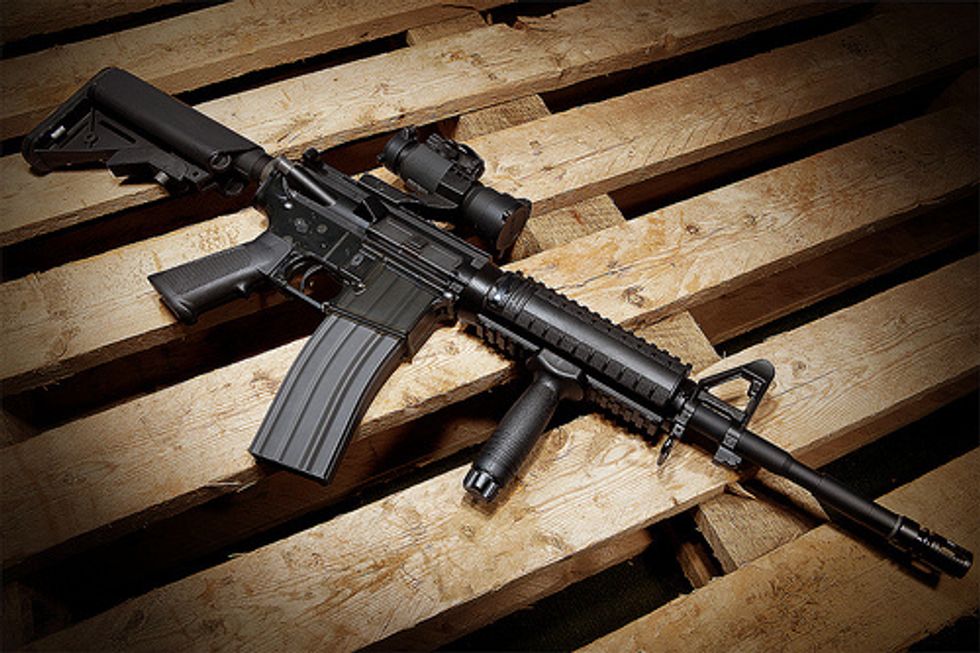 By Rudolph Bush, The Dallas Morning News (TNS)
DALLAS — Texas gun-rights advocate Kory Watkins, leader of Open Carry Tarrant County, recently posted a chilling video to his Facebook page that appears to level threats at Texas state lawmakers.
The video was quickly taken down from Facebook but was salvaged on YouTube. It appears to build on Watkins' veiled threats to the office of Lt. Gov. Dan Patrick last week.
In the video, Watkins states that he is frustrated with what he calls games legislators are playing with his push for so-called "constitutional carry" rights.
He then goes on to suggest that failure to open Texas up to open carry of pistols without any licensing requirements is tantamount to treason.
"We should demanding these people give us our rights back or it's punishable by death. Treason. Do you understand how serious this is Texas?" Watkins asks. "This is treason against the
American people. You don't sell my right back to me. You're going to find trouble."
Earlier in the video, he suggests the time has come for guns rights activists to move beyond peaceful protests.
"I don't think they want to mess around with us too much longer. They better start giving us our rights or this peaceful non-cooperation stuff is going to be gamed up. We are going to step it up a notch. I think here in Texas we are tired of jacking around with people in suits," Watkins said.
One state representative, Democrat Poncho Nevarez is already under state protection after he spoke out against open carry legislation and was threatened.
Once the video began making the virtual rounds, Texas Moms Demand Action for Gun Sense in America issued a statement denouncing "Watkins and other open carry extremists." The open-carriers and Moms Demand Action have tangled several times in recent months.
"These antics are no longer just theatrics and dramatic advocacy. Open-carry extremists have been threatening the safety and sanity of our communities for far too long and now they are threatening the lives of Texas legislators," says Claire Larson, identified by the gun-control group as a former NRA-certified rifle instructor. "Make no mistake, if Texas lawmakers continue to prioritize the expansion of open carry in any form — they are condoning this type of dangerous behavior. Texas Moms understand how serious this is – and we urge Texas lawmakers to take these threats seriously too, respect the legislative process, and oppose the expansion of open carry in our state. After all, there are no panic buttons on the playground like the ones they had installed in their offices."
Fellow gun-rights activists were quick to denounce Watkin's actions.
"That kind of rhetoric does absolutely nothing to get gun rights passed in Texas," said CJ Grisham, head of Open Carry Texas.
Open Carry Texas, one of the main groups lobbying for open-carry legislation, has sought to distance themselves from the more aggressive antics of Open Carry Tarrant County and Watkins.
Watkins grabbed headlines in recent weeks for a video showing his group confronting a lawmaker who expressed his opposition to constitutional carry. Grisham said that takes away from the greater goals of gun-rights activists in the state.
"We've become Kory Watch instead of Open Carry Texas," he said.
Grisham said he isn't worried that the public will associate Watkin's actions with the larger open carry movement. But he has acknowledged that it could damage their efforts at the state Capitol.
In a written response on Facebook, Watkins said his comments in the video were taken out of context.
"Let me make it clear and unequivocal: I was not talking about hurting legislators, or anyone else," he said.
He also denied that he was calling for a more violent approach to getting open carry passed in Texas.
"I am an advocate of peaceful non-cooperation. When I speak of 'stepping it up a notch' [I] mean within the boundaries of peaceful non-cooperation. Instead of just a foot in the door. perhaps we need 'sit ins' chanting 'hell no we won't go,'" he said.
___
(Staff writer Marissa Barnett contributed to this report from Austin.)
Photo: brian.ch via Flickr