The Best Choice For Pope? A Nun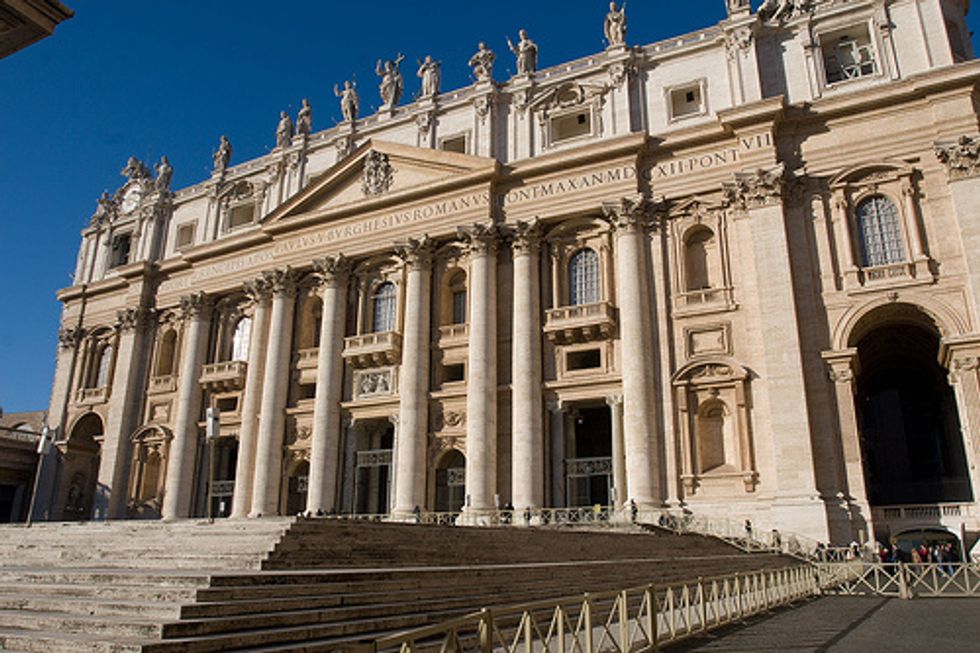 WASHINGTON — In giving up the papacy, Pope Benedict XVI was brave and bold. He did the unexpected for the good of the Catholic Church. And when it selects a new pope next month, the College of Cardinals should be equally brave and bold. It is time to elect a nun as the next pontiff.
Now, I know this hope of mine is the longest of long shots. I have great faith in the Holy Spirit to move papal conclaves, but I would concede that I may be running ahead of the Spirit on this one. Women, after all, are not yet able to become priests, and it is unlikely that traditionalists in the Church will suddenly upend the all-male, celibate priesthood, let alone name a woman as the bishop of Rome.
Nonetheless, handing leadership to a woman — and in particular, to a nun — would vastly strengthen Catholicism, help the Church solve some of its immediate problems and inspire many who have left the Church to look at it with new eyes.
Consider, first, what constitutes the Church's strongest claim on public respect and affection. It is not its earthly power, the imposing beauty of St. Peter's Basilica or even its determination to preserve its doctrine. Rather, the Church impresses even its critics, and inspires its most loyal and most dissident members, because so many in its ranks walk the talk of the Gospel. Hundreds of thousands of nuns, priests, brothers and laypeople devote their lives to the poor, the marginalized, refugees, the disabled and the homeless, simply because Christ instructed them — us — to do so. Matthew 25:40 contains what may be the most constructive words ever written: "Truly I tell you, whatever you did for one of the least of these my brethren, you did for me."
More than any other group in the Church, the sisters have been at the heart of its work on behalf of compassion and justice. Nicholas Kristof of The New York Times made this point as powerfully as anyone in a 2010 column. "In my travels around the world, I encounter two Catholic Churches," he wrote. "One is the rigid all-male Vatican hierarchy that seems out of touch. … Yet there's another Catholic Church as well, one I admire intensely. This is the grass-roots Catholic Church that does far more good in the world than it ever gets credit for. This is the Church that supports extraordinary aid organizations like Catholic Relief Services and Caritas, saving lives every day, and that operates superb schools that provide needy children an escalator out of poverty."
Kristof went on to say that "there's a stereotype of nuns as stodgy Victorian traditionalists. I learned otherwise while hanging on for my life in a passenger seat as an American nun with a lead foot drove her jeep over ruts and through a creek in Swaziland to visit AIDS orphans."
There are certainly bishops and cardinals who have done this sort of godly work and many more who have supported it. But those who have devoted their lives to climbing the Church's career ladder tend not to be like that nun in the jeep in Swaziland. What a message the cardinals would send about the Church's priorities if they made such a woman pope.
A sister as pope could also resolve what might seem a contradiction in Catholic theology. More than Protestants, Catholics are profoundly devoted to the Virgin Mary — and few were as devoted as the late Pope John Paul II, who declared that Mary "sustains the spiritual life of us all, and encourages us, even in suffering, to have faith and hope." A Church for which the Blessed Mother plays such an important role should certainly be comfortable with female leadership.
While support for a stronger role for women in the Church tends to be a "liberal" cause, many faithful conservatives also cite the work of nuns as reinforcing their devotion to the Church — from the sisters who educated them in parish schools to the work of Mother Teresa's religious order.
The cardinals who will gather to elect a new pope know that one of the Church's central and most wrenching problems is the sex abuse scandal. An all-male hierarchy adopted policies to cover up the abuse and seemed far too inclined to put protecting the Church's image ahead of protecting children.
Throughout history, it's not uncommon for women to be brought in to put right what men have put wrong. A female pope would automatically be distanced from this past and could have a degree of credibility that a male member of the hierarchy simply could not.
In the United States and other Western countries, the Church is suffering a huge loss of younger female members who cannot understand why it continues to resist the progress women have made in so many other spheres of life.
The Church should not find itself in this position. It was, after all, Pope John XXIII who wrote in 1963 (the same year Betty Friedan published The Feminine Mystique): "Women are gaining an increasing awareness of their natural dignity. Far from being content with a purely passive role or allowing themselves to be regarded as a kind of instrument, they are demanding both in domestic and in public life the rights and duties which belong to them as human persons."
Electing a nun as pope would electrify women all over the world. And those who think that Catholics in the developing world would object to a female pope should note that women have been elected to lead governments in, among other places, India, Chile, Brazil, Liberia, Nicaragua, the Philippines, Argentina and Dominica.
And a Church that has made opposition to abortion a central part of its public mission should consider that older men are hardly the best messengers for this cause. Perhaps a female pope could transform the discussion about abortion from one that is too often rooted in harsh judgments (and at times, anger with modernity) into a compassionate dialogue aimed at changing hearts and minds rather than changing laws.
Unborn children are vulnerable. So are pregnant women. In my experience, nuns are especially alive to these twin vulnerabilities. Nuns are also the people in the Church who work the most with pregnant women, the mothers of newborns, and battered women and children. They know better than anyone that a concern for life cannot stop at the moment a child is born.
Some will object to the idea of a female pope on the grounds that it is legally impossible. Yes, it would require a real openness to change. But the rules for electing a pope are much more flexible than many realize. As the Catholic News Service has noted: "In theory, any baptized male Catholic can be elected pope, but current Church law says he must become a bishop before taking office; since the 15th Century, the electors always have chosen a fellow cardinal." Under canon law, CNS reports, if a non-bishop or a layman is selected, he must receive episcopal consecration from the dean of the College of Cardinals before ascending to the papacy.
If the college were inspired to elect a woman, it could arrange for her consecration and leave the broader question of whether women should become priests — a change that I both hope and expect will happen someday — open for debate during her pontificate.
I hardly expect the cardinals to follow my advice. But I hope that they at least consider electing the kind of man who has the characteristics of my ideal female pontiff. The Church needs a leader who has worked closely with the poor and the outcast, who understands that battling over doctrine is less important for the Church's future than modeling Christian behavior — and who sees that the proper Christian attitude toward the modern world is not fear but hope.
Last summer my 18-year-old daughter worked at a Catholic-supported program for the homeless in Silver Spring, MD. Like many women her age, Julia has a long list of problems with the Church, but she loved the program and deeply admired everyone who worked there.
She came home one night and said: "Why doesn't the Church talk more about this work and less about the stuff it usually talks about?"
I have a hunch that a nun just might understand what Julia was saying better than most cardinals.
E.J. Dionne's email address is ejdionne@washpost.com.
© 2013, Washington Post Writers Group
Photo by Andreas Solberg/Flickr