The Donald Has Arrived… To Promote 'SNL'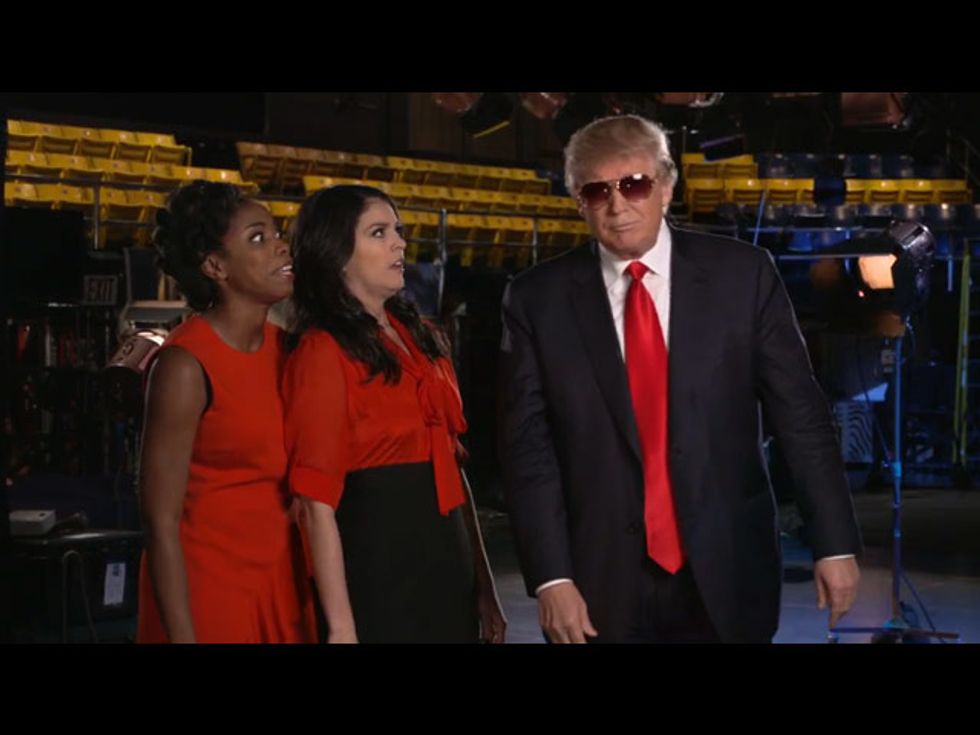 There are a whole lot of people who don't want Republican presidential hopeful and blowhard extraordinaire Donald Trump to host Saturday Night Live.
But there are a whole lot of people who do — politics and good taste be damned.
The promos for Saturday's upcoming episode have just been released, and while there aren't any jokes about The Donald's more incendiary remarks or the groups calling for his removal, there are a few about "equal time" – meaning, the 1927 law that says broadcast networks like NBC must give equal airtime to candidates (excluding news or interview shows) running for political office in order to not seem biased.
According to the Hollywood Reporter, NBC is ready for any appeals — Republican candidates, they report, have seven days after Trump's appearance to ask for an equal-time concession, which doesn't mean that SNL is obligated to have any other candidate, Republican or Democrat, host.
PolitiFact explains that it's not actually about equal time, but equal opportunity — meaning "free time within the comparable broadcast class of time" — aka 11:35 p.m. on a Saturday — and they have to ask for it.
But in order to be eligible for a chunk of equal opportunity broadcast time, the candidate has to be "legally qualified in the states where an NBC affiliate aired the episode" — which means they not only have to be qualified to run for president but show they are on the ballot in the states where the show in question aired, or that they've made a "substantial showing" campaigning. So while the jokes in the promos are funny, it's highly unlikely any of the other candidates will host SNL — or beg Fox to resuscitate Mad TV so they can pretend to be a rival candidate.
Most of the jokes in the promo play off The Donald's persona and hair. Sia, who is the musical guest, is also known for her gold hair – so brace yourself for Saturday's episode to incorporate this coincidence into a joke somehow.
Donald Trump hosted Saturday Night Live once before, in 2004, to promote what was then his new show for the network, The Apprentice. (Trump had to remove his association from the show once he announced his presidential run.) NBC arranged for those sketches to resurface online, and there are even a few memorable sketches of the SNL cast playing Trump, available too.
While you'll see a few of these promos scattered alongside NBC's usual display of commercials, the entire roll – about a dozen – is viewable below.
Photo: Sasheer Zamata and Cecily Strong swoon over a too-cool Donald Trump, in a still from the promotional reel advertising this week's episode of "Saturday Night Live," which the presidential candidate is hosting for the second time. Still via NBC