The GOP's Loud 'Yes' To 'No'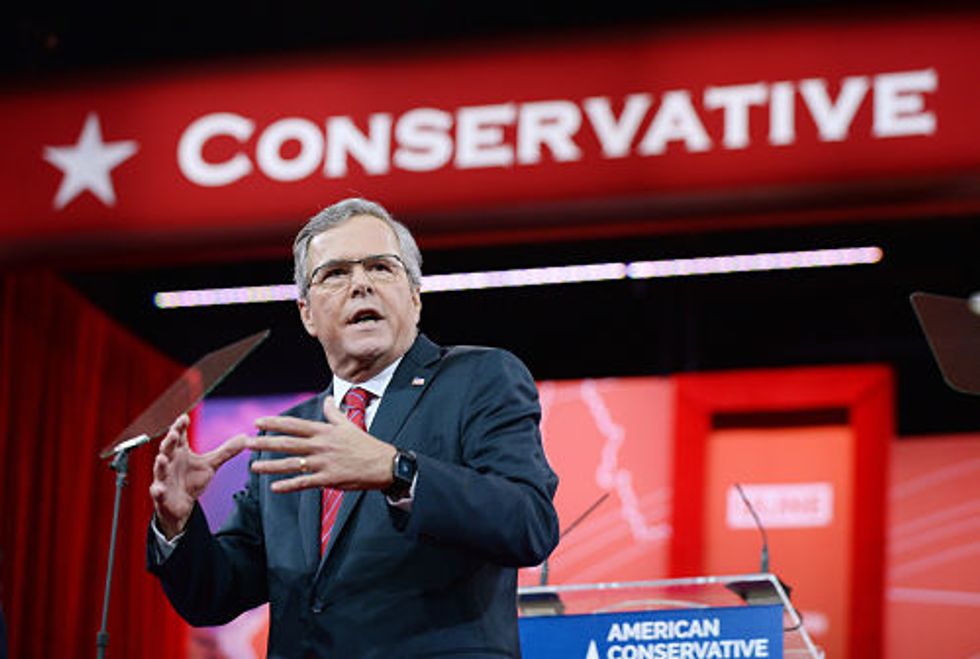 WASHINGTON — It's a daunting challenge to spin the word "no" into a hopeful and forward-looking political battle cry.
There are, of course, circumstances when negative arguments can work. In obviously terrible times, voters are often content to take a chance on a barely sketched-out alternative. In midterm elections, which are like midsemester report cards, voters often protest against what they don't like. "No" was a successful pitch in three straight midterms going back to 2006. The GOP's 1946 slogan, "Had Enough? Vote Republican," was a model of simple and clever effectiveness.
But the evidence of the moment is that "had enough" will not be enough for the GOP in 2016. Of course we cannot know from Hillary Clinton's current leads of around 9 or 10 points over her major Republican competitors that she will ultimately prevail. Still, her advantage owes at least in part to unease about where Republicans would take the country if they won both the presidency and Congress. For now, voters don't want to go there.
Events of the past week underscore why. The absurdity of going to the wire on funding the Department of Homeland Security tells us that many in the party, particularly right wingers in the House, do not care about how their inability to govern in an orderly fashion looks to citizens outside the conservative bubble.
For the more radical members of Speaker John Boehner's caucus, this is all about high principle. Since most of them come from very conservative districts, they will only strengthen their own political situations by continuing to link DHS funding to overturning President Obama's executive actions on immigration. They have nothing to lose.
But collectively, their party has a lot to lose. To win the presidency and to improve their chances of holding the Senate in 2016, Republicans will have to do far better with Latino voters than Mitt Romney did in 2012. This fight will only make that harder. And middle-of-the-road voters don't like this sort of brinksmanship, as well they shouldn't.
The way Republicans are behaving could thus turn one of the party's assets, the likelihood that they will hold their House majority for some time, into a liability. This argument is advanced forcefully by political scientist Thomas Schaller in his new book, The Stronghold
.
Schaller describes the potential of a vicious cycle: As the party has become more conservative, it has become more Congress-centered, "anchored to and defined by its congressional wing, and its House caucus in particular." But a majority of its House members are either extremely conservative or fearful of primaries from the right. This makes the House highly sensitive to right-wing donors, right-wing media and right-wing voters — and far less responsive to those middle-ground citizens who usually decide presidential elections. The danger, says Schaller, is that the GOP's congressional stronghold could become a "chokehold."
The doings at the Conservative Political Action Conference (CPAC) that closed on Saturday only reinforced the point. Republican presidential candidates worry about those very conservative primary voters too, and CPAC was an excellent opportunity for the hopefuls to show how well they can dance to the oppositionist tune, a chorus of "No" to Obama, Clinton, liberalism and "big government."
Jeb Bush, who is actually very conservative, has put up some resistance to the spirit of negativity. "We shouldn't be the reactionary party to how bad things are," he told a Club for Growth gathering in Florida on Thursday.
When he appeared at CPAC on Friday, he did declare that "we have to start being for things again," but only after praising Republicans in Congress for standing up to Obama. He sidestepped when Fox News' Sean Hannity asked about the House Republicans' approach to DHS funding though he did speak of his party's need to win more Latino votes.
Bush would clearly like to take a cue from his brother who, before the 2000 election, occasionally distanced himself from an unpopular right-wing Congress. But Jeb is orchestrating his independence with great caution and some ambivalence. The GOP is well to the right of where it was 15 years ago and also much more insulated. It's worth remembering that Fox didn't become the largest cable news network until 2002.
In my experience, the people who see Jeb Bush as the most electable nominee tend to be Democrats, not Republicans. This may prove his general election strategy is working, but it also shows his party may not let him get there because it's quite happy being "reactionary."
E.J. Dionne's email address is ejdionne@washpost.com. Twitter: @EJDionne.
Photo: Former governor Jeb Bush speaks at the 42nd annual Conservative Political Action Conference (CPAC) on Feb. 27, 2015 in National Harbor, MD. Conservative activists attended the annual political conference to discuss their agenda. (Olivier Douliery/Abaca Press/TNS)