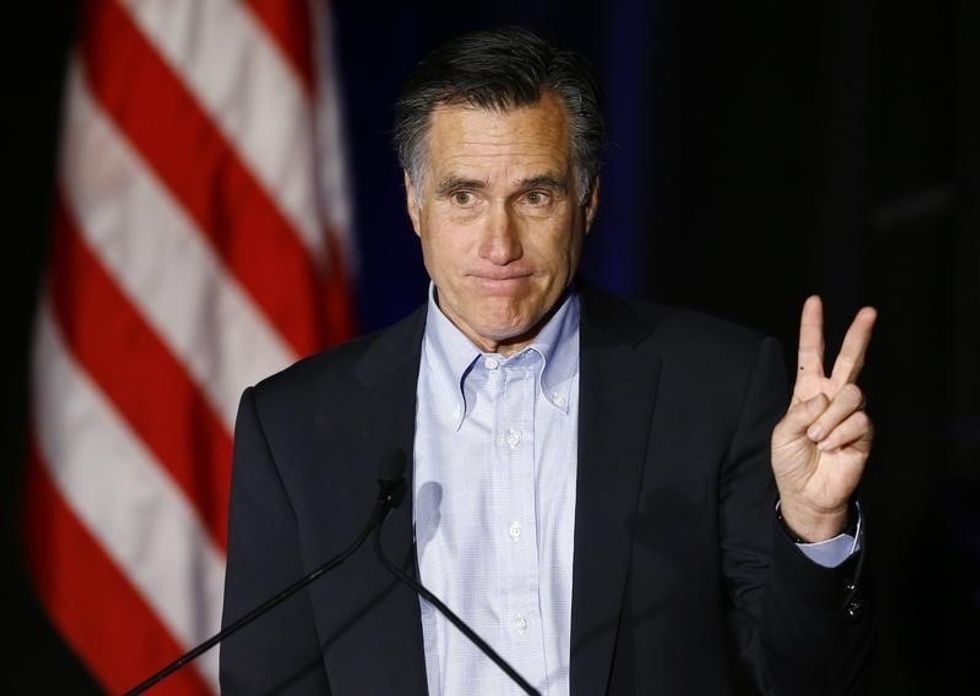 Donald Trump has been at war for the past two days with yet another big-name Republican: Mitt Romney, the last GOP nominee for president — who is now taking on the party's current frontrunner by using an issue that had wounded him in 2012.
The tack: Calling upon The Donald to release all of his tax returns — which Romney noted was a big issue during his own campaign in 2012. Democrats had repeatedly pressured him to reveal more about his tax payments. Even after he released two years' worth of taxes — showing nearly all of his income was in the form of capital gains, which are taxed at a low rate of 15 percent — his opponents continued to dog him throughout the election. The campaign eventually released a declaration stating that he had paid an effective rate of 20.2 percent in federal taxes over the previous 20 years.
"I think there's something there," Romney said Wednesday, during an appearance on Fox News. "Either he's not anywhere near as wealthy as he says he is, or he hasn't been paying the kind of taxes we would expect him to pay."
Romney continued: "The reason I think there's a bombshell in there is because every time he's asked about his taxes, he dodges and delays and says 'well, we're working on it.' Hey, we're not talking about the taxes that are coming due this year… We're talking about taxes that are already filed."
Romney continued to raise questions about Trump: "Perhaps he hasn't been giving money to the veterans or to the disabled, like he's been telling us he's been doing. I think that's the reason there's a bombshell."
This got Trump going off against Romney Wednesday night — and reminding everyone just how eager Romney was to get his endorsement and campaign with him back in 2012.
The Donald continued on this warpath into Thursday:
And then there was this very interesting, almost Freudian exercise:
And then to cap it off, there was this kick at the last GOP nominee — because if there's just one kind of person Trump will always hate, it's a loser:
Thursday afternoon, Romney responded:
The effort continues to stop Trump's hostile takeover of the GOP. So can a man who knows a thing or two about buying out failed businesses make a difference?
Photo: Former Republican presidential candidate Mitt Romney gestures as he speaks at the Republican National Committee Winter Meeting in San Diego, California January 16, 2015. REUTERS/Mike Blake