The Week In Polls: Obama Up After Big Wins — And More In The Presidential Race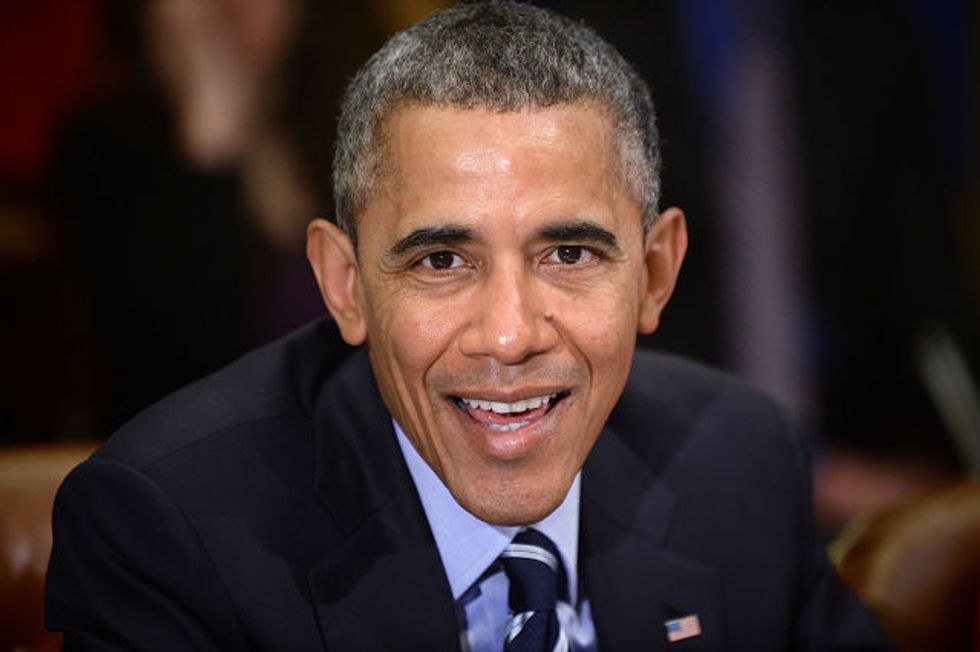 After a lot of big news, it's also been a big week of polls.
Possibly the single biggest news in polls this week was the CNN poll showing President Obama's approval rating at 50 percent, with 47 percent disapproval — the first time in over two years that a majority of poll respondents has approved of the job he's doing.
The poll was conducted from June 26 to 28, capping off a very eventful week in which the president won major victories in the Supreme Court on health care reform and marriage equality — as well as his very memorable eulogy speech at the Emanuel AME Church in Charleston, South Carolina, which culminated in him leading the congregation in singing "Amazing Grace."
In the presidential race, CNN found Jeb Bush leading nationally among Republicans with 19 percent — with Donald Trump in second place at 12 percent. Rounding out the top five are Mike Huckabee with 8 percent, and Ben Carson and Rand Paul at 7 percent each.
On the Democratic side, Hillary Clinton dominates the field with 57 percent, followed way back by Vice President Joe Biden with 16 percent, Bernie Sanders at 14 percent, Jim Webb at 2 percent, and less than 1 percent each for Martin O'Malley and Lincoln Chafee. (Note: Biden is not currently in the race, but was tested in the poll.)
The poll also tested Clinton against a number of possible Republican opponents — and found very significant leads in all match-ups:
Clinton 54 percent, Bush 41 percent
Clinton 56 percent, Marco Rubio 39 percent
Clinton 56 percent, Chris Christie 37 percent.
Clinton 59 percent, Trump 34 percent
Clinton 57 percent, Scott Walker 38 percent
Meanwhile, the Quinnipiac poll of Iowa's Democratic caucuses found Clinton leading Sanders, 52 percent to 33 percent — which is in fact huge growth for Sanders, after Clinton had previously led 60 percent to 15 percent just two months ago. Also in the poll, Biden was at 7 percent, O'Malley at 3 percent, Webb at 1 percent, and Chafee at less than 1 percent.
On the Republican side in Iowa, Walker from nearby Wisconsin leads with 18 percent, followed by Trump and Carson at 10 percent each, with Ted Cruz and Paul at 9 percent each.
Polls are also showing that the public largely agrees with the Supreme Court's ruling on the Affordable Care Act, with CNN also showing that the public agrees with the Court's 5-4 ruling for marriage equality.
Not all is good news, though. CNN's polling also showed that only 33 percent of Americans see the Confederate flag as a symbol of racism, compared to 57 percent who say it is a symbol of Southern pride. Not surprisingly, there is a sharp racial divide: Whites say it represents Southern pride by a margin of 66 percent to 25 percent; African-Americans say it represents racism by 72 percent to 17 percent.
On the bright side, 55 percent are in favor of removing the Confederate flag from government properties other than museums — but there is not much support for other measures, such as renaming or removing tributes to Confederate leaders and soldiers.
Photo: U.S. President Barack Obama meets with the Council of the Great City Schools Leadership in the Roosevelt Room of the White House on March 16, 2015 in Washington, D.C. The purpose of the meeting was to discuss efforts to strengthen educational opportunities for students in city schools. (Olivier Douliery/Abaca Press/TNS)