This Week In Polls: Clinton Ahead Of GOPers In The Key Swing States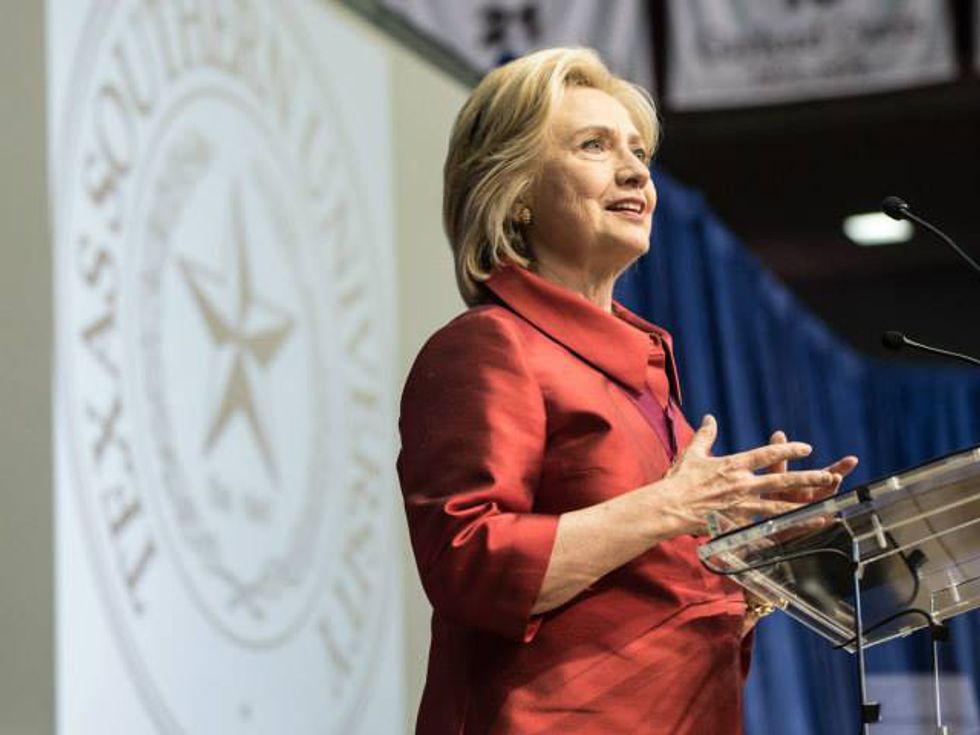 The polls this week continue to show that the Republican race is anyone's game, and that Hillary Clinton is leading both nationally and in key swing states.
A poll of Iowa commissioned by the Iowa Renewable Fuels Association — an ethanol and biodiesel industry group — gives Scott Walker the lead in the state's Republican caucuses with 19 percent, followed by Ben Carson at 13 percent, Jeb Bush 11 percent, Marco Rubio 9 percent, and Mike Huckabee rounding out the top five slots with 8 percent.
The Suffolk University poll of New Hampshire this week showed Hillary Clinton ahead of Bernie Sanders by only a surprisingly narrow margin, 41 percent to 31 percent.
Monmouth University's national poll put Ben Carson narrowly in first with 11 percent, edging out Scott Walker with 10 percent, Jeb Bush and Marco Rubio at 9 percent each, and Mike Huckabee at 8 percent to just make the top five.
Democratic-aligned firm Public Policy Polling has a national GOP primary poll with Scott Walker at 17 percent, Jeb Bush 15 percent, Marco Rubio 13 percent, Ben Carson 12 percent, and Mike Huckabee 11 percent. Hillary Clinton also leads all the Republican contenders by various margins.
And for the general election — and the Electoral College, where the presidency is really won — Quinnipiac University has a set of polls from the three biggest swing states, testing Hillary Clinton against a variety of Republican opponents.
In Florida, Clinton leads all tested Republican contenders — including both of the state's favorite sons in the race, Jeb Bush and Marco Rubio:
Clinton 46 percent, Christie 35 percent
Clinton 46 percent, Paul 39 percent
Clinton 49 percent, Huckabee 38 percent
Clinton 46 percent, Bush 42 percent
Clinton 47 percent, Rubio 44 percent
Clinton 48 percent, Walker 38 percent
Clinton 48 percent, Cruz 37 percent
Clinton 48 percent, Kasich 35 percent
In Ohio, Clinton has leads over most of the Republicans, but trails hometown Governor John Kasich and is tied with Rand Paul
Clinton 44 percent, Christie 39 percent
Tie: Clinton 43 percent, Paul 43 percent
Clinton 46 percent, Huckabee 41 percent
Clinton 42 percent, Bush 41 percent
Clinton 45 percent, Rubio 42 percent
Clinton 44 percent, Walker 40 percent
Clinton 47 percent, Cruz 39 percent
Kasich 47 percent, Clinton 40 percent
Pennsylvania is a mix of tight contests, or some stronger Clinton leads, depending on the Republican opponent:
Clinton 43 percent, Christie 41 percent
Paul 45 percent, Clinton 44 percent.
Clinton 46 percent, Huckabee 39 percent
Clinton 45 percent, Bush 41 percent
Rubio 44 percent, Clinton 43 percent
Clinton 46 percent, Walker 41 percent
Clinton 47 percent, Cruz 40 percent
Clinton 45 percent, Kasich 39 percent
Photo: Hillary Clinton via Facebook