This Week In Polls: Trump Wins — And Refugees Lose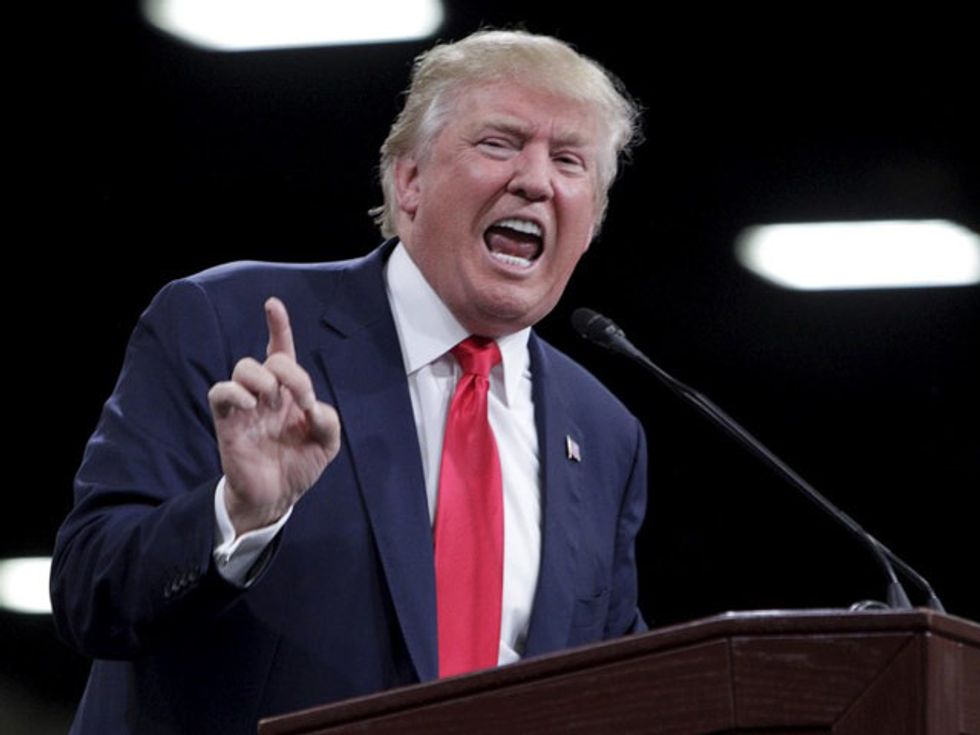 With terror abroad and fear at home, Donald Trump's brand of bellicosity — making incendiary comments about Syrian refugees and American Muslims — is ruling the day in the polls.
Two different surveys show a majority of Americans opposed to taking in 10,000 refugees from the conflict in Syria, making the issue very lucrative for Republicans.
In the Bloomberg Politics poll, 53 percent of Americans say refugees should not be admitted at all; 28 percent say the program should be kept as is; and 11 percent favored only accepting Christians — which has been proposed by Jeb Bush and Ted Cruz, and vociferously denounced by President Obama.
The ABC News/Washington Post poll broke the issue into two separate questions, finding only 43 percent in favor of refugees in general, and 52 percent opposed — but if refugees were admitted, then 78 percent told the pollster that the program should be religiously neutral, while only 18 percent said it should be specially done for Christians.
Reuters asked respondents of all parties which candidate would be best suited to handle terrorism — and Trump came out narrowly on top here with 22 percent, followed by Hillary Clinton at 21 percent, Bernie Sanders 10 percent, and no other candidate in the double digits. (The actual winner of that question is currently "None" with 26 percent.)
In the current Reuters tracking poll of Republicans, Trump is way ahead with 39 percent, followed by Ben Carson at 15 percent, Marco Rubio with 10 percent, Ted Cruz at 7 percent, and Jeb Bush at 6 percent.
The latest NBC News poll released Friday has Trump at 28 percent, Carson at Cruz at 18 percent each, Rubio with 11 percent, and Bush all the way back with 4 percent.
Bloomberg Politics has Trump at 24 percent, Carson 20 percent, Rubio 12 percent, Cruz 9 percent, and Bush at 6 percent.
Democratic-aligned firm Public Policy Polling shows Trump ahead nationally with 26 percent, then Carson at 19 percent, Cruz 14 percent, Rubio 13 percent, and Bush at 5 percent.
Trump also remains ahead in New Hampshire. A poll from the Boston affiliate of NPR found The Donald at 23 percent, Carson and Rubio at 13 percent each, Cruz with 8 percent, and Bush at Kasich each at 7 percent.
Fox News similarly has Trump ahead in the Granite State with 27 percent, then Rubio with 13 percent, Cruz 11 percent, and 9 percent each for Bush and Carson.
Photo: U.S. Republican presidential candidate Donald Trump speaks during a campaign rally in Knoxville, Tennessee November 16, 2015. REUTERS/Lisa Norman-Hudson