Top 5 Bad Hombres Loved By Trump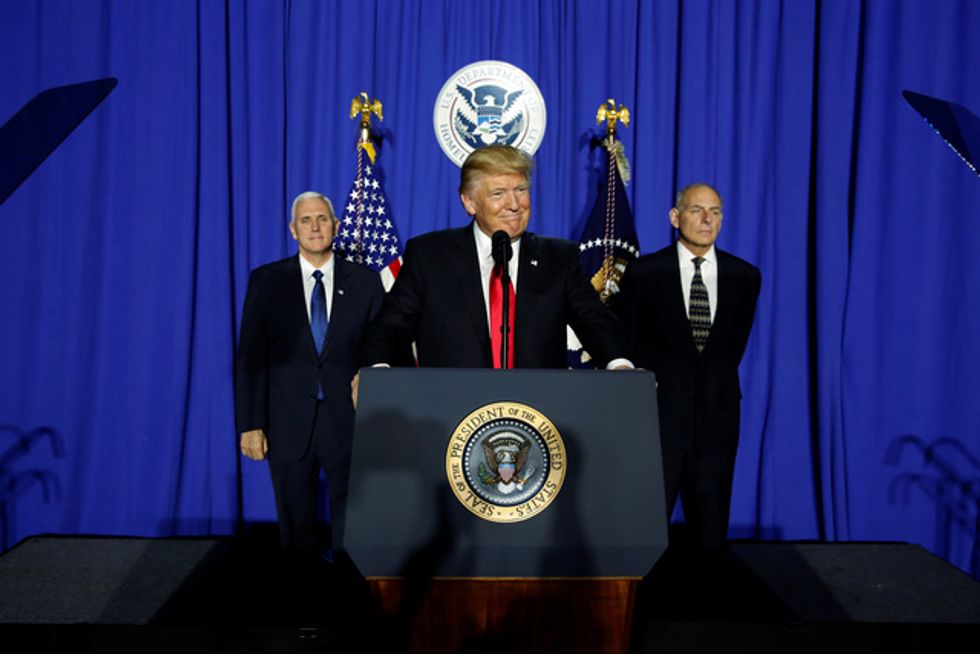 Reprinted with permission from Alternet.
They are, to coin a phrase, "bad hombres." They are men who order the slaughter of peaceful demonstrators and the roundup of political rivals. They arrest pesky journalists, if they don't murder them first. They rig elections, if they hold them at all. And they use their office to enrich themselves and their friends, while promising never to retire. They are, in short, the once and future friends of President Donald Trump.
The commander-in-chief's affection for dictators has startled the custodians of conventional wisdom in Washington. "Trump keeps praising international strongmen, alarming human rights advocates," says the Washington Post. "Trump has willingly turned a blind eye to dictators' records of brutality and oppression in hopes that those leaders might become his partners in isolating North Korea or fighting terrorism," the Post explains.
Washington pieties notwithstanding, such behavior is hardly unprecedented. Many an American president has turned a blind eye to friendly despots. It's a trait American presidents seem to inherit along with the furniture in the Oval Office.
In 1977, President Jimmy Carter praised the dictatorial Shah of Iran and his government as an "island of stability" in the Middle East. Barely two years later, the Shah and his CIA-funded intelligence service had been overthrown by a radical anti-American regime.
In 1982, President Ronald Reagan lauded Guatemalan strongman Efraín Ríos Montt as "a man of great personal integrity and commitment." Ríos Montt was also a genocidal commander in chief whose soldiers annihilated 440 Guatemalan villages in the 1980s, resulting in the deaths of an estimated 200,000 civilians.
Promiscuous Love
But President Trump's case of dictator love seems to be unique in the annals of the affliction. While his predecessors mostly swooned for pro-American despots, Trump is more promiscuous. He generously shows love to anti-American, as well as pro-American autocrats.
All of which raises a complex moral question: Who is the worst of the worst among the objects of the president's affection?
To answer that question, I looked at six measures of dictatorship: Amnesty International on political prisoners, Human Rights Watch on torture; Freedom House on political and civil liberties; and news reports on freedom of the press, self-enrichment and personal brutality.
These judgments are sometimes subjective. Who do you find more loathsome, the leader who assassinates his brother with nerve gas, or the leader who throws a suspected criminal out of a helicopter? Trump doesn't care, but some Americans do. For them, AlterNet offers the Worst of the Worst Index, ranking Trump's allies in ascending order of depravity.
5. Rodrigo Duterte, president of the Philippines
Last weekend, Trump had what the White House characterized as a "very friendly conversation" with Duterte. The president invited Duterte to Washington for an official visit.
In the annals of lawbreakers who have lived in or visited the White House, Duterte stands out. He has boasted of personally killing three men, and throwing another out of a helicopter, although he said he was "joking" about the latter. Such a funny guy.
He presides over a brutal police force. In a 2014 report, Amnesty International found a "pervasive culture of impunity for torture and other cruel, inhuman or degrading treatment or punishment," which Duterte has done nothing to change. His war on drug dealers and users has claimed an estimated 6,000 lives since he took office last June.
About all that can be said in Duterte's defense is that his people are relatively free. The Philippines gets a relatively high 3 for political and civil liberties in the 1-7 Freedom House grading scheme, in which a 7 is the worst possible mark.
4. Turkish President Tayyip Erdogan
Since being democratically elected in 2003, Erdogan has steadily accumulated power while suppressing his opposition and arresting journalists. After an attempted coup last summer, he presided over the arrests of 47,000 people on terrorism charges, according to Human Rights Watch.
Freedom House gives Turkey a 4.5 grade on liberty, which marked the second biggest decline in the world in 2016.
In April, Erdogan rigged a national referendum enhancing his personal power, and in the words of one analyst, took "a wrecking ball to the remaining ruins of Turkish liberal democracy." The next day Trump called Erdogan to congratulate him on his victory.
Erdogan's brutality is increasing. With 144 journalists in jail, Turkey is the world's leader in detaining journalists, according to Human Rights Watch.
Erdogan is also widely regarded as corrupt. In 2013 he was engulfed in the "mother of all corruption scandals" in which his son Bilal and his cabinet were implicated in receipt of illicit money. A YouTube recording captured Erdogan telling Bilal urgently to get rid of tens of millions of dollars.
At the center of the scandal was Reza Zarrab, a Turkish Iranian businessman who specialized in helping Iran violate U.S. economic sanctions. Erdogan has hired Trump's ethically elastic ally Rudy Giuliani to obtain Zarrab's release from U.S. jail where he faces federal money laundering charges.
After receiving Trump's invitation, Erdogan launched a wave of airstrikes on the Turkish Kurds, who are allies of the United States and are regarded as the most effective foot soldiers in the fight against ISIS. Erdogan's government described them as "terrorists" and boasted of killing 200 of them. It was a funny way of saying thanks.
3. Egyptian President Abdel ­Fattah al-Sisi
In a military coup in 2013, Sisi slaughtered his opponents in the streets and dismantled a free press. Trump praised him for doing a "fantastic job."
Sisi's reign of repression earned Egypt a dismal 5.5 from Freedom House. "Public criticism of the government remained effectively banned in Egypt in 2016," says Human Rights Watch, adding that torture is "routine." Sisi's regime has held at least 7,400 military trials of civilians since he took power.
When Sisi visited Washington last month, Trump extended the favor of a White House photo opportunity, further demoralizing Egypt's beleaguered democrats.
2. North Korean leader Kim Jong-un
He has built a nuclear arsenal. He regularly threatens to incinerate California. With an estimated 80,000 to 120,00 political prisoners, and foreign and domestic media tightly controlled, North Korea has received a 7 from Freedom House, the worst possible grade a country can receive.
The Washington Post reports that the White House is claiming Trump's "silence on human rights matters is purposeful, part of a grand strategy to rebuild alliances or create new ones," especially to "isolate" North Korea.
That would be sensible. In 2014, Kim executed his uncle, apparently for scheming against him. In February, Kim's brother was attacked by a woman in a Malaysian airport who wiped his face with a cloth containing a toxic nerve agent, killing him within 20 minutes.
South Korea's intelligence service concluded that Kim ordered his brother's assassination, not that Trump cared. Last weekend, Trump said the North Korean despot is a "smart cookie" and that he would be "honored to meet him."
1. Russian President Vladimir Putin
Admiration for the Russian president's manly visage and strapping torso was among the first symptoms of dictator love that Trump displayed long before he became president. In 2007, Trump gushed that the former KGB man was "doing a great job." When Trump described Putin as his "stablemate" in 2009, it became clear that the Russian leader had an animal magnetism Trump could not resist.
On Tuesday, Trump and Putin talked about bringing peace to Syria and a possible personal meeting later in the summer.
Putin's personal corruption is a matter of speculation. One former aide estimates his personal fortune at $40 billion. The brutality of Putin's government is well-documented and growing.
"Torture and other ill-treatment continued to be widespread and systematic during initial detention and in prison colonies," according to Amnesty International. In 2016, says Human Rights Watch, Putin "further tightened control over the already-shrinking space for free expression, association, and assembly and intensified persecution of independent critics."
But what makes Putin the worst of the worst—even worse than Kim Jong-un—are the 38 unsolved murders of prominent Russians since 2014, recently surveyed by USA Today.
The list contains 10 high-profile critics of Putin, seven diplomats, six associates of Kremlin power brokers who had a falling out — often over corruption — and 13 military or political leaders involved in the conflict in eastern Ukraine, including commanders of Russian-backed separatist forces. Two are possibly connected to a dossier alleging connections between President Trump's campaign staff and Kremlin officials that was produced by a former British spy and shared with the FBI.
In the Hall of Shame that is now the American White House, Putin's record of tyranny cannot be beat.
This article was made possible by the readers and supporters of AlterNet.