Toronto Crack Mayor Faces City Council Grilling
@AFP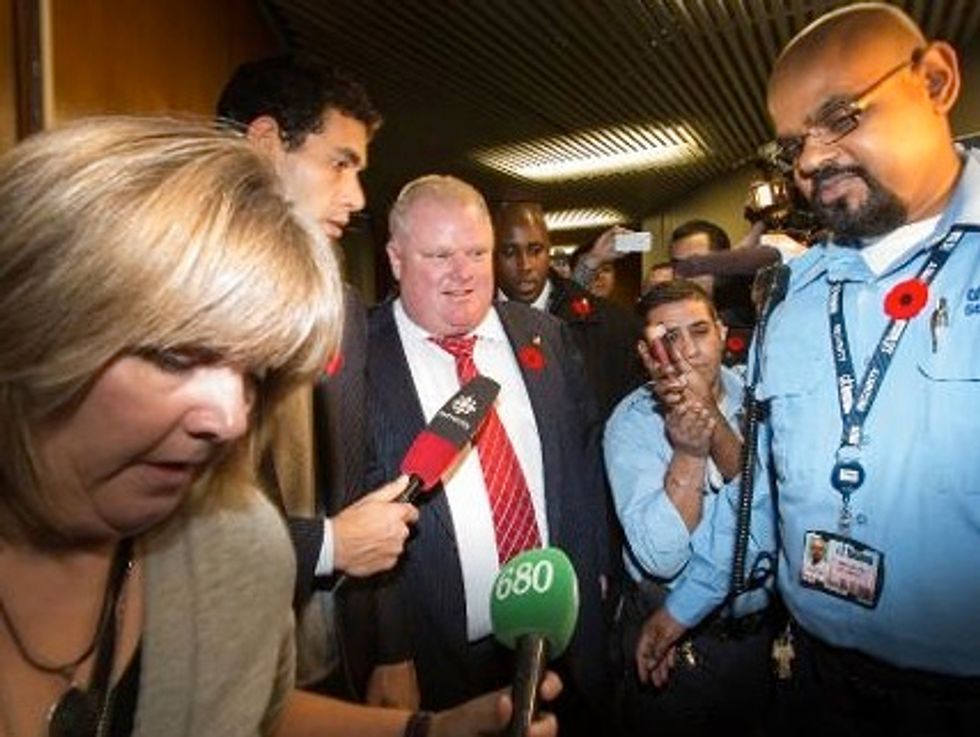 Toronto (Canada) (AFP) – Addiction denials, warnings of more scandalous allegations to come and protests on Wednesday marked Toronto Mayor Rob Ford's first council meeting since admitting he once smoked crack.
In a grilling by councillors, Ford admitted to having purchased illicit drugs in the past two years, but denied links to gang members.
He also steadfastly refused to quit as councillors debated a motion asking the mayor to take a leave of absence in order to seek treatment for substance abuse.
Meanwhile outside City Hall, hundreds of protesters gathered with placards calling on Ford to "man up and step down" as a new poll showed a sudden downturn in his support.
Ford had earlier characterized the council meeting as a "rumble" while his brother Doug, who is also a city councillor, called it a "witch hunt."
The motion by Councillor Denzil Minnan-Wong, which was moved to the top of the agenda by the mayor, asks him to take a leave.
It is largely symbolic as the city council does not have the power to oust the democratically-elected mayor.
Still Minnan-Wong urged the council to "do the right thing" and pass the motion. A vote was scheduled for the afternoon.
The debate itself was marked by accusations that Ford threatened Minnan-Wong, which the mayor strongly denied.
His brother Doug asking fellow councillors whether they ever smoked marijuana or drove drunk, warning them not to "throw stones in a glass house."
"I have made mistakes, personal mistakes, but these mistakes were not in this council chamber," the mayor said.
"It was in my personal life and I sincerely apologize and I understand the embarrassment I caused every member of this council and I understand the embarrassment I've caused every resident in the city."
But he added, "I'm most definitely keeping this job."
Asked if he is an addict, Ford replied: "absolutely not."
He insisted that his troubles involved only "a few isolated incidents" of public intoxication.
But he admitted to buying illicit drugs in the past two years. "Yes, I have," he answered to a specific question.
Ford also dismissed an infamous photo of himself with notorious gang members in front of an alleged "crack house," saying: "I had never met those three men in my life. They came out and asked me to take a picture with them and that is the God honest truth… I never have seen them again."
Ford also rebuffed reports that the house pictured is a "crack house" as well as suggestions that he mingles with gang members. "I'm not part of gangbangers, I do not support them."
But Ford said he could not assure council that there were no more skeletons in his closet.
"I don't know. I don't know, there might be like a coat hanger left in my closet. I don't know. I don't know what is left," he said.
A new survey, meanwhile, showed 76 percent of Toronto residents want the mayor to resign or take a temporary leave of absence.
More than 40 percent of them said he should quit and never return to politics, while 35 percent of the 600 people surveyed by Ipsos Reid from November 7 to November 11 said he should step aside temporarily and seek treatment for drug and alcohol abuse.
The remaining 24 percent said Ford should keep his job and let voters decide his fate in the next municipal election in October 2014.
The poll, with a 4.6 percent margin of error, marks a major shift in public opinion which had been strongly behind the mayor and his tax-cutting agenda.
AFP Photo/Geoff Robins