Tracking Trump's Lies? These Are New And Funny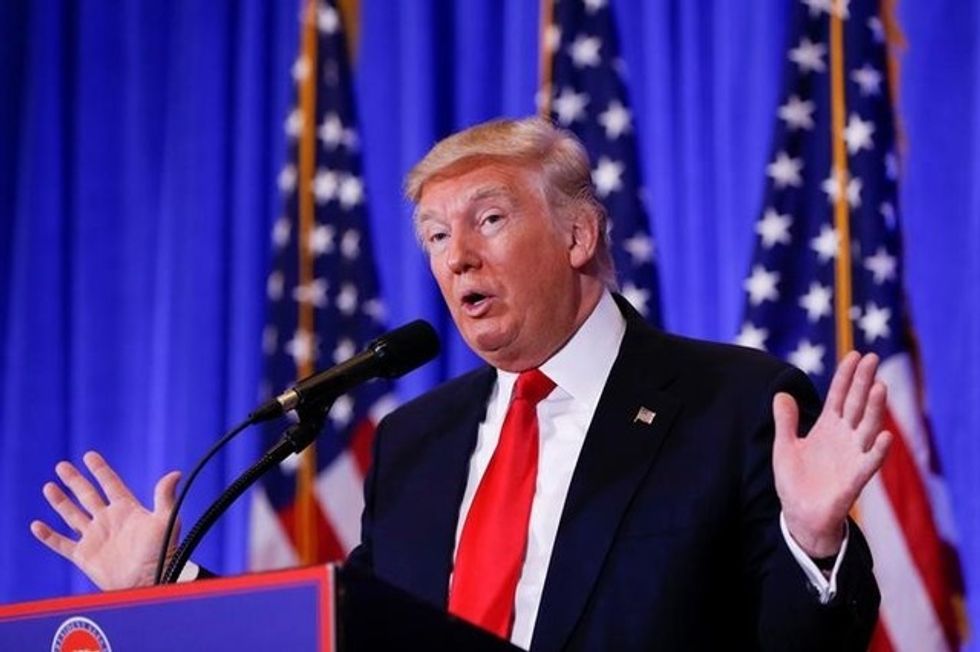 Reprinted with permission from Shareblue.
Trump has been lying with increasing speed recently, and may have outdone himself at a rally Thursday night when he let out whoppers about pop superstar Beyoncé and the Queen of England.
At a rally in Wilkes-Barre, Pennsylvania, Thursday night, Trump continued his attacks on the media by claiming they had falsely reported that he kept Queen Elizabeth waiting during his visit to the United Kingdom last month.
Trump displayed his ignorance of simple geography by insisting that the U.K. is known by many different names. "People call it Britain. They call it Great Britain. They used to call it England, different parts," Trump said. But those, as well as "United Kingdom," are distinct descriptors.
Trump then insisted that he was "waiting with the king's and the queen's guards" for about 15 minutes, until Queen Elizabeth finally arrived.
He concluded the lengthy riff by saying, "So here was the story by the fake news: '[Trump] was 15 minutes late for the queen,' wrong!"
But as video shot live during the event clearly showed, it was Trump who kept Queen Elizabeth waiting for over 12 minutes.
Later in the same rally, Trump attacked Beyoncé, along with her husband Jay Z, claiming that "Hillary [Clinton] would come and she'd have 350 people" at a rally headlined by the music superstars.
But according to news reports at the time of the rally, Bey and Hillary "packed" the 15,000—plus capacity Wolstein Center, and Politifact has rated similar claims by Trump as "false."
The triviality of these lies illustrates both the depth and the breadth of Trump's dishonesty, because his claim about Queen Elizabeth is so clearly contradicted by visual evidence that literally the entire world saw, and his attack on Beyoncé has already been debunked.
And these were two of many lies that Trump told at that rally. Although Trump has always been a prolific liar, two websites that track his lies have noted a significant increase in the rate of Trump's lies over the past few months. According to The Washington Post, Trump's rate of false or misleading statements more than doubled in June and July, to more than 16 a day.
But those lies come at a cost. As more and more Americans are learning not to trust a single thing Trump says, Trump is ramping up his attacks on the truth, and on those who tell it.
Published with permission of The American Independent.