Trump Charged U.S. $300K For Golf Cart Rentals At His Resorts
@EricBoehlert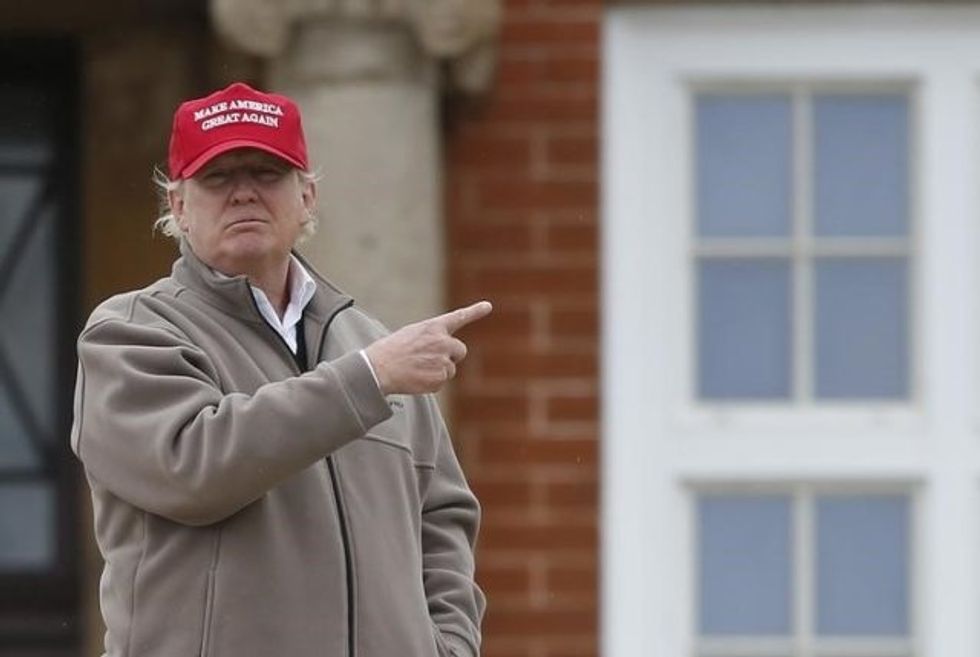 Reprinted with permission from Shareblue.
U.S. taxpayers have now spent hundreds of thousands of dollars paying for Trump's golfing habit — and that's just for the carts.
"Taxpayers footed bills totaling $300,675 for golf cart rentals alone, so the Secret Service could follow Trump on the links," TMZ reports, citing federal documents.
Those sky-high fees are certain to climb higher as Trump takes even more golf trips — and the cash is going straight into the coffers of Trump golf properties, where he plays his golf rounds almost exclusively.
The Trump Organization owns or operates 17 golf resorts around the world and 12 in the United States. Since being sworn in, Trump most often plays golf at Trump National Golf Club in Sterling, Virginia, Mar-a Lago in Palm Beach, Florida, and Trump National Golf Club in Bedminster, New Jersey.
Trump plays with a variety of partners, including athletes and politicians. On some occasions, the golf outings have reportedly been used to help avoid policy fiascos.
"Before some lawmakers, such as Sens. Lindsey O. Graham (R-S.C.) or Bob Corker (R-Tenn.), went golfing with Trump, White House legislative aides would prep them on helpful messages they were trying to share or 'disasters they were trying to divert,'" the Washington Post reported last week.
To date, Trump has spent nearly 25 percent of his time in office, or nearly 150 days, at one of his golf properties.
Since the White House refuses to confirm how often Trump actually plays golf, a safe assumption has been that Trump plays 9 or 18 holes at each golf property visit.
And Trump's seemingly non-stop golf outings have gotten even more frequent in recent months.
"He previously was on pace to visit his golf clubs more than 650 times in an eight-year presidency," according to Golf News Net. "However, his pace as of Aug. 6, 2018 now indicates Trump would spend as much as 745 days of his presidency at a golf course if he wins a second term and serves both terms to completion."
In his eight years in office, President Barack Obama golfed 333 times. While Trump mocked Obama relentlessly for that at the time, now Trump is playing golf more than twice as often during his time in the White House.
And of course, since Obama didn't own golf properties, he didn't use his golf trips to enrich himself at the expense of American taxpayers like Trump does.
Playing golf doesn't automatically make you a bad president. But Trump is playing a lot of golf — perhaps to distract himself from anonymous senior officials telling the world just how incompetent and detached from reality he really is.
Published with permission of The American Independent.