Trump Chief Of Staff Called Border Wall 'Childish'
@alexvhenderson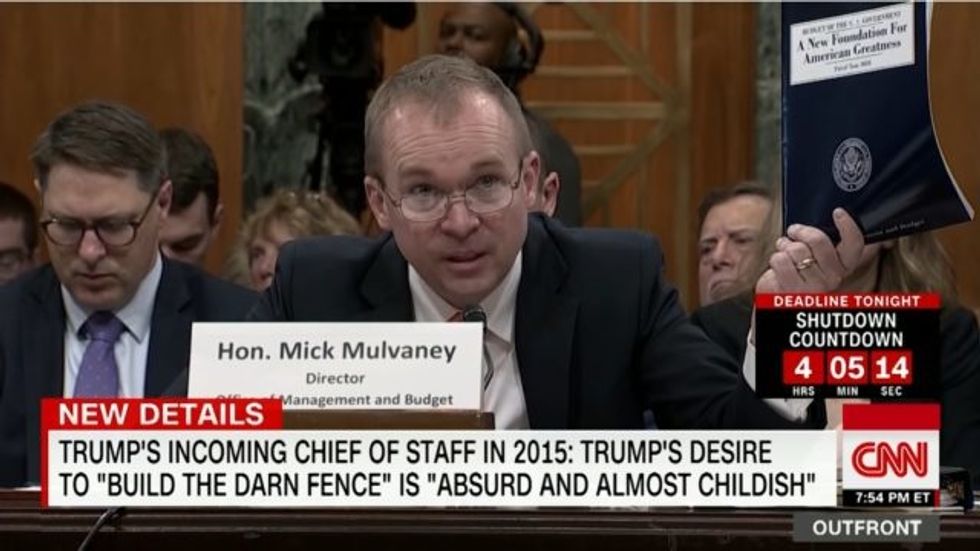 Reprinted with permission from AlterNet.
This week, President Donald Trump has made it clear that he is quite willing to shut down the federal government if Congress does not agree to fund a wall along the U.S./Mexico border. Many Republicans have been afraid to challenge Trump on that issue, but back in 2015, Mick Mulvaney—who will be acting White House chief of staff in Trump's administration in 2019—thought the idea was ridiculous.
After announcing, in 2015, that he would be running for president in the GOP primary, Trump declared that he would aggressively crack down on illegal immigration if elected—and he called for a border wall that would extend all the way from California to Texas. Asked to comment on Trump's proposal when he appeared on South Carolina's WRHI Radio on August 25, 2015, Mulvaney told interviewer Patti Mercer that he found it "simplistic," as CNN first revealed.
"The fence doesn't solve the problem" of illegal immigration, Mulvaney stressed. "Is it necessary to have one, sure? Would it help? Sure. But to just say, 'Build the darn fence' and have that be the end of an immigration discussion is absurd and almost childish for someone running for president."
Mulvaney used the word "fence" rather than "wall" during the interview, but it was clear that he believed Trump was offering an easy solution to a difficult and complex problem.
When he becomes acting White House chief of staff in the Trump administration in January, Mulvaney will be replacing John F. Kelly — who Trump recently fired and will be leaving at the end of the year.
Alex Henderson is a news writer at AlterNet and veteran political journalist. His work has also appeared in Salon, Raw Story, Truthdig, National Memo, Philadelphia Weekly, Democratic Underground, L.A. Weekly, MintPress News and many other publications. Follow him on Twitter @alexvhenderson.