How Trump Profiteered From Mideast Ties In The White House
@CynicalBrandon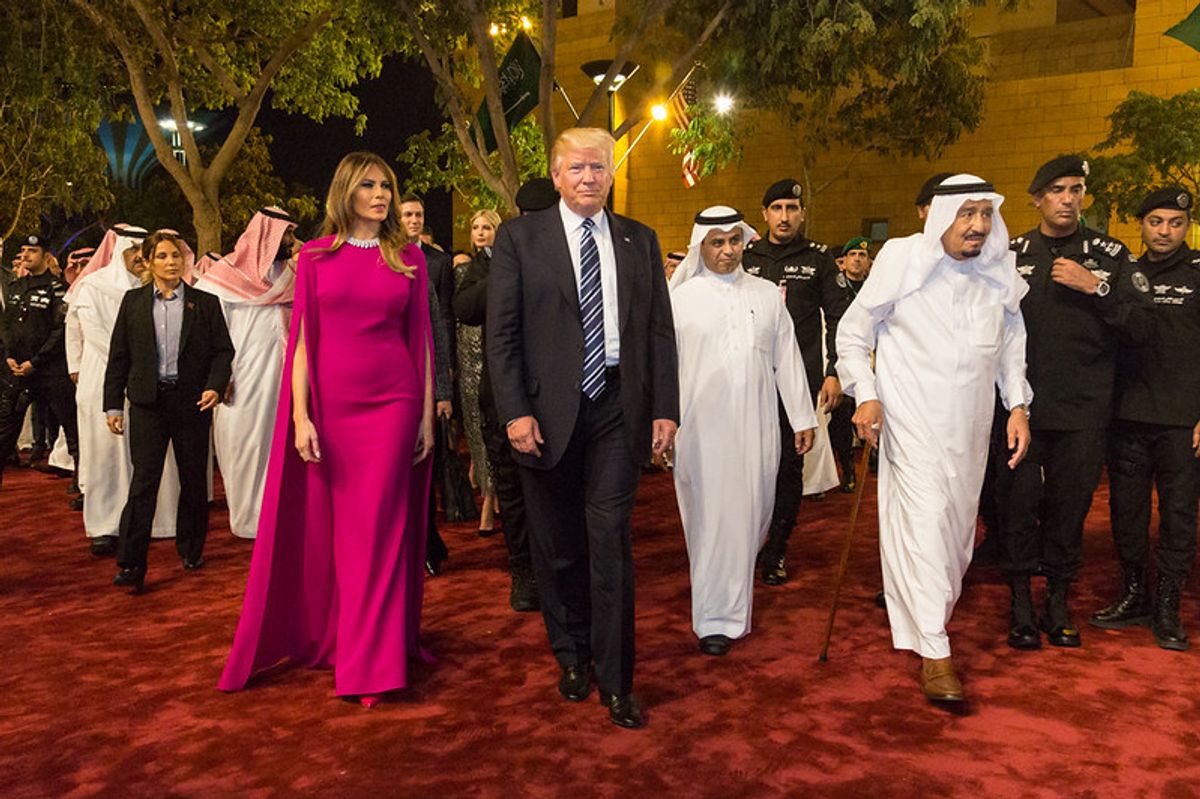 The government watchdog group Citizens for Responsible Ethics in Washington (CREW) published a bombshell report on Thursday that former President Donald Trump raked in millions of dollars from five Middle East nations while he was in the White House.
Saudi Arabia, Qatar, the United Arab Emirates, Turkey, and Kuwait were all identified as having deep monied ties to Trumpworld, which CREW uncovered from the indicted ex-commander-in-chief's income disclosures.
CREW's discovery comes amid investigations into allegations made by Trump and congressional Republicans that President Joe Biden and his family engaged in corruption in Ukraine and China.
"Trump made at least $9.6 million from countries in the Middle East during his presidency, according to years of reporting and a CREW analysis of his tax returns," CREW found. "That means Trump pulled in at least six times his official presidential salary in side income from the Middle East alone during his time in office. The total is likely much higher, but public reporting only sheds light on the most high-profile instances of profiteering, and he is only required to report certain types of income on his tax returns."
Trump's refusal to divest, or separate, himself from his family's financial entanglements sparked "an endless number of conflicts of interest by blurring the lines between the government and his businesses," CREW explained. "The profiteering paid off, and Trump raked in tens of millions from international business interests during his time in office."
Trump and his friends on Capitol Hill "frequently visited and held events at his clubs, hotels and golf courses, advertising to those looking to influence the government that Trump properties were open for business. Foreign governments and officials in particular took advantage of the open opportunity to ingratiate themselves with the president," CREW revealed.
"The $9.6 million that we know Trump made from Middle Eastern countries during his presidency is likely just the tip of the iceberg. CREW tracked conflicts of interest involving multiple countries that are not even present on his tax returns. For example, officials from Iraq, Oman and Yemen made visits to Trump properties while he was president. Because we don't know the total cost for these visits, we did not include them in the tally," wrote Crew. "What we do know is that becoming president was Trump's best business decision, and his tax returns show how great the office was for his bottom line. As the 2024 election creeps closer, foreign interests including those in the Middle East are already buying access to Trump and pouring money into his pockets."
Reprinted with permission from Alternet.